Microsoft recently started rolling out a new Teams experience for Windows users, though it is available in preview and is optional. The software giant will also announce a new feature for Teams Premium customers this month. It is planning to start the rollout of the much-awaited Intelligent Meeting Recap feature.
The Meeting Recap in Teams Premium will be powered by advanced Artificial Intelligence technology. As described by Microsoft in its official blog post, Intelligent Meeting Recap will generate "meeting notes, recommended tasks, and personalized highlights to help you get the information most important to you, even if you miss the meeting." This way, the feature eliminates the need for you to listen to the entire meeting recordings to gather important information, thus saving you a lot of time.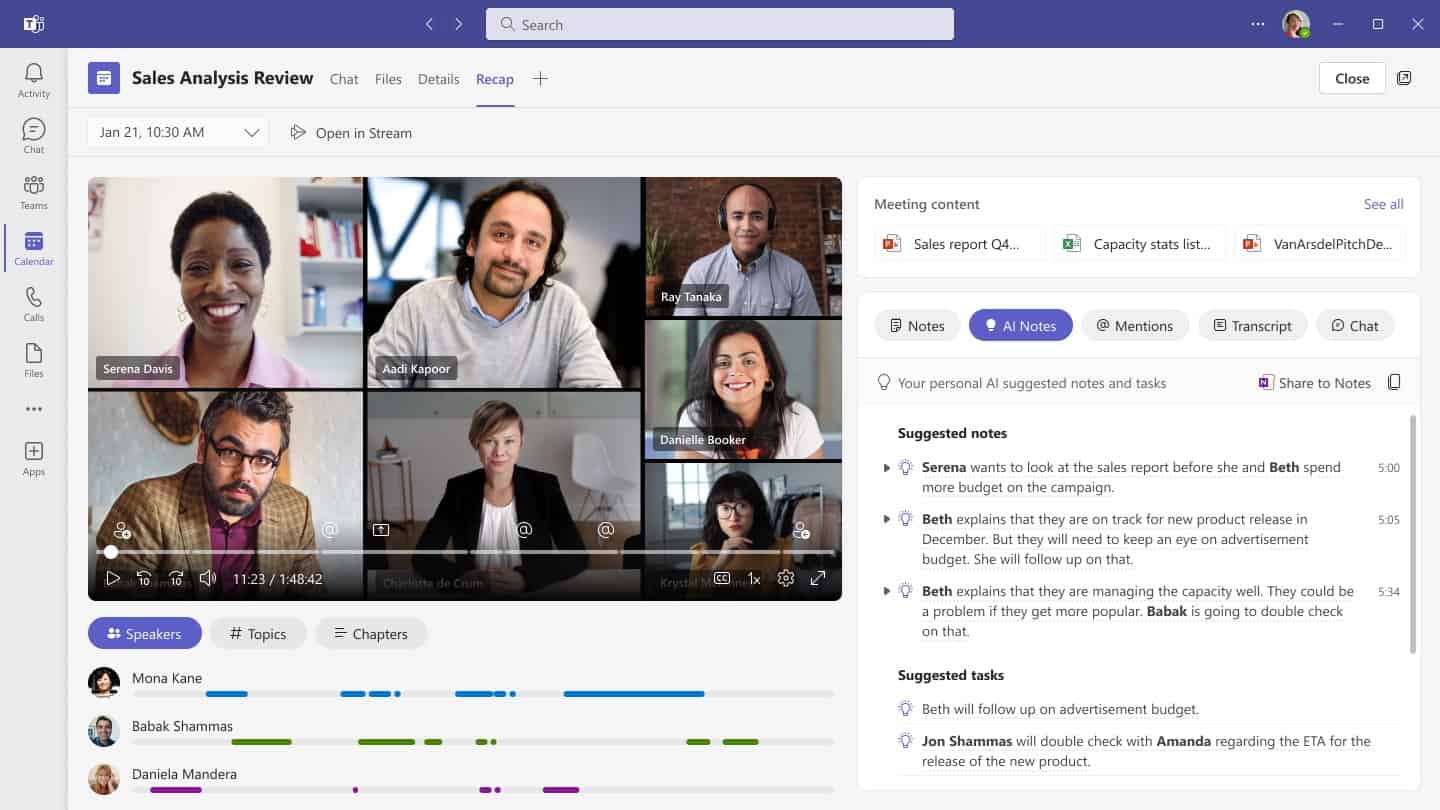 Microsoft is planning to release the new Meeting Recap capability to Teams Premium users on Windows and Mac. "As part of Teams Premium, Intelligent Meeting Recap is a comprehensive AI-powered meeting recap experience that helps users catch-up, recall, and follow-up on hour-long meetings in minutes by providing recording and transcription playback with AI assistance. This allows users to browse the recording by speakers and topics, as well as access AI-generated meeting notes, action Items, and @mentions," described Microsoft on its 365 Roadmap page.
You can find the functionality listed on the Microsoft 365 Roadmap page by the name "Microsoft Teams: Intelligent Meeting Recap (Premium)" with feature ID 122529.
Besides offering users quick recaps of what happened in a meeting, Teams Premium includes features such as watermarking, recording capability limiting, personalized timeline markers, speaker timeline markers, branded meetings, customized meeting templates, and more. Teams Premium currently costs $7 per person monthly, but the price will go up to its standard $10 per user per month from July 1.