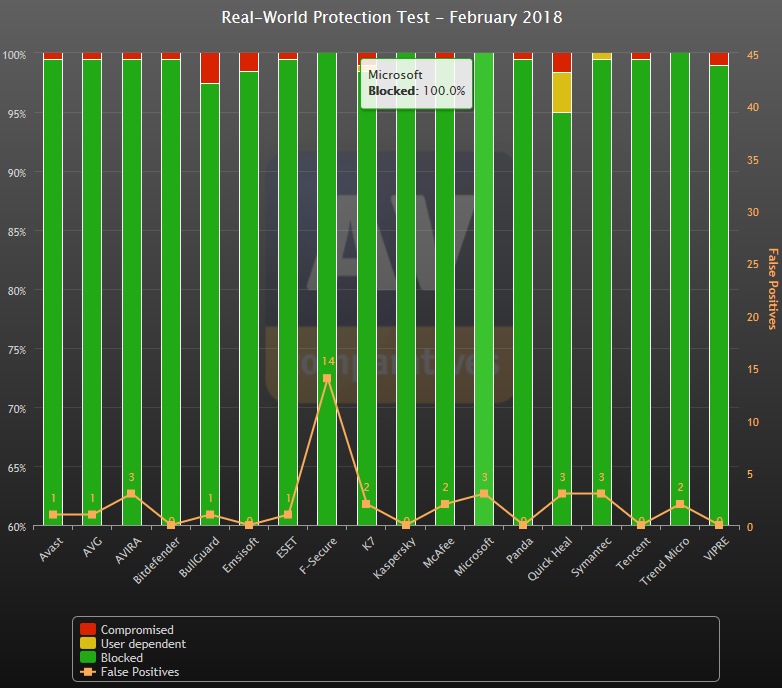 Writing on their blog, Brad Anderson, Corporate Vice President, Enterprise Mobility + Security at Microsoft revealed that Microsoft 's Windows Defender antivirus solutions have been rapidly taking market share in the enterprise, and when it comes to protecting Windows 10 solutions, currently has more than 50% market share in companies both big and small.
According to Microsoft's own numbers, 18% of Windows 7 and Windows 8 devices are using Defender and over 50% of Windows 10 devices are using this built-in solution.
Microsoft in part attributes this to a great improvement in the efficacy of Windows Defender, noting a complete rewrite in 2015 has seen the solution become near perfect at blocking infections, both in industry benchmarks and in the wild.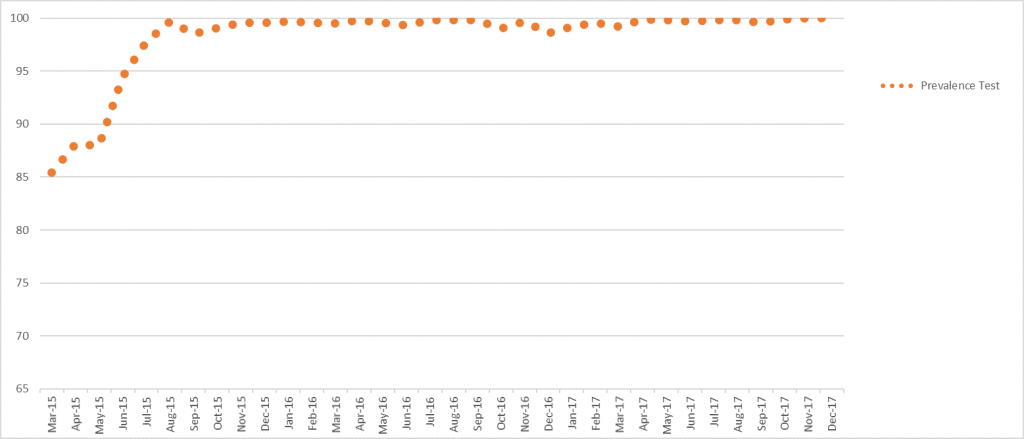 Brad writes:
We've been working to make our antivirus capabilities increasingly more effective, and in 2015 our results in two major independent tests (AV-Comparatives and AV-TEST) began to improve dramatically. As you can see in the chart below, beginning in March 2015 our scores on AV-TEST began to rise rapidly, and, over the course of the next five months, we moved from scores averaging 85% on their Prevalence Test to (or near) 100%.  Since then, we've maintained those types of scores consistently.
Efficacy is of course not the only reason to use Windows Defender, as many other companies perform equally well when blocking malware. Anderson lists the following reasons Windows Defender is dominating on Windows 10.
Our antivirus capabilities are a fantastic solution! The test results above really speak for themselves. With five months of top scores that beat some of our biggest competitors, you can be confident that our solution can protect you from the most advanced threats.
Our solution is both easier and operationally cheaper to maintain than others. Most enterprise customers use Config Manager for PC management of Windows 7 and Windows 10 security features, including antivirus. With Windows 10, the antivirus capabilities are built directly into the operating system and there's nothing to deploy. Windows 7 didn't include antivirus capabilities by default, but it can be deployed and configured in Config Manager. Now organizations do not have to maintain two infrastructures – one for PC management and another for antivirus.  Several years ago, our Microsoft IT department retired the separate global infrastructure that was used to manage Microsoft's antivirus solution – and now you can too! With our solution there's less to maintain and secure.
Our solution enables IT to be more agile. On Windows 10 there's no agent – security is built into the platform.  When a new update of Windows 10 is released, you don't need to wait for a 3rd party to certify and support it; instead, you have full support and compatibility on day one. This means that new releases of Windows and all the latest security technologies can be deployed faster.  This allows you to get current, stay current, and be more secure.
Our solution offers a better user experience.  It's designed to work behind the scenes in a way that is unobtrusive to end users and minimizes power consumption. This means longer battery life – and everyone wants more battery life!
Recent stats by Webroot has shown only 32% of business PCs are running Windows 10, but with this number rising consistently. This will presumably continue to shrink the market for alternate antivirus ISVs such as Kaspesky and more, and we hope Microsoft can maintain their performance without the intense competition which currently exists in the market.
Read more about Microsoft's multi-layer solutions here.