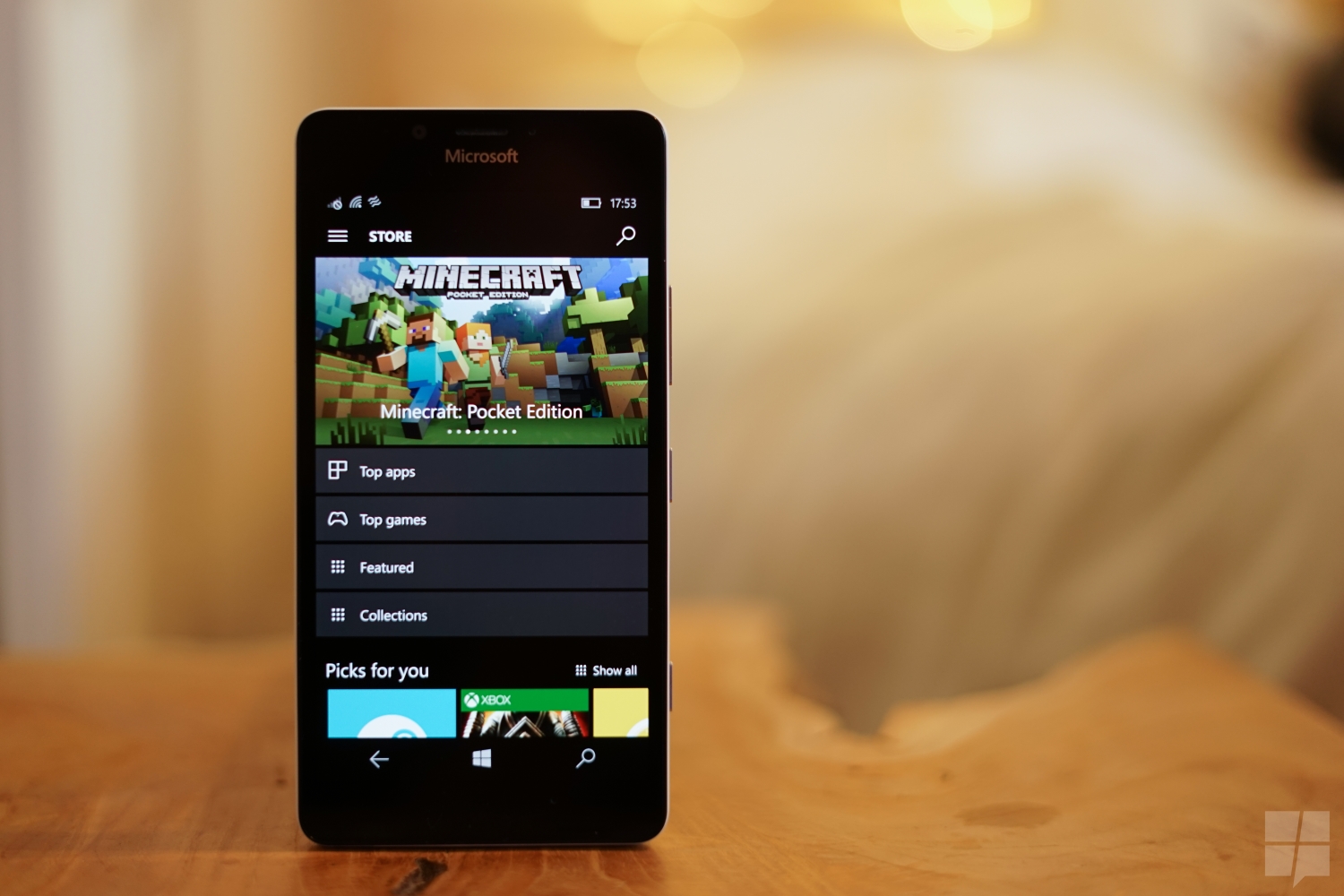 Last week, I wrote an opinion article about the Windows Store, noting that Microsoft seemed to have issues with the Windows store's uptake by developers. One of the issues cited, was the lack of qualitative numbers on the quantity of new apps in the Windows store – something which stood out considering Microsoft normally expanded on the statistics of the Windows Phone and Windows 8 Store before.  I reached  a conclusion that the Window Store wasn't doing as well as it was supposed to. While I haven't changed that conclusion  (Hello Snapchat and Google) I don't believe the situation is as dire as it would seem with the amount of publicly available information.
Microsoft reached out to us to clarify a few points about the Windows 10 app store, correcting my earlier speculation of the number of Universal Windows apps being a mere 420 and explaining that there are thousands of new Windows store apps.
When pressed on details like the removal of the "Built for Windows 10" and "universal app" tags that surfaced in Windows 8.1 and later again in Windows 10 version 1511, Microsoft explained that they had moved on from tagging apps, to  creating dedicated collections, stated:
"As we built out the capabilities of not only Windows 10, but the Windows Store, we included a tag that highlighted apps that took advantage of new Windows 10 features we wanted our consumers to know and love. As we've added more apps to our Store, we have moved away from using the tags and instead now have whole collections dedicated to these features like the "Better with Cortana" and "Apps for Windows Ink" collections. Of note, all apps in these collections are UWP apps and are not comprehensive lists. Like I mentioned yesterday, there are more than 1,000 apps that are Cortana-integrated."
Windows phone users will also note a new Continuum apps collection in the store, highlight apps that use Continuum and similar features. Ideally, Microsoft would have several collections for almost every use case in the store, but I suppose the number they have is enough for non-powerusers.
Another point we noted was that Microsoft was no longer sharing  the exact numbers of apps which were present in the Windows store. Microsoft had previously given the numbers on the apps they had in the store, breaking them down for Windows phone and Windows PCs. Since the Windows 10 November Update, the firm had moved away from mentioning such details, even when given an opportunity to at Microsoft's build developer conference.  The reasoning for this was given as a newfound  focus on quality over quantity. We were told that:
"We are moving away from commenting on the number of apps we have in the Windows Store as we focus on the quality of our apps for our customers, not the quantity. Like I shared there are thousands of Windows UWP apps available in the Windows Store, in addition to more than 1,000 Cortana-integrated apps. To date, customers have spent 7.5 million hours engaging with the Windows Store."
On the one hand, I'd prefer if Microsoft would simply state this on their website rather than leaving the app count un-updated for a year. Perhaps with wording like "The Windows store has hundreds of thousands of apps curated by our app editors" as well as a blog post on the Windows blog. But I digress, a  move to quality over quantity is exactly what the doctor ordered, though the prescription doesn't seem to be getting here fast enough.
https://twitter.com/MichaelAllison_/status/763081052843835392
Finally, I also asked about the lack of a "last updated" indicator in the store, and improvements to discoverability but received a roundabout response to that specific query.  On that, we were told:
"While we cannot comment on what is coming in the future, we can say that since Windows is a service, we are delivering regular updates to the Windows Store and to keep a watch on new features coming. Additionally, the Windows Store offers one-stop shopping for popular free and paid apps, games, movies, TV shows and the latest music, which works across Windows 10 devices. All Windows Store content is certified by Microsoft to help ensure a quality experience and keep your devices safer. We have welcomed many popular apps to the Store recently and welcome more apps from all developers. We're working hard to continue to make the Windows Store great for all developers, including easy discoverability of their apps. For tips on increasing discoverability of your app, developers can read the tips on this blog."
What users and developers alike should take away from this is that Microsoft is all-in on the Windows store and making it work for users on their platforms like PC, Xbox, and mobile. While the app gap exists on the Windows store for PC as it does for mobile, Windows PCs have the benefit of having access to literally million of non-store apps to rely on. If that's not enough, the web is developed enough that on desktop ecosystems that it really doesn't matter half the time as you can get your work done on the web as good as you can via an app. This means that the relative lack of apps in the store isn't a barrier for users, and thus the "chicken and egg" cycle doesn't exist here on PCs.
The Windows store has very real problems, but they are slowly going away as the app store is growing. If Microsoft can continue to improve its tools for developers and improve usability and discoverability for users, it just may see an uptick in uptake by users.