Everyone knows about Microsoft Edge. Even if it isn't your go-to browser, it sits comfortably within every modern Windows system and is now available across desktop and mobile operating systems.
Since most people spend approximately 7 hours per day on the web, there's a good chance you venture onto Edge sometimes.
From market share and user demographics to performance metrics and feature adoption, let's uncover what the Microsoft Edge statistics say about this enduring browser software.
Key Microsoft Edge Statistics
These are the key Microsoft Edge statistics that shed light on its popularity, market share, and other important metrics.
Microsoft Edge has over 285 million users.
Edge is the third most popular web browser in the world.
77% of businesses prefer Microsoft Edge, the most of any browser.
The original Edge never had a market share higher than 4.57% in the US.
In 2023, Edge took the third spot in the Apple App Store for utilities.
Microsoft Edge generates most of its revenue through its Bing search partnership ($18 billion in 2022).
Businesses adopting Microsoft Edge made productivity savings of over $2.7 million.
Microsoft Edge Statistics for Usage, Popularity, and Market Share
A deeper look at the data for market share in different regions, usage, download rates, and more.
1. Microsoft Edge has over 285 million users.
(Source: AtlasVPN, The Verge 1)
Thanks to its association with Windows, the Microsoft Edge browser boasts nearly 286 million users, as of May 2023.
However, this marks a significant drop from previous measures when it may have had upwards of 600 million users.
In early 2023, Microsoft's Bing search engine also passed 100 million daily active users.
2. In 2022, Microsoft Edge was downloaded 7.12 million times.
(Source: Statista 1)
While a download figure of 7.12 million seems low, the majority of Edge installations are pre-bundled on Windows systems. Even then, Edge ranked as the 8th most downloaded Microsoft app for that year.
Just ahead was PowerPoint (8.84 million), while Microsoft Teams was the most downloaded app with 30.79 million new downloads that year.
3. In 2023, Edge took the third spot in the Apple App Store
(Sources: NikoLaroza, Apple App Store)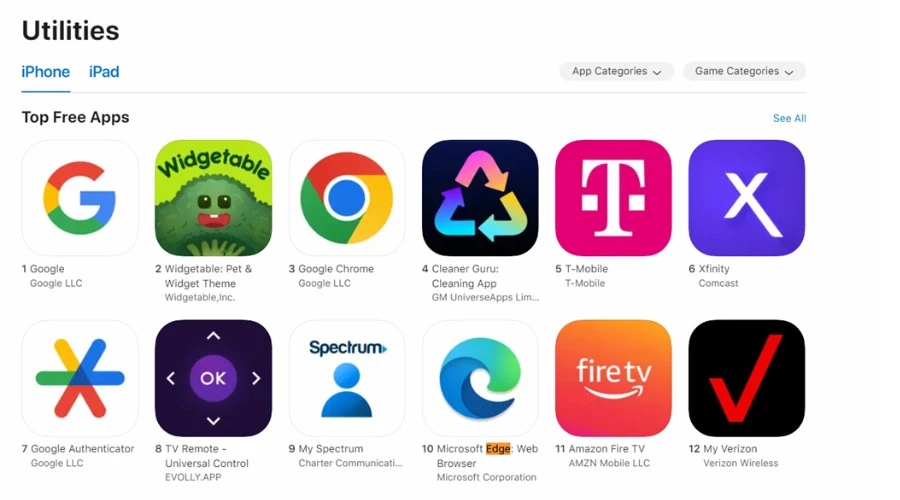 In early 2023, the Microsoft Edge browser app with Bing Chat jumped to the #3 spot in the Apple App Store's utilities category. Today it still ranks 10th but this is behind Chrome and the main Google app.
4. The Android app of Edge is the most popular in the UK.
(Source: SimilarWeb)
The Android version of Microsoft Edge is used the most in the UK, where it ranks 75th in the app rankings and 14th in the communication category. This is followed by Canada, Germany, and the United States.
5. Edge is the third most popular web browser in the world.
(Source: StatCounter)
As of July 2023, Microsoft Edge has a 10.75% global share of the desktop web browser market. Chrome remains the dominant leader with 63.32%, followed by Safari 13.13%.
When accounting for mobile, Edge remains third place but drops to 5.13% compared to Safari (19.95%), and Chrome (63.55%).
In the prior year, Edge's highest month was in November, with an 11.7% market share.
Its best month so far in 2023 was March, with an 11.13% market share.
6. In Europe, Edge is second place on desktop.
(Source: StatCounter)
The Edge browser is most popular in Europe, where it holds a 13.84% share of the desktop web browser market. This puts it in second place in the region – Firefox comes in third (10.59%), while Chrome still dominates with 59.04% of the pie.
In contrast, Edge holds a smaller 10.18% share in North America, trailing Safari (20.29%), and Chrome (58.03%).
Edge has the lowest market share in South America (7.63%). Here Chrome leads with a staggering 76.37% of the desktop browser market.
7. Microsoft Edge has a #10 ranking on Google Play.
(Source: SimilarWeb)
Over the past 28 days, the Android version of Edge ranks 10th in the communication category on Google Play. This is ahead of Firefox (15th), Opera, and Brave. Chrome consistently tops the charts.
8. Microsoft Edge is the preferred web browser for 37.77% of businesses, ahead of Chrome.
(Source: TechRadar)
In a survey of 3,000 employees, Microsoft Edge was the most popular web browser within the workplace (37.77%). This was followed by Google Chrome isn't far behind (33.01%).
This demonstrates significant differences between web browser usage in the workplace and overall usage including home users where Chrome is number one.
9. Edge peaked in popularity in August 2015 and resurged in 2020.
(Source: Google Trends)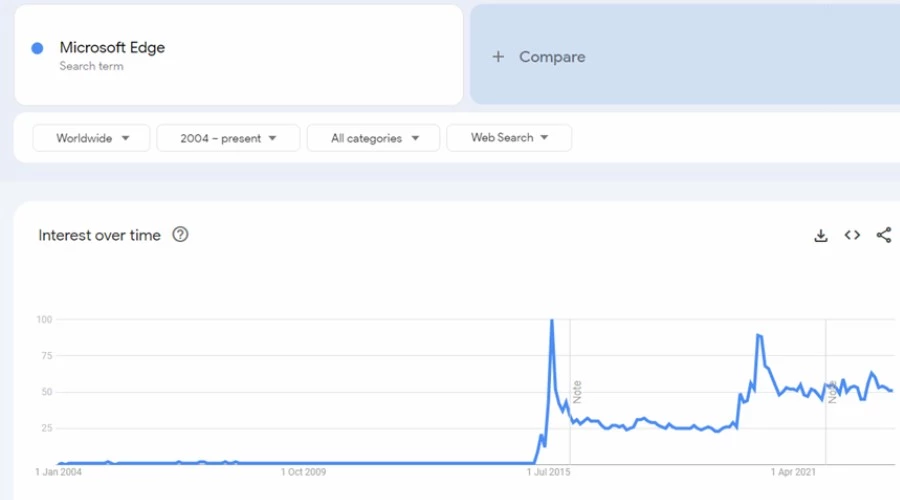 Based on Google Trends search popularity metrics for the term Microsoft Edge, users were searching for the browser the most in August 2015. Its second-highest peak was in June 2020.
This coincides with the browser's initial release in 2015. The 2020 boost came after the big switch to the Chromium-based 'NEW Edge', which saw consistent growth after its launch at the start of the year.
10. The original Edge never had a market share higher than 4.57% in the US.
(Source: Statista 2)
Based on US data, the original Microsoft Edge peaked in market share in February 2019 with 4.57% of the pie. This put it ahead of Firefox (4.47%) but behind Internet Explorer (5.18%). Chrome dominated with 49.3%, followed by Safari (31.61).
It took the release of New Edge to draw its biggest user base.
11. The new Bing Chat increased Edge users who then turned to Google anyway.
(Source: Search Engine Land)
Despite a significant 1 million increase in Microsoft Edge usage after the introduction of Bing AI Chat, this actually saw Google Search rise to 3.4-3.6 million from 3 million prior to the Bing Chat launch.
So, rather than using Bing, many started using Google Search on Edge instead.
12. Edge surpassed Internet Explorer almost immediately in 2015.
(Source: Statista 3)
It stands to reason that once Microsoft put all its focus on Edge in 2015, the vintage web browser Internet Explorer would take a hit. By 2021, Internet Explorer was the least popular browser, dropping below Opera, which is still its closest competitor.
Financial Microsoft Edge Statistics and Facts
Exploring what the data says about revenues, financial benefits to business users, and other interesting financial figures.
13. Microsoft Edge is the road to other Microsoft products, not a revenue earner itself.
(Source: Microsoft)
Nobody has to pay to use Microsoft Edge but when they do, they are sold on Microsoft's other revenue-making products. There is also a data collection aspect that can help give insights into the entire Microsoft ecosystem.
14. Microsoft Edge helps generate most of its revenue through its Bing search partnership.
(Sources: Make Tech Easier, The Verge)
Much like the revenue model of Google AdWords, Microsoft Edge predominantly generates income for Microsoft from Bing search engine ads.
Over 2022, revenue grew by $8 billion to $18 billion, up from $10 billion. All thanks to Bing. However, this is still a long way off from the $200 billion that Google made from ads in the same period.
15. When Yahoo partnered with Bing it made $500 million.
(Source: Digital Trends)
When Yahoo first partnered with Microsoft's Bing search in 2009, it made Yahoo an additional $500 million a year in revenue with $200 million a year in savings from operating expenses.
Today the duo is still going strong despite Yahoo being purchased by Verizon in 2017 who then sold a majority stake to Apollo Global Management. As of 2020, it was worth $7.4 billion.
16. Businesses adopting Microsoft Edge made productivity savings of over $2.7 million.
(Source: Microsoft)
A survey of businesses that adopted Microsoft Edge as the default browser resulted in productivity savings of $680,400 in the first year, $1,020,600 in year 2, and $1,020,600 in year 3, for a total of $2.721 million.
This was because slow browsers with compatibility issues with modern web applications greatly hindered productivity.
The cost of running Edge was a fraction of productivity savings at just $22,968 over the same 3 years.
Fun Microsoft Edge Facts and Stats you might not know
These fun and miscellaneous Microsoft Edge statistics and facts will leave you wondering: How did I not know that?
17. Edge is now based on the same foundational coding as Google Chrome.
(Source: Tech Target)
Although they are often rivals, Edge and Google Chrome use the same technology behind the scenes.
In January 2020, Microsoft introduced a new version of Edge based on the Chromium open-source project, just like Google Chrome uses.
The switch to a Chromium-based engine improved compatibility with websites and provided a more modern browsing experience. The new Edge also brought features like improved performance, extensions from the Chrome Web Store, and cross-device synchronization.
18. Edge is the default browser on Windows 11 and Xbox One.
(Source: Engadget)
Edge is no longer just bundled with Windows, it's also the default browser on the various Xbox One gaming console editions. The PS5's browser is more likened to rival Safari.
19. Microsoft Edge is the fastest browser on PC in 2023.
(Source: Avast)
Based on tests from Avast, Microsoft Edge is the fastest browser on PC so far in 2023, with a score of 125.63. It was followed by Chrome (105.17), and then Firefox (92.1). Tests were based on typical actions the average user might take and the higher the score the better.
20. Edge uses less system resources than Chrome.
(Source: Cloudzy)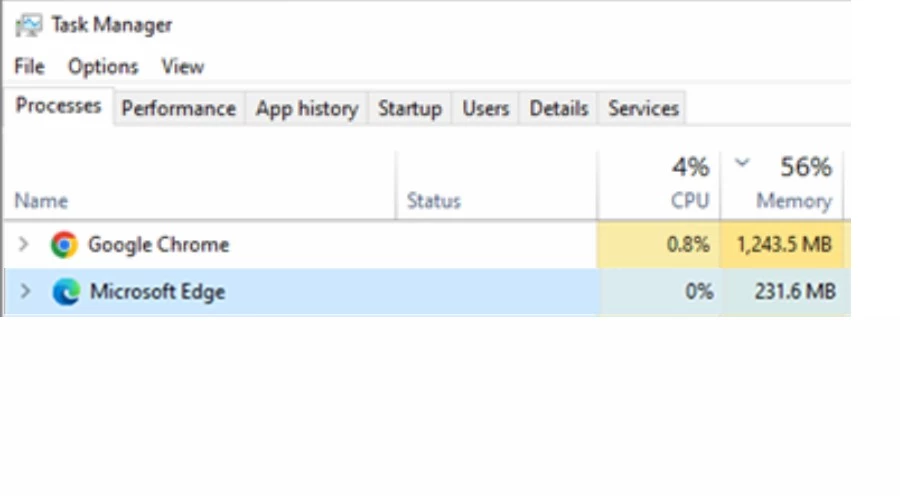 You only have to check your own task manager to see that Chrome is a memory hog compared to Edge. In our experiment playing the same YouTube video with another tab open to Google.com, Chrome used more than 5 times the memory of Edge!
21. In May 2020, an update to Microsoft Edge allowed users to access an online surfing game.
(Source: The Verge 2)
The Microsoft Edge surf game, officially known as Let's Surf, is a hidden Easter egg embedded within the web browser at edge://surf. Similar to other browser games like the dinosaur game in Google Chrome the Edge surf game can be accessed when there's no internet connection.
22. Microsoft Edge is now officially available across four operating systems.
(Source: EarthWeb)
Despite being intimately tied to Windows, Microsoft Edge now has official support for all major computer and mobile devices. This includes Windows, macOS, iOS, and Android. Linux and other OSs can also use the browser with a bit more effort.
23. AdBlock is Microsoft Edge's most popular browser add-on.
(Source: Edge Add-ons)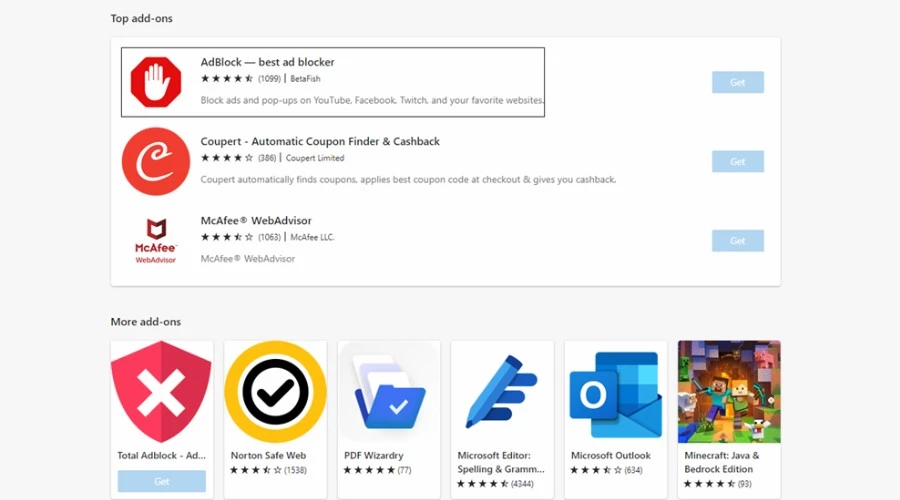 As of August 2023, Ad-block is the most popular add-on for Microsoft Edge. This is followed by Coupert coupon finder, McAfee Web Advisor, Total Adblock, Norton Safe Web, and PDF Wizardry.
Microsoft Edge Facts and Statistics for the Future
What will the browser landscape look like for Edge in the future? What new features are on the horizon?
A fully-fledged AI assistant is coming to Microsoft Edge.
(Source: WindowsLatest)
The feature is named Copilot for Edge and will function as an AI assistant for the browser. E.g., on Windows 10 or 11, you will be able to quickly ask chatbot-style questions, customize browser settings, and more – all with help from AI.
Microsoft Edge now offers a free VPN service.
(Source: NeoWin)
The new Edge VPN by CloudFlare allows for basic VPN functionality with one click within the browser and it's free for up to 5GB of data usage. While it might be good for general security, it's still not known how private it will really be compared to other leading VPNs. E.g., you need a Microsoft account to even use it.
26. An even darker Dark Mode for Edge is on the cards.
(Source: BleepingComputer)
In an update to its dark gray theme, Microsoft Edge is poised to launch an even darker Dark Mode, which is currently being tested in Edge Canary, Microsoft's experimental version.
27. Experts believe privacy is at risk with planned Edge webpage screenshot history.
(Source: TechSpot)
The new feature will save a screenshot of every single web page you visit, to display browser history more easily when offline. However, experts are concerned about a lack of transparency and these screenshots could be used to breach user privacy.
28. A special Microsoft Edge for businesses launches in August 2023.
(Source: GHacks)
The new version of Edge, known as Edge for Business, is unique compared to the normal version of Edge with different icons and other visual cues. It also gives bosses more control over the browser's features and settings and allows employees to use a personal browsing tab for activities not related to work.
Edge for Business can automatically switch between business and personal browsing modes, depending on the user's needs.
Conclusion
As we conclude this exploration of Microsoft Edge statistics, it's evident that the browser is here to stay with many exciting new features on the horizon. It's super-fast on PC and even has a large user base on iOS.
While it's unlikely to capture Chrome's market share, with Microsoft and Windows backing, it will always have loyal users.
Sources