Is Copilot the best AI companion out there? Help us find out by answering a couple of quick questions!
While Chrome remains the dominant leader among web browsers, there are still many alternatives in 2023. One of those is its closest competitor on Windows, Microsoft Edge.
Now based on Chromium itself, Edge supports most of the same extensions as Chrome and has excellent performance. But in 2023, what's unique about Edge, and is it worth making the jump back to the native Windows browser?
In this Microsoft Edge review, we take a closer look at its current features, usability, performance, and more.
Microsoft Edge Review: Overview
Microsoft Edge is predominantly known as a desktop browser on Windows, which we'll focus on today. However, it does have cross-platform support for macOS, Android, and iOS. So, if you wish to sync browsers between devices, you certainly can with Edge.
It also finds itself as the default browser on Xbox gaming consoles.
The latest Edge desktop version (116.0.1938.62) was released on August 25, 2023, and helps remind users of the tab grouping feature, among general bug fixes and tweaks.
Here's everything you need to know with our hands-on Microsoft Edge review.
Interface and Usability
Of all the major browsers, Edge has a little more happening on-screen. If you haven't used it before, you'll immediately notice toolbars on the left and right, not just at the top of the window.
The left is where Edge's unique vertical tabs are displayed. This lets you easily scroll through tabs like a menu, which is particularly useful when you have a lot open. By default, it is retracted to conserve screen space, but as soon as you hover over it, the full tab info expands.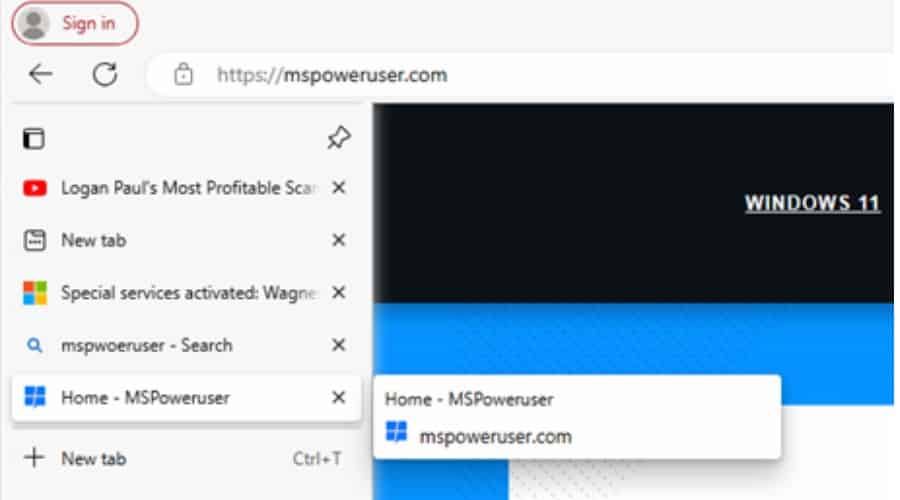 Ultimately, it solves the problem of tabs bunching together horizontally. When too much space is taken vertically, you can start scrolling.
You can also now use tab groups, which allows for better organization. When a tab group is made, clicking it expands all the tabs it contains. It's easy to move tabs between groups by drag-and-drop, akin to a folder system.
The right-side toolbar houses Microsoft features and integrations like Bing AI, Office 365, Outlook email, and OneDrive.
Besides these two toolbars, Edge is comparable to most other browsers. It has its address and search bar at the top, followed by shortcuts to its extensions and general browser settings. It's very intuitive and you'll never get lost finding what you want.
Notable Features
Edge has several standout features that you won't typically find on other browsers or Edge has implemented in a different way. Let's take a closer look at the most notable of these:
Collections
Edge recently introduced a feature called Collections that allows you to organize and save web content into easily accessible folders. This is particularly useful for research and project management. Edge is comparable to Firefox Pocket with this feature.
Bing Chat
Bing Chat is Edge's ChatGPT-powered assistant built right into the browser. You'll find it on the right by clicking the B which expands a window where you can ask the AI questions, just like on the OpenAI site.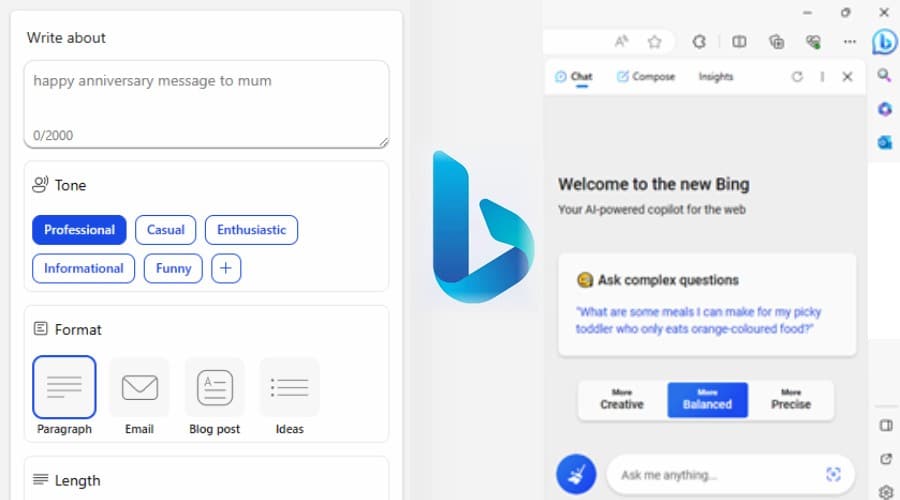 It also helps you compose or generate different content, such as emails or even entire blog posts. Your chat history is saved and so is anything you compose, so you can simply pick up from where you last left off.
AI is popping up in other browsers, such as Opera, but Edge got there first and does a good job of integrating it with Bing Search.
OneDrive Syncing
If you use Microsoft OneDrive, Edge lets you save any downloaded file from the browser to your OneDrive account. This is then synced across all devices that are signed in. You can also share OneDrive files and collaborate with others.
If you don't want anything on your local hard drive at all, simply set it so all downloads go to OneDrive.
Edge Shopping
This feature can be configured on the right with the price tag icon. It helps you save money when you shop online with an automated coupon code finder, price comparison, and cashback detector.
Look out for the blue price tag icon in the address bar whenever browsing an online store and click it to see the available offers.
It's a great way to ensure you're always paying the least for the products you want.
Reading Mode
This mode declutters web pages, making them easier to read by removing unnecessary elements. It can be especially handy for articles and long-form content that is hard to get through due to poor website coding, intrusive ads, or just because your eyes are strained.
Web Capture
This is the browser's built-in screenshot tool that offers more features than just pressing Print Screen on your keyboard. For example, you can add annotations or highlights directly within the browser. Overall, it simplifies the process of capturing and sharing web content.
Password Protection
As well as a password manager, Edge also has a password monitor feature that alerts users if their login credentials have been compromised in a data breach, helping users maintain better online security.
SmartScreen Protection
As well as popup blocking, safe browsing, and other security measures, Edge uses Microsoft Defender's SmartScreen technology to provide better protection against phishing and malicious websites. It helps identify and block potentially harmful sites in real time, so no damage is ever done.
Performance
Edge has quickly become one of the most high-performing browsers available. It opens quickly and rarely hangs, even with lots of tabs open or when carrying out intensive tasks like playing videos.
Not only does it have a lesser impact on system resources than previous years, but it also has one of the current best Speedometer benchmark tests (201) of all web browsers.
Connection speed aside, this means its ability to load new pages and perform other web tasks is faster than Chrome (155) and Firefox (147).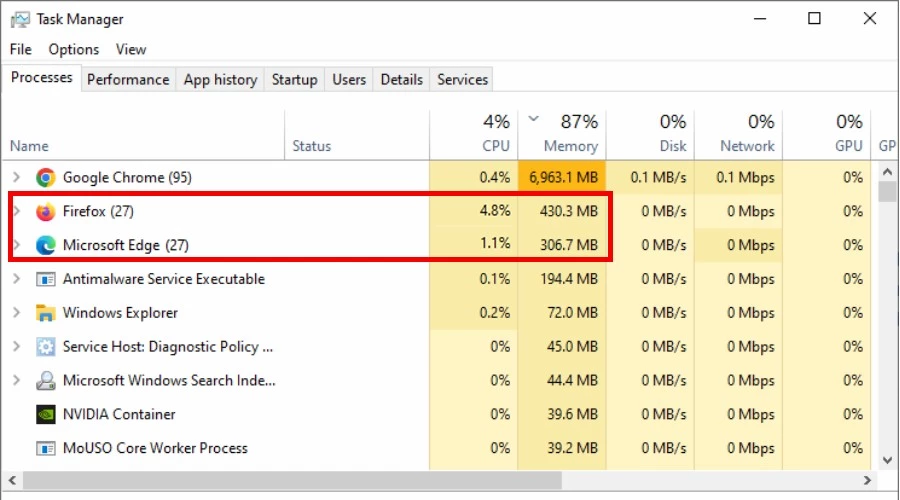 During testing with multiple tabs open, we found Edge took around 300Mb of RAM and only 1% of a 3.4GHz Quadcore CPU.
One of the reasons it performs so well is because it doesn't store idle tabs in memory. Furthermore, Windows users are likely to see good performance due to the natural synergy between Microsoft products.
Microsoft Edge Review: Pros and Cons
Edge has a lot going for it this year. Is it perfect? No, but the pros certainly outweigh the cons. Here's a quick summary of what makes it stand out and how it could do better.
Pros:
Vertical tabs
Useful integration of Bing AI chat
Fast and efficient performance
Endless extensions available
Cons:
Less private than other browsers.
3 toolbars can make it seem cluttered.
Not as useful for non-Windows users.
Microsoft Edge Review: Conclusion
Microsoft Edge is the third most popular browser in 2023, behind only Apple's Safari and Chrome. Although it has Microsoft's backing, this isn't an artificial popularity. As seen in this Microsoft Edge review, the browser has excellent performance and a lot of useful features that deserve praise.
In 2023, it's definitely worth checking out, especially if you're a Windows user and benefit from integrations with other Microsoft products.