While the rise of standalone apps, particularly in social media, has changed the landscape slightly, web browsers are still by far the most common way we interface with the internet.
You simply cannot visit your favorite sites without using a desktop or mobile browser, and many people still prefer traditional browsers for social media, shopping, and consuming the news.
The following browser usage statistics will shed light on the most popular browsers, how people use them, and the changing trends along the way.
Most Important Browser Usage Statistics
These stats give a broad overview of the current web browser market, with Google Chrome as king.
Google Chrome is the most popular web browser in the world with a 63.55% global market share.
2 billion users have Chrome as their default browser.
Internet Explorer was number one until 2012 when Chrome surpassed it.
Firefox has never had more than 23% of the web browser market.
88% of mobile internet usage is spent on apps, not browsers.
Opera One's AI tool Aria has surpassed 1 million users.
Market Share and Browser Usage Statistics
The following statistics take a closer look at the market share, the number of browser users, and some of the differences between countries and platforms.
1. Google Chrome is the most popular web browser in the world with a 63.55% global market share.
(Source: StatCounter)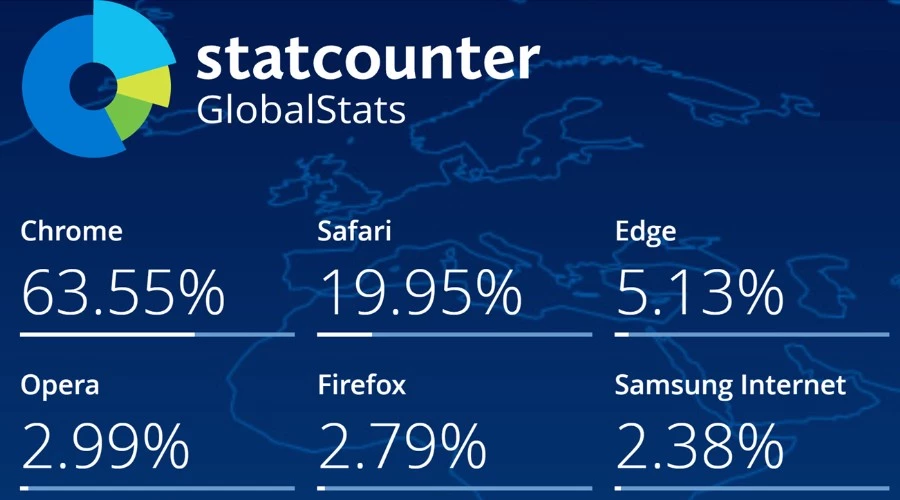 As of July 2023, Google Chrome is the most used web browser across both desktop and mobile. It has a 63.55% share of the global market, 63.32% when only accounting for desktop, and 64.81% when only accounting for mobile.
Its closest competitor is Apple's Safari, which holds a 19.95% share overall, 13.13% on desktop, and 24.76% on mobile.
Microsoft Edge is a distant third, with a 5.13% share of the global web browser market.
2. Chrome has approximately 3.2 billion active users.
(Sources: Statista, AtlasVPN)
Google Chrome's huge market share equates to an estimated 3.2 billion people using it as their default browser.
The data suggests that Safari must therefore have more than 1 billion users. Safari's user base is growing and it's only the second browser (behind Chrome) to surpass 1 billion users.
During Internet Explorer's heyday, there simply weren't enough people online to reach such numbers.
3. Safari is closer to Chrome in the United States than in Europe.
(Source: StatCounter 2)
To put Chrome's market share into perspective, it still dominates in every region, but the gap is closer in the United States where it has a 51.03% share next to Safari's 30.84%.
In Europe, Chrome has 58.85% and Safari is further behind with 21.36%.
4. 92.3% of internet users browse the web using mobile.
(Source: DataReportal)
Of all internet users aged 16 to 64, 92.3% accessed the web on mobile in Q2 2022, while 65.6% also used a desktop or laptop computer. On the other end of the scale, only 12.7% of internet users accessed the web via game consoles during this time.
5. 88% of mobile internet usage is spent on apps, not browsers.
(Sources: Insider Intelligence, Statista 3)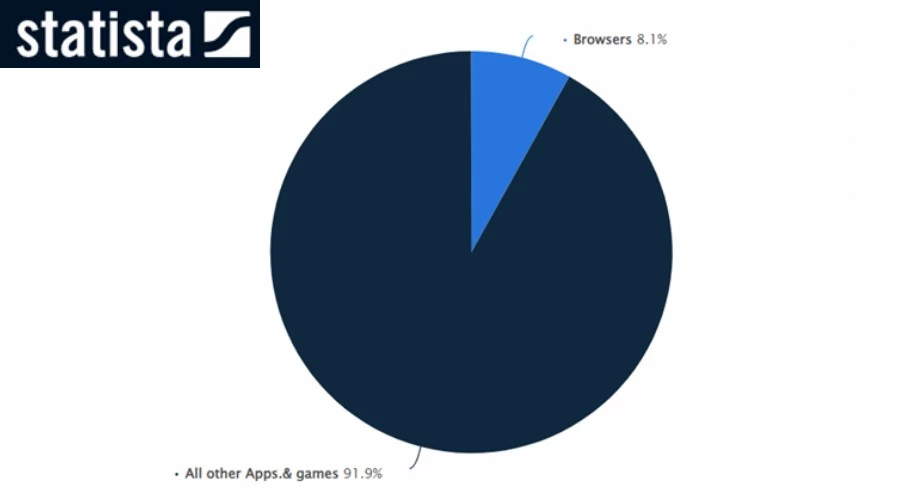 As of 2022, most mobile internet usage was spent inside apps like social media apps and games rather than mobile web browsers. Data shows 88% to 12% in favor of non-browser apps.
When focusing only on Android, only 8% of the time users spent on mobile was on mobile browser apps, while 92% of the time was spent on other mobile apps and games.
6. Chrome has been downloaded more than 10 billion times from the Play Store.
(Source: Google Play)
Google Chrome has received a total of more than 10 billion downloads on Google Play since downloads began. In comparison, Safari is only at the 100K mark. However, this is because it is more commonly used on iOS devices.
The Samsung Internet Browser is second, with more than 1 billion downloads, followed by Opera at the 100 million mark.
7. Excluding Safari, Chrome is the most popular browser on the Apple App Store
(Source: SimilarWeb Apps)
Safari is the most popular browser on iOS as it comes preinstalled. However, Chrome is still the most popular third-party browser based on current installs and active users. This is followed by Microsoft Edge. All other browser apps fail to make the ranking minimum.
Unlike Google, Apple does not release approximate download numbers only rankings.
8. QQ and 360 Safe are unique to the Chinese market with over 6% market share each.
(Source: StatCounter 3)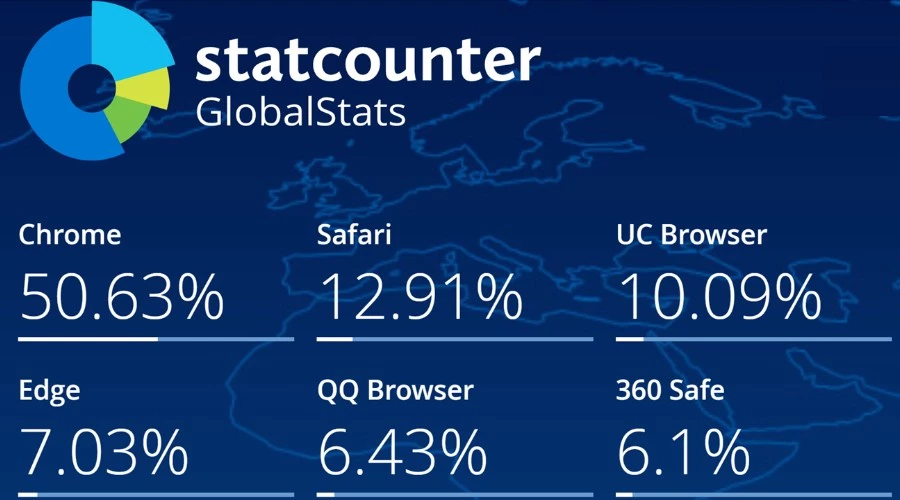 The major players in web browsing are consistently popular in almost every country. However, China has some unique competitors. The QQ Browser, which is owned by TikTok parent company Tencent, has a 6.43% market share behind Edge, Safari, and Chrome.
Meanwhile, the 360 Safe Browser by Qihoo has a 6.1% share of the Chinese market. It's recognized by its complete rip-off of the Internet Explorer logo in green.
9. Just 0.18% of people still use Internet Explorer.
(Source: StatCounter)
Although it's discontinued and has security vulnerabilities, 0.18% of people are still using a version of Internet Explorer. This includes both individuals and organizations that have failed to update their systems.
It is also not uncommon for software to use old Internet Explorer features embedded within it.
While 0.18% is very low as a percentage, when there are roughly 5 billion active internet users worldwide, that means 9 million of them are still on Internet Explorer!
10. With a 1% market share, UC Browser is the least popular mainstream mobile browser.
(Source: StatCounter 4)
A small percentage of mobile users still access the obsolete Android browser, which has almost universally been replaced by Chrome. However, in terms of browsers still updated and supported by their developers, UC Browser remains the least popular.
As of July 2023, it has a 1.01% share of the market, which jumps to 1.79% when only accounting for mobile browsers. Android trails with 0.65%.
11. However, UC Browser is still the most searched browser on Google.
(Source: Google Trends)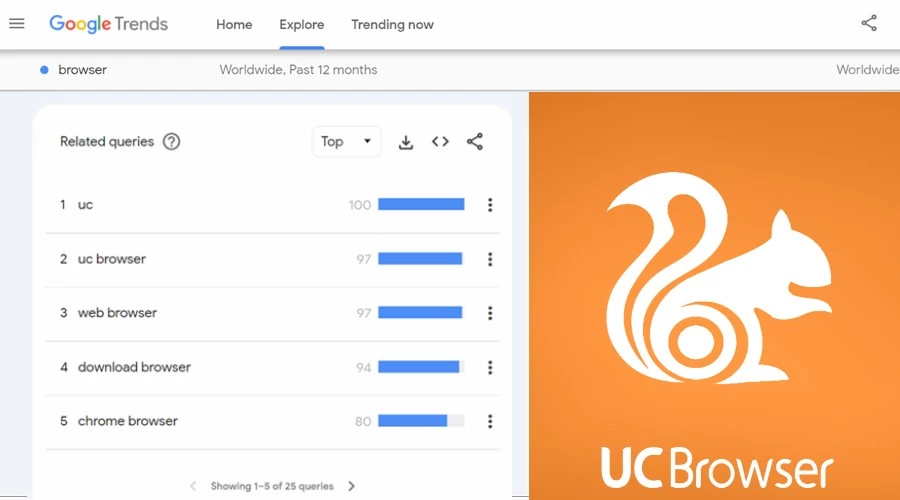 Despite having such a small market share, UC Browser has been the most searched query related to 'browser' according to Google Trends over the past 12 months.
As well as genuine growth, this could also be a case where people already know the most popular browsers but feel the need to search out more information when they come across UC in the app store or are researching alternatives.
12. More Xbox gamers are using Edge than PlayStation gamers are browsing the web at all.
(Source: CBS News)
Until the release of the PS5, PlayStation consoles had a built-in web browser based on WebKit, which is also the source of Apple's Safari. The PS4 also supported third-party apps like Chrome and Firefox. However, there is no built-in browser or app browser support on PS5.
That means Xbox and its built-in support for Microsoft Edge is leading the console browser war. Even if we assume the still 92 million active PS4 players are using the browser, there are far more combined active Xbox players with the ability to use Edge.
Private Browser Usage Statistics
While most people are familiar with Chrome's Incognito mode, this is what the data says about different private browsers and browsing habits.
13. The first web browser to feature a privacy mode was Safari in 2005.
(Source: LifeHacker)
Originally dubbed a 'porn mode', Apple's Safari was the first major web browser to feature a private browsing mode with its April 2005 release. It wouldn't save browsing history, autofill information, or any data related to online forms. Additionally, cookies and cached files created during a session were deleted once the session was ended.
14. 46% of Americans had used private browsing by 2017.
(Source: DuckDuckGo)
In a survey of nearly 6,000 Americans, 46% said they had used private browsing. This number is likely to be much higher today.
The main reason respondents said they used private browsing was 'Embarrassing Searches'.
15. 57.76 million people currently use the privacy-focused Brave browser.
(Source: Brave)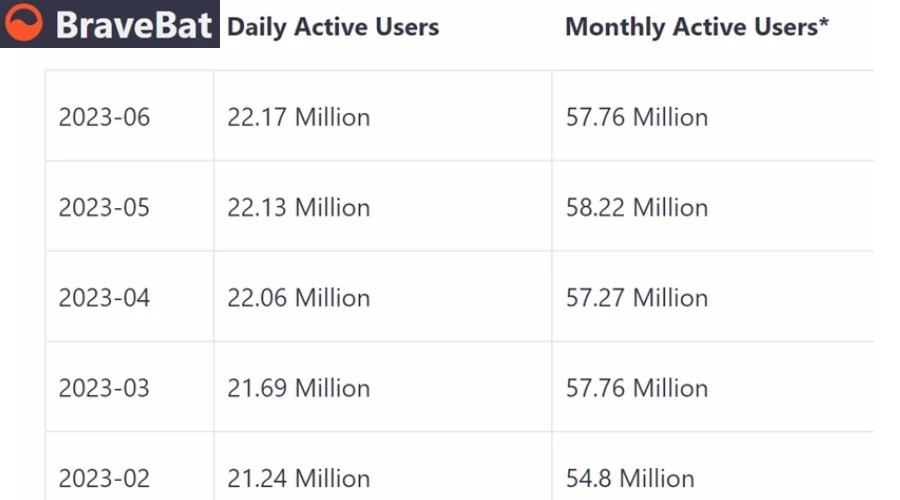 As web users become more conscious of their privacy and how browsers mine their data, a new space is emerging for privacy-focused browsers. Leading the pack is Brave, which reported 57.76 million monthly active users in June 2023.
However, this is still just 1.8% of the number of users as Chrome.
16. Over 2.5 million people use the Tor browser each day.
(Source: ThinkUKnow)
The Tor browser, based on Firefox, is another web browser designed for enhanced privacy and anonymity. However, unlike Brave, it uses the Tor (The Onion Router) network, which is a decentralized network of volunteer-operated servers that routes traffic through multiple layers of encryption. This permits access to the so-called dark web.
Over 2.5 million people use Tor every day for general privacy, bypassing censorship, whistleblowing, and illegal activities.
Web Browsers and AI Usage
The rise of generative AI and chatbots is leading to a natural fusion with web browsers, much like the search engine/ browser relationship that has been a staple for decades.
17. Opera One's AI tool Aria has surpassed 1 million users.
(Source: NeoWin)
In June 2023, Opera launched a new version of its browser called One. This includes a ChatGPT-powered AI tool called Aria. In under a month, it passed 1 million users, which is impressive considering Opera is the fourth most popular web browser.
18. The introduction of Bing AI chat to Edge increased market share by 0.68%.
(Sources: StatCounter, The Verge)
Between March and May, Microsoft Edge's market share grew by around 0.68%, the largest jump in years. This is likely due to the introduction of Bing Chat, an AI version of its built-in Bing search engine.
More than 1 million people signed up within the first 48 hours and Microsoft announced Bing usage had passed 100 million, daily.
19. Upstarts like SigmaOS are developing new ways to use AI within browsers.
(Sources: The Verge 2, SigmaOS)
SigmaOS is too new to cause a dent in the web browser market just yet, but it has introduced AI as a built-in assistant that could inspire others.
The Airis tool lets you ask questions about the page you're on by highlighting text within it, right-clicking, and 'asking Airis'. It returns results that are both informative but also in context with the page itself.
For example, highlighting someone's name in a news story will summarize what the author is saying while bringing forth other relevant information from elsewhere on the web.
20. The 6th most popular Chrome extension of 2022 is based on ChatGPT.
(Source: Chrome Web Store)
AI integration into web browsers is also happening through extensions and add-ons. The Chrome Web Store's yearly ranking for 2022, saw LINER ChatGPT make 6th place. The extension allows you to create ChatGPT responses to comments on popular sites like YouTube.
Historical Browser Usage Statistics
The web browser landscape didn't always look like it does now. These stats and facts explore the history, rise, and fall of the most popular browsers.
21. The first-ever web browser only lasted 4 years.
(Source: Web Design Museum)
The first-ever web browser was literally called WorldWideWeb and was released in December 1990. However, it only lasted around 4 years, with its final release in 1994 under the Nexus name.
It was quickly surpassed in popularity by the 1993 Mosaic browser, which was the first web browser to get relative mainstream appeal among the internet users of the day. This would go on to become Netscape Navigator, which at one point had a 90% market share before Internet Explorer took over.
22. Internet Explorer gained 99% of the browser market by 1999.
(Source: Converging Media)
When Microsoft began including Internet Explorer with Windows 95 and bundling deals with different OEMs, it quickly gained ground on Netscape. 4 years after it was released, IE had 75% of the browser market and by 1999 it had a virtual monopoly.
23. Internet Explorer was number one until the great battle of 2012.
(Source: StatCounter)
Although Google fully released Chrome across platforms in 2010, Microsoft's Internet Explorer was the entrenched leader of web browsers in the years prior. It would hold the top spot for two more years until the great battle of 2012.
In May, Chrome took the leading share of the market with 29.15% compared to IE's 28.87%. From that moment on, Internet Explorer would gradually fade into obscurity and was eventually replaced by Edge.
24. Firefox has never had more than 23% of the market.
(Source: Statista 2)
Mozilla's Firefox is still a strong alternative for some, but its heyday is long behind us. Firefox's most popular year was 2012, when in May it had a 22.98% share of the market. However, web users quickly picked Chrome as the browser to dethrone Internet Explorer.
Despite arguably having better features and performance for a time, Firefox has always suffered from being independent and not having a giant like Google behind it.
25. Firefox surpassed Internet Explorer in popularity in 2015.
(Source: Statista 2)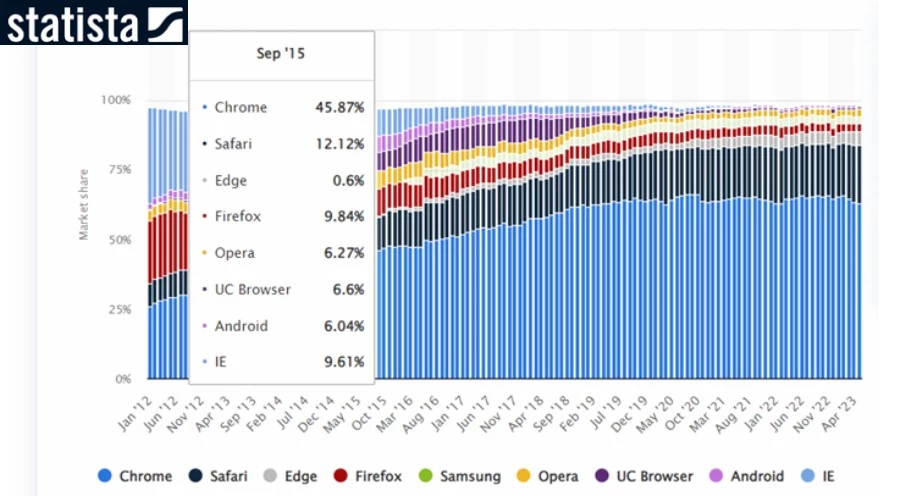 The rise of Chrome and the fall of Internet Explorer left Firefox in a race to the bottom, not the top. It wasn't until September 2015 that Firefox could claim more users than IE, with a share of 9.84% compared to IE's 9.61%.
26. Edge surpassed Firefox in popularity in 2021.
(Sources: Statista 2, StatCounter)
Firefox enjoyed over 5 years with more users than Microsoft. However, in May 2021, the revamped Edge browser took the lead by just 0.01% with a market share of 3.37% compared to Firefox's 3.36%.
Edge would widen the gap, and as of July 2023, it has 5.13% compared to Firefox's 2.79%.
27. Opera is now more popular than Firefox with a 2.99% market share.
(Source: StatCounter)
The Opera web browser now has more users than Firefox, a milestone it first reached in May 2023. At that time Opera had a 2.79% share of the market compared to Firefox's 2.77%.
The gap has widened further and as of July 2023, Opera has a 2.99% share and Firefox has 2.79%.
Conclusion
These browser usage statistics show what many of us already assumed. Google Chrome is the dominant leader on desktop and mobile. However, with the rise of apps over browsing and the integration of AI search, there may be big changes on the horizon.
Will the leaders adapt, or can a newcomer sneak in and disrupt the status quo?
Sources