You've come to the right place if you're looking for the best browser for Windows 11!
This article will examine the top browsers that work with Windows 11 and highlight their most important features.
You can find a browser on our list that meets your needs, regardless of whether speed, security, customization, or privacy are your top priorities.
Comparison Table
Below you will be able to see the results of our benchmark tests, covering all aspects of the software's capability but mainly focusing on memory usage in specific conditions. Before diving into the table with the results, please understand how we created these best browsers for Windows 11.
Benchmark parameters
To get valuable results out of these benchmarks, our team of expert testers created the following test conditions:
Each browser was updated to the latest version
Any other software has been stopped on the testing machine
Each browser was tested by opening 10 common-use tabs (including benchmarks)
The browser speed test was performed using the Speedometer Benchmark. The higher the value of this benchmark, the better the browsing speed.
The browser security test was done using the Browser Audit Benchmark. This benchmark has a total of 431 separate tests, which make it up, so the number before the total is the number of tests the browser has passed, and the difference is the tests that it hasn't passed.
| | | | | |
| --- | --- | --- | --- | --- |
| Browser | RAM Usage (MB) | CPU Usage (%) | Speedometer benchmark (Speed) | Browser Audit benchmark (431 Security tests) |
| Brave | 546MB | 6.3% | 206 | 401 |
| Microsoft Edge | 670MB | 1.4% | 201 | 401 |
| Vivaldi | 831MB | 4.3% | 191 | 400 |
| UR Browser | 836MB | 1.2% | 172 | 399 |
| Opera | 973MB | 3.6% | 193 | 399 |
| Mozilla Firefox | 980MB | 1.1% | 147 | 401 |
| Opera GX | 1100MB | 1.4% | 174 | 399 |
| Tor | 1200MB | 18% | 76.1 | 393 |
| Google Chrome | 1840MB | 2.8% | 155 | 399 |
| Avast Secure Browser | 2000MB | 22% | 177 | 403 |
1. Opera – Best browser for Windows 11 overall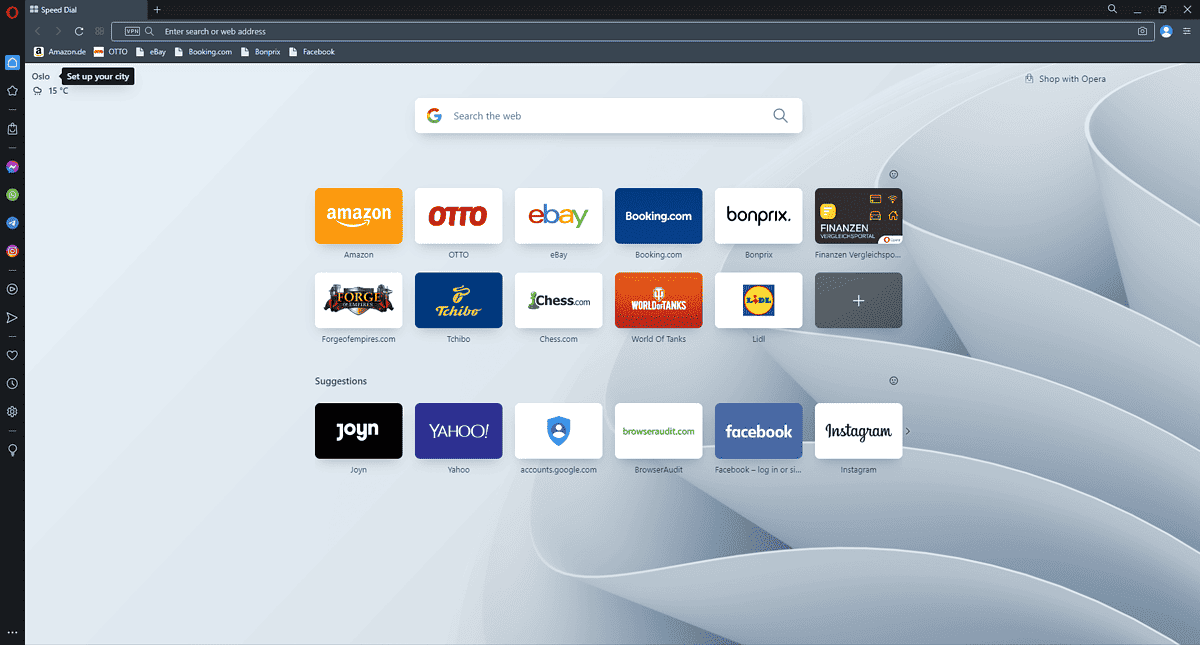 Opera is a browser with powerful features that promise users an effective, speedy, and safe browsing experience. To top it off, Opera also includes a free VPN service and an integrated ad-blocker.
One handy browser feature is Opera Flow, which allows you to sync any browsing data seamlessly between devices.
Regarding our tests, Opera has performed well but has taken 5th place as other browsers have surpassed it. Opera required 973MB RAM to operate 10 tabs and has used a total of 3.6% of the CPU's power. In our speed test, Opera scored 193, and during our browser security audit, it passed 399 tests out of 431.
Pros
Fast webpage loading times
Includes a wide range of customization features
Built-in VPN and ad-blocker
Integrated messenger apps
Includes battery-saver mode
Cons
Severe limitations to the free VPN service
Limited extension capability
The interface can be overwhelming for new users
2. Brave – Best-performing browser for Windows 11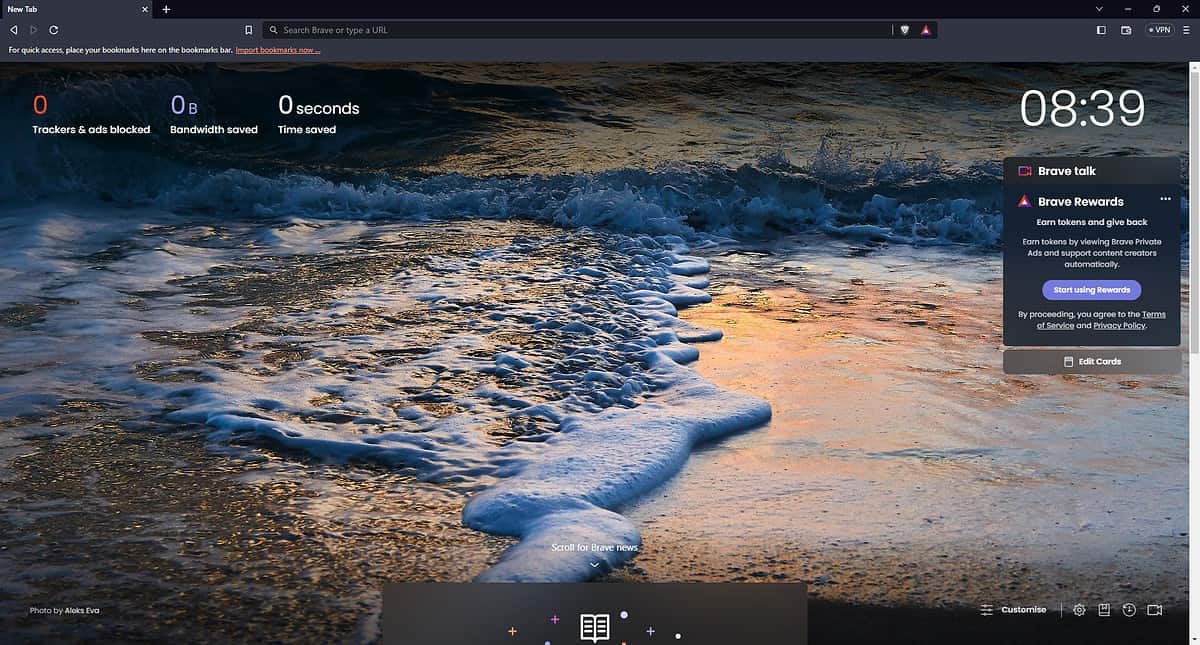 Brave is the best browser for Windows 11, offering a compelling balance between utility, efficiency, speed, and security.
This powerful app includes a built-in ad blocker and tracker blocker, making your browsing experience much faster and more streamlined.
One exciting feature of Brave is that it has a Brave Rewards program that permits users to earn tokens by accepting privacy-respecting ads.
Brave has taken the lead regarding the benchmark results, using just 546MB of RAM with 10 tabs open and a maximum of 6.3% CPU usage. The speedometer benchmark has given us a score of 206, meaning that this number of packages were unpacked using the browser during the testing time.
During the security benchmark, Brave has passed 401 tests out of 431, making it also one of the most secure browsers for Windows 11.
Pros
Excellent security and privacy features
Includes a web tracker and native ad blocker
Fast browsing speeds
Light effect on system resources
Cons
Runs its own ads from a user-focused rewards system
3. Microsoft Edge – The least resource-intensive option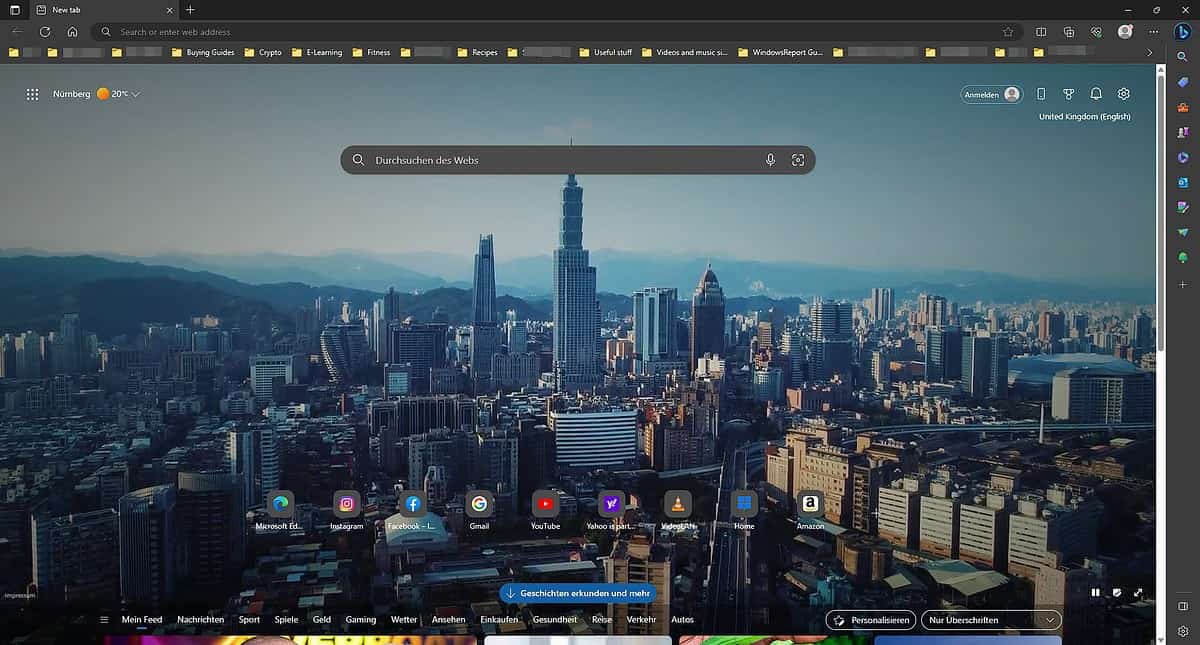 Microsoft Edge comes installed on your Windows 11 OS and is the default browser, but that doesn't mean it's not powerful or safe. This is a new iteration of the old Internet Explorer, and everything about it has been revamped.
You now get a user-friendly interface that can help with any task you want to complete and offers improved speeds and performance. The Edge browser has shown outstanding results in our tests, using 670MB of RAM while running 10 active tabs and only 1.4% of the CPU. These results have surprised us as well, but pleasantly so. Beyond this, the speed benchmark has given us a 201 score, slightly lower than the previous browser we covered.
Edge has the same results as Brave regarding the security audit benchmark, with a total of 401 tests passed out of 431.
Pros
Improved user interface
Fast browsing speeds
Great security features like Microsoft Defender SmartScreen
Built-into the OS
Fully integrated with Microsoft services
Cons
Not as widely supported as other options
Extensions are limited even though it allows Microsoft Store or Chrome Web Store apps
4. Vivaldi – The best widely-customizable browser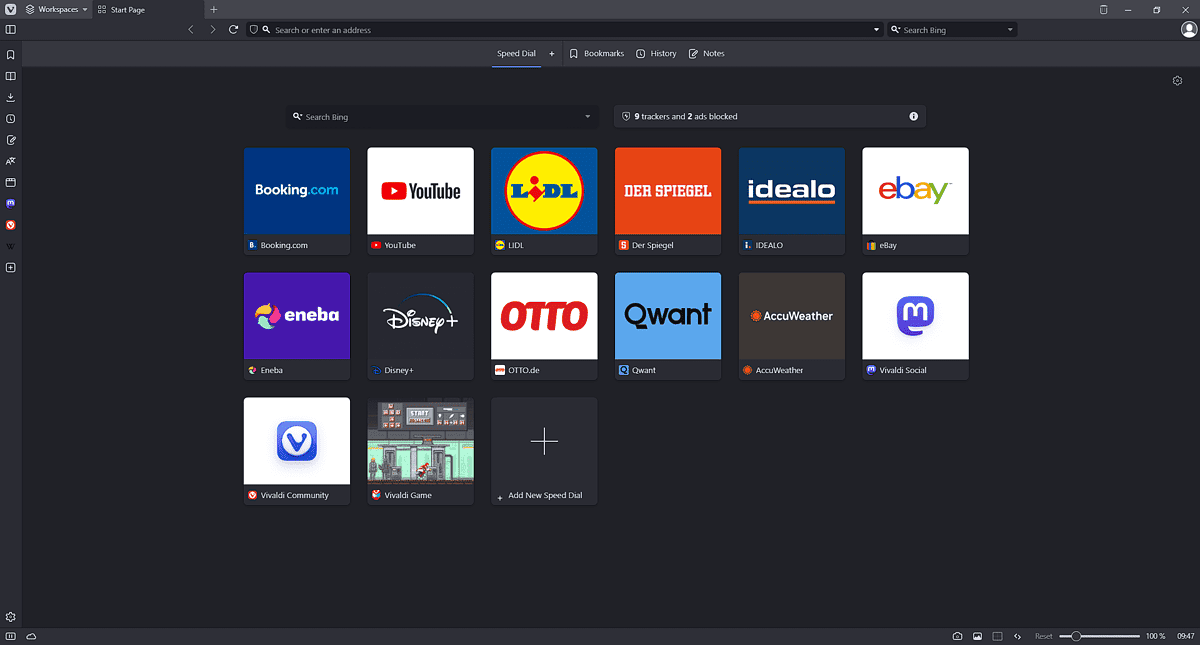 Vivaldi is one of the most customizable browser options available and was designed with power users in mind. You can use the valuable tab stacking feature to organize your browsing experience, and the built-in note-taking tool helps with research on any topic.
During our benchmark tests, Vivaldi has taken 3rd place from the perspective of RAM usage, with a requirement of 831MB to run 10 active tabs simultaneously. CPU usage has reached a 4.3% value, making it middle-range regarding this topic.
Our benchmark tests for speed and security have also proven that Vivaldi is fast, with 191 tests passed without problems. It also completed 400 security tests successfully, making it almost as secure as the previously-discussed browser options.
Pros
Great customization options
One of the best tab management features
Great built-in tools for productivity and security
Compatible with a variety of devices on multiple platforms
Cons
The learning curve might be overwhelming for normal users
CPU usage increases dramatically after opening more tabs
Limited amount of extensions
5. UR Browser – Secure browsing experience with customizable privacy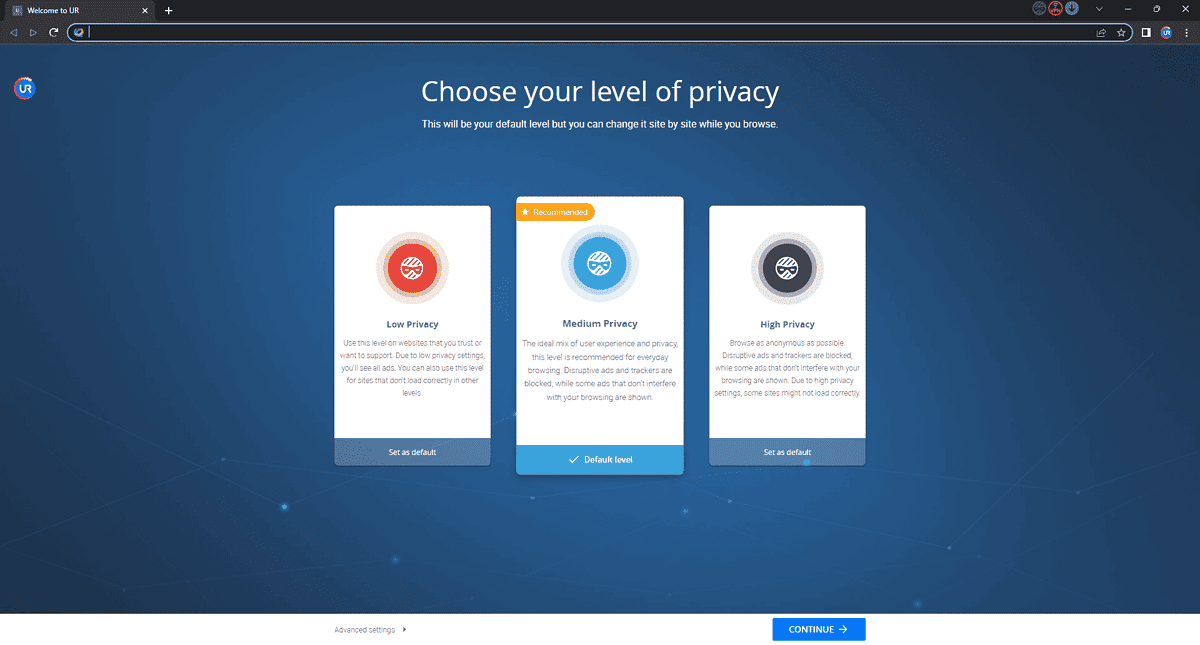 UR Browser is software created with privacy in mind and was designed with a helpful user interface and other great features to improve productivity and performance.
One of the most essential features of this browser is the powerful focus on privacy. This app includes an ad-blocker, anti-tracking features, and even HTTPS encryption.
The browser has had recent results regarding RAM usage, with 836MB needed to run 10 tabs and a CPU involvement of 1.2%, making it one of the best browser options for Windows 11. This software also had good results in our benchmark tests, with 172 tests passed during the speed testing period and 399 security tests passed out of 431.
Pros
Great privacy features
Good customization options
Chromium-based, so it has full compatibility with any Google services
Cons
Installs some bloatware
Limited extension support
Smaller user base (designed for power users)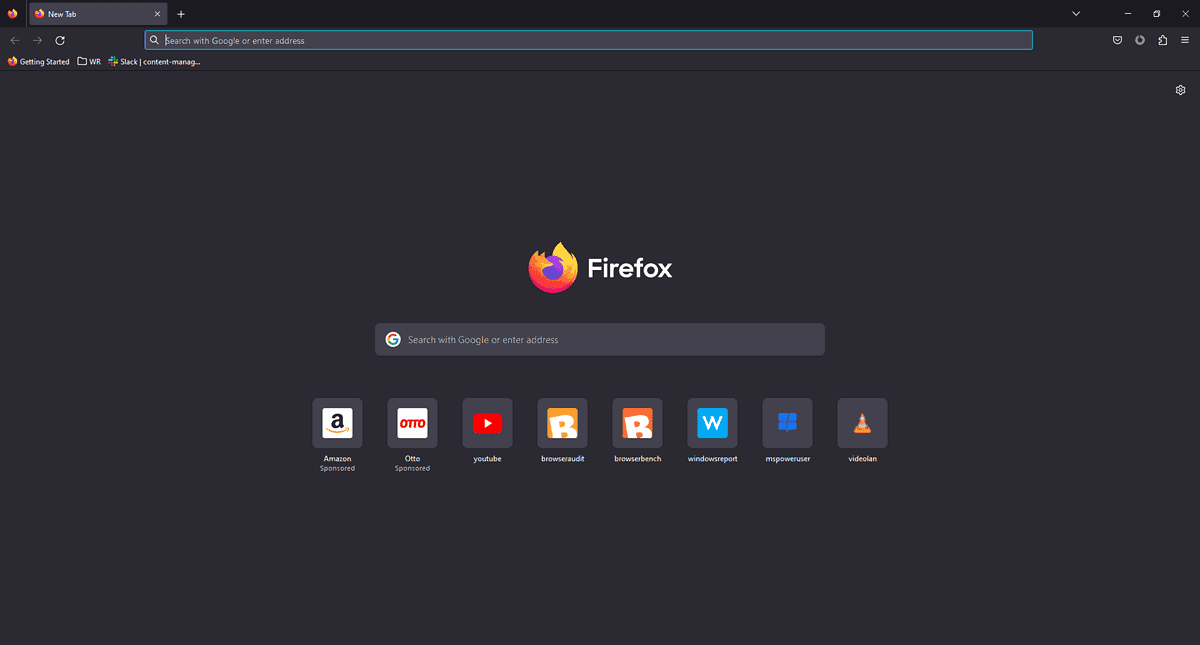 Firefox is an excellent browser with unique user privacy features and comprehensive customization options. You can use the browser's enhanced tracking protection and cookie control settings.
To supplement its capabilities even more, Firefox has an extension store that almost rivals the one for Chrome, enabling you to customize and extend the software's capabilities to suit your needs perfectly.
During our tests, Firefox used 980MB RAM to run 10 tabs and about 1.1% of the CPU's power, making it one of the best browsers regarding computer resource requirements.
On our speed benchmark, this browser has scored only 147, which is considerably lower than other options. Our security and privacy benchmark has shown promising results, with 401 tests passed out of 431.
Pros
Good privacy and security features
Enhanced tracking protection
High-grade customization option with various extensions
Open-source
Compatible with a variety of platforms
Cons
Lower browsing speeds than other options
Limited video codec support
Occasional compatibility issues with addons
7. Opera GX – Great browser for gamers with privacy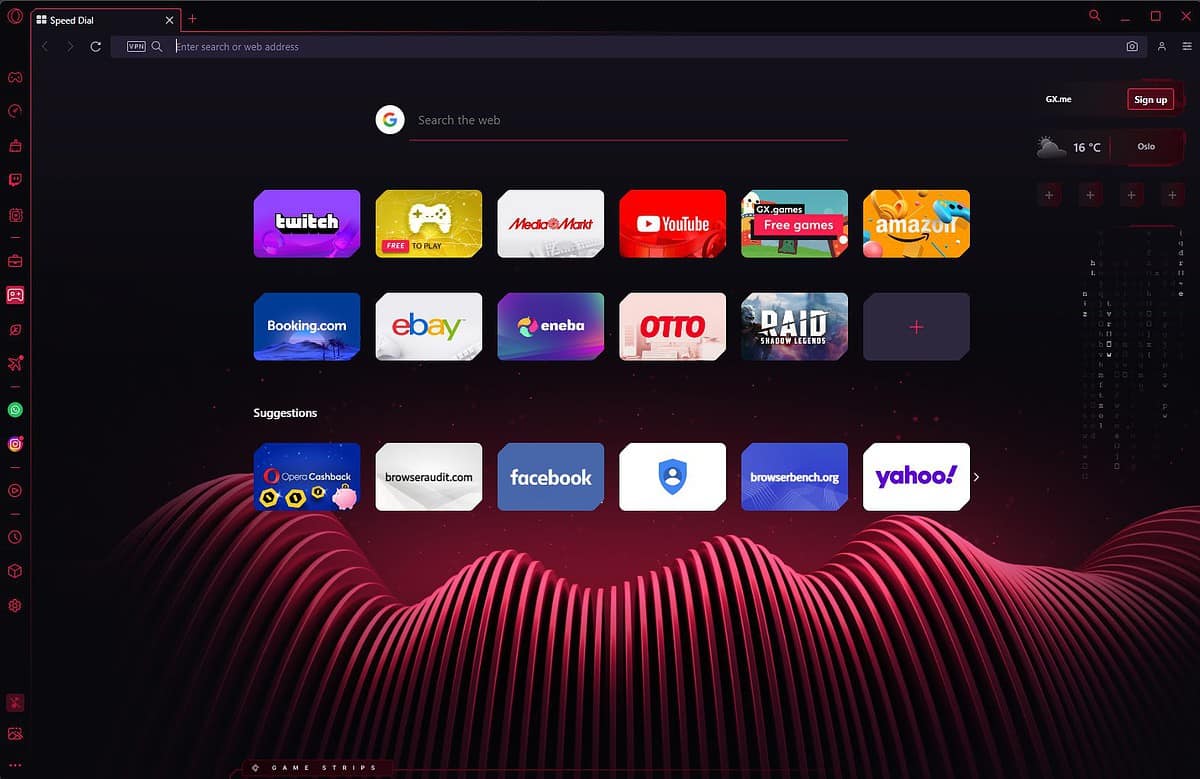 Opera GX was designed from the ground up with gamers' needs in mind, but it is still based on the powerful Opera browser, making it a very speedy and secure choice.
As it was designed as a gaming-inclined software, the browser has tools that can help with browser gaming, like RAM and CPU limiters, Twitch integration, and a futuristic design.
On our tests, Opera GX has performed well, even though the RAM usage for 10 open tabs has been recorded at 1100MB RAM, making it one of the heaviest on system resources until this point in the list. The CPU has only been used at 1.4% of its capability, bringing Opera GX's CPU usage value to the level of Edge.
During our speed test, Opera GX scored 174, making it slower than its cousin, Opera. The security and privacy benchmark test results have also been good for this browser, with 399 tests passed out of 431.
Pros
Built-in adblocker, VPN, CPU, and RAM limiter
Twitch and Discord integration
Decent browsing speeds
Compatible across-platforms
Cons
Gaming focus could limit general usage
The interface can be overwhelming
Limited extension selection
8. Tor Browser – Powerful traffic encryption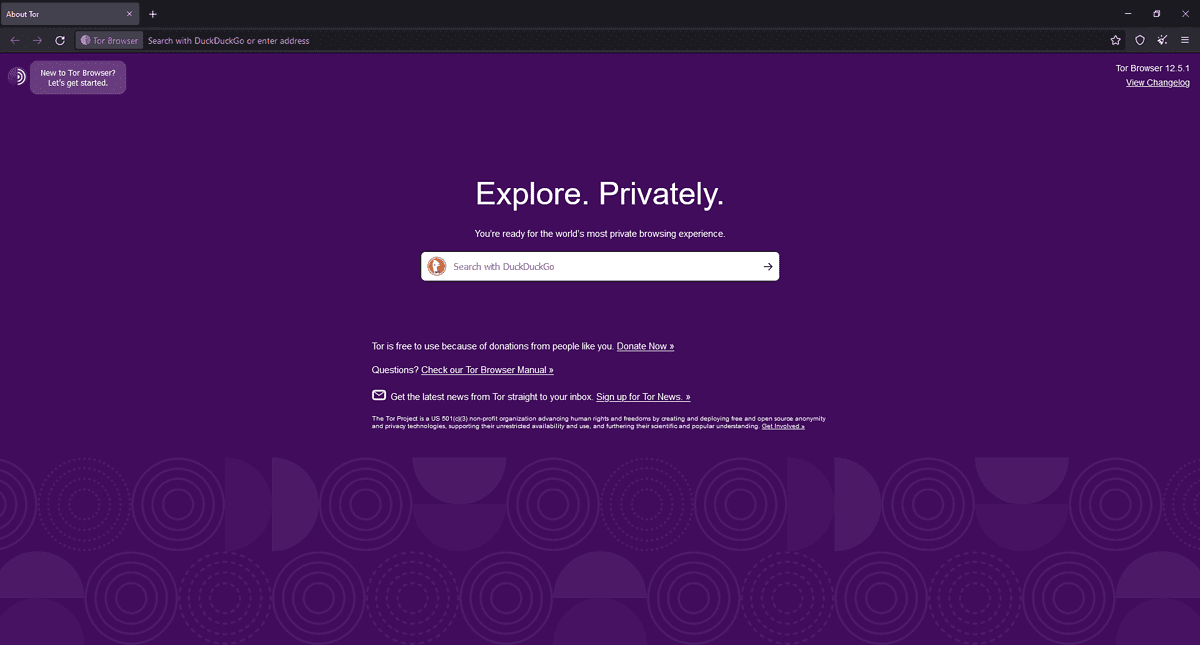 Tor was designed to allow users to navigate the web with complete anonymity and privacy. This powerful browser routes your Internet traffic through a network created by volunteers from across the globe, encrypting the traffic multiple times.
During our RAM test, Tor has had one of the heaviest impacts, with a recorded 1200MB used to maintain 10 active tabs. To do so, the browser has used a whopping 18% of the CPU capability, making it the browser option with the most system requirements. That is unsurprising, as Tor was created for security and online anonymity.
Our speed test didn't surprise us either, as Tor scored 76.1, making it slower than all the other browsers in the list. Tor passed 393 tests out of 431 during our browser security audit, making it a good browser option in this department.
Pros
Great privacy and anonymity features
Traffic encryption through volunteer-operated servers
Support for Onion services
Enhanced security
Cons
High impact on system resources
The interface could be more engaging
9. Google Chrome – Versatile but resource-intensive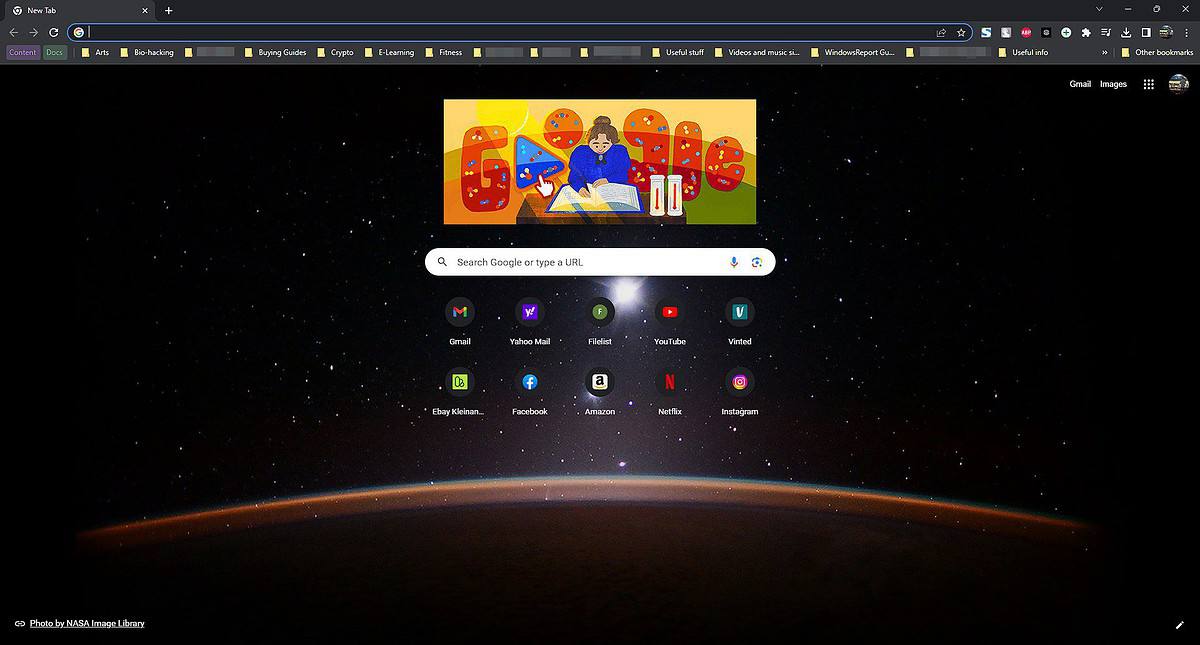 Google Chrome is one of the most popular browsers on the market and with good reason. This browser offers users a user-friendly interface with quickly accessible options, incredible loading speeds, and a wide range of extensions to boost and customize its capabilities.
As Google created it, Chrome offers seamless integration with all services from this company, and everything can be managed from one account.
During our system requirements test, Chrome used 1840MB RAM to run 10 tabs and engaged 2.8% of the total CPU's power. In our speed benchmark, the software scored 155, making it just a middle-range option. This browser has had good results in our security audit, passing 399 tests out of 431.
Pros
Wide range of extensions
Good privacy features
Password manager
Fast browsing speeds
Cons
It can be resource-intensive, especially with multiple tabs open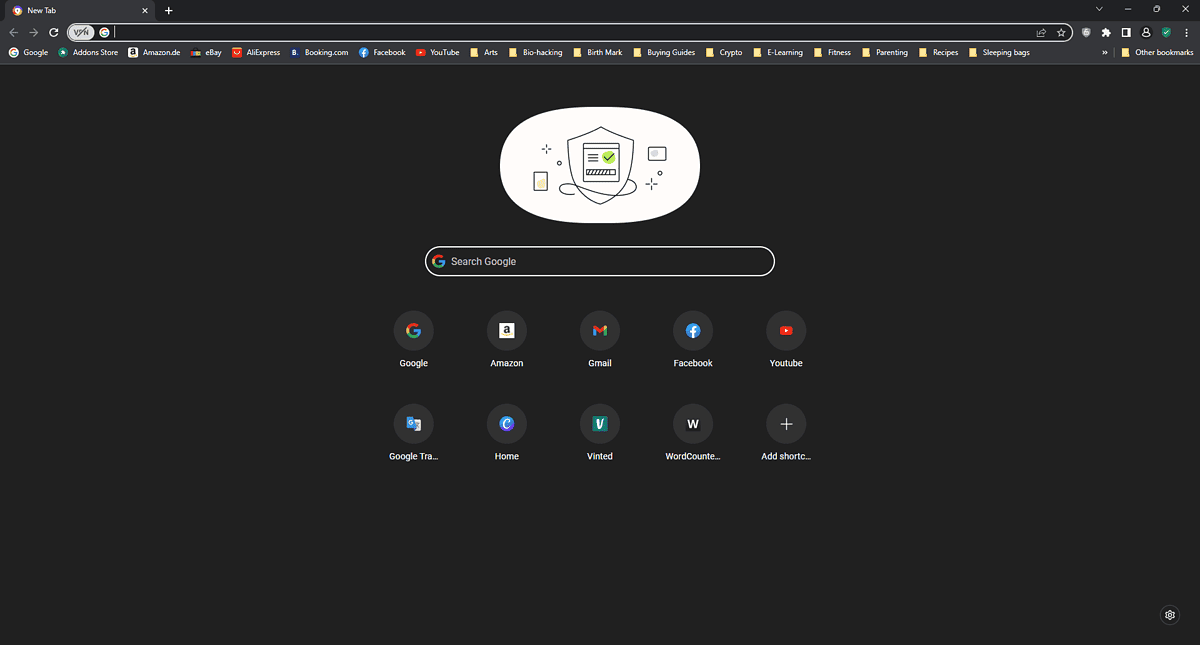 Avast Secure Browser is created by the well-known antivirus company Avast. They made a powerful privacy-focused browser that focuses on user online security.
The built-in anti-tracking, anti-fingerprinting, and powerful password manager makes this browser a worthy opponent to the other software listed.
During our tests, the Avast Secure Browser used 2000MB to run 10 tabs simultaneously, employing 22% of the CPU's power. This makes the browser from Avast the most resource-intensive browser on the list. Regarding the speed benchmark, the Avast browser scored 177, bringing it close to Opera in this department. Our security and privacy benchmark test has shown that Avast Secure Browser is secure, scoring 400 points out of 431. This makes this option the safest browser to use on Windows 11.
Pros
Amazing privacy and security
Includes ad-blocker, anti-tracking, and HTTPS encryption
Access to Bank Mode, which protects your online transactions
Integrates seamlessly with other Avast security software
Cons
Limited extension options
Slow browsing speeds
High impact on system resources
What is the fastest browser for Windows 11?
Brave is the fastest browser for Windows 11, scoring very well in our speed benchmark test. Because it is based on a Chromium engine, it ensures a solid foundation for speed and compatibility across devices, making it one of the best browsers for Windows 11.
Is Chrome or Edge better for Windows 11?
During our in-depth resources benchmark tests, Chome used 1840MB RAM and 2.8% of the CPU to maintain 10 tabs. Edge used 670 MB RAM and 1.4% of the CPU.
The same principle applies even when considering the browsing speed benchmarks, where Chrome has scored 155, and Edge scored 201, making it faster. During our browser security audit, Chrome passed 399 tests, while Edge passed 401.
Based on this data, Edge is far better for use on Windows 11 when compared to Chrome.
Do you have to use Microsoft Edge with Windows 11?
No, you are not obligated to use any specific browser. Even though Microsoft Edge is the default browser in Windows 11, you can easily change it by modifying the device's settings. Edge is one of the fastest and most secure browsers for Windows 11, so we recommend trying it out. Check out the benchmark test results above for more information on the topic.
---
In today's article, we covered a lot of ground, as we not only included a list of 10 of the best browser options for Windows 11, but we also tested them using specialized tools to get the results. Make sure to explore the information in its entirety if you want to make an informed decision about what browser to use on Windows 11, with incredible speeds and security features.