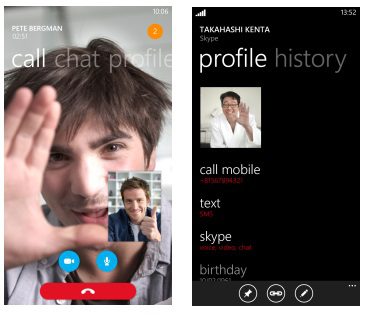 Few hours back, Microsoft Skype released an update for Skype app for Windows Phone 8 devices. The new v2.4 brings in many new features and also enables people hub integration again. Now Skype blog detailed the update with more description.
Changes:
Higher quality video calling, and up to 720P on supported devices and depending on network conditions – Using the hardware acceleration capability of Windows Phone 8, this is our first smartphone app to enable free face-to-face video calls in crisp, clear and beautifully lifelike HD. We have significantly improved video calling quality for all users, offering VGA video on lower end handsets and 720P HD on higher-end devices including the Nokia Lumia 920, HTC 8X and Samsung Ativ S. And the app even intelligently determines the best quality available based on the speed of your connection.
Video calling in landscape mode – We've added landscape mode for calls.
Camera switching – The ability to switch between front and back cameras for you to chat in the most comfortable way possible.
Enabled People Hub integration – All of your Skype contacts will be listed in the People Hub (for users with the latest update to Windows Phone 8), making it easy to start conversations on Skype even when you're not running the app.
Switch accounts – Many users asked for the ability to switch between accounts, and we've added that in this update – just tap on your profile picture and choose "switch accounts" from the menu.
Download it from Windows Phone Store.
Source: Skype