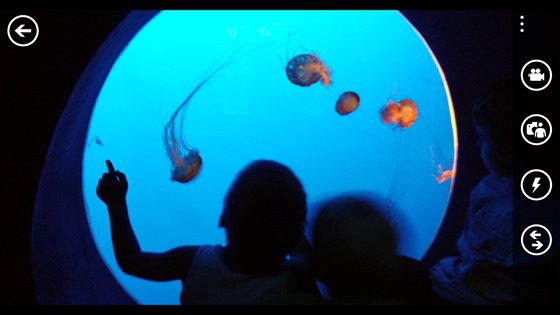 Microsoft today detailed the improvements that are part of Photos experience in Windows Phone 8 devices. Windows Phone was already known for its simple and effective photos experience. Microsoft has further the experience by the following features,
Lenses: Windows Phone 8 has a cool concept called Lenses. Lenses are apps that integrate directly into your phone's viewfinder and Camera Roll, helping you in manipulating the images such as applying a cool filter, create an immersive 3D panorama, or superimpose a pirate hat and wooden leg on someone, etc,. Even 3rd party developers can make their own Lens app and release it in Windows Phone Store.
Quality: Microsoft along with its hardware partners really doubled down on capture quality of images and videos which is already evident from images and videos from Nokia Lumia 920.
Improved Viewfinder: Since many people use flash toggle button, In Windows Phone 8 the flash toggle was placed front and center, available in one tap.  Also you can now just pinch or stretch your fingers directly on the viewfinder itself to zoom.
Editing Improvements:

Crop. Drag the handles to adjust the crop area. If you want a  predefined aspect ratio, just tap the Aspect Ratio button to see common  options.
Rotate. Each tap of the Rotate button turns your photo 90 degrees  clockwise.
Smarter Autofix. Tapping this option automatically adjusts exposure  levels, color balance, and sharpness to make your photos look their best. Tap  again to undo these changes. Autofix is even better at one-touch cleanup with  the improvements we made to it in Windows Phone 8.
New app integration. If the built-in editing options aren't enough,  you can now launch your favorite photo-editing app while you're looking at a  photo, without navigating to the App list first.

Screenshots Capability: Press power and Start buttons at the same time, and a picture of whatever's showing on the screen will be saved to Photos Hub.
Improved Sharing Experience: You can auto-upload full resolution photos and videos in the background over Wi-Fi to any social network or storage service such as SkyDrive, Flickr, etc,. Also you can share photos and videos through direct Bluetooth, "tap to send" (NFC) sharing and SD cards.
Read about them in detail from the link below.
Source: Windows Phone blog