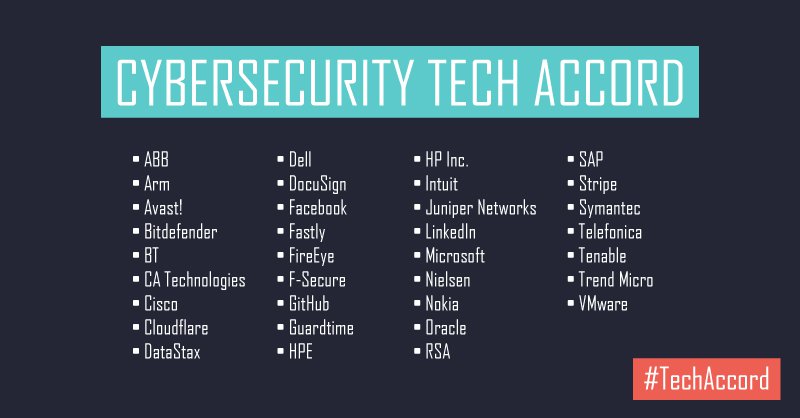 At RSA Conference today, 34 global technology companies including Microsoft, Facebook and others signed a Cybersecurity Tech Accord to advance online security and fight cyberattacks together. These companies have agreed
to defend all customers everywhere from malicious attacks by cybercriminal enterprises and nation-states.
The 34 companies include the following:
ABB | ARM | AVAST! | BITDEFENDER | BT | CA TECHNOLOGIES | CISCO | CLOUDFLARE | DATASTAX | DELL | DOCUSIGN | FACEBOOK | FASTLY | FIREEYE | F-SECURE | GITHUB | GUARDTIME | HP INC | HPE | INTUIT | JUNIPER NETWORKS | LINKEDIN | MICROSOFT | NIELSEN | NOKIA | ORACLE | RSA | SAP | STRIPE | SYMANTEC | TELEFONICA | TENABLE | TRENDMICRO | VMWARE
"The devastating attacks from the past year demonstrate that cybersecurity is not just about what any single company can do but also about what we can all do together." said Microsoft President Brad Smith. "This tech sector accord will help us take a principled path towards more effective steps to work together and defend customers around the world."
The Tech Accord sets forth the following four principles:
Stronger defense: The companies will mount a stronger defense against cyberattacks. As part of this, recognizing that everyone deserves protection, the companies pledged to protect all customers globally regardless of the motivation for attacks online.
No offense: The companies will not help governments launch cyberattacks and will protect against tampering or exploitation of their products and services through every stage of technology development, design and distribution.
Capacity building: The companies will do more to empower developers and the people and businesses that use their technology, helping them improve their capacity for protecting themselves. This may include joint work on new security practices and new features the companies can deploy in their individual products and services.
Collective action: The companies will build on existing relationships and together establish new formal and informal partnerships with industry, civil society and security researchers to improve technical collaboration, coordinate vulnerability disclosures, share threats and minimize the potential for malicious code to be introduced into cyberspace.
httpv://www.youtube.com/watch?v=embed/ZfCUXq4V6ZY
You can learn more about this accord here.