Users of Windows 11, Android, and iOS can already use the WhatsApp beta app to test new features before they reach the general public. However, WhatsApp on the web provided no such offering until a few days ago. Luckily, WhatsApp users on the web can also test new features as beta testers, just like mobile and desktop users.
As reported by WABetainfo, the ability to join the beta program is available on WhatsApp Web 2.2318.11. It is the newest WhatsApp web version and should be open to all. However, if you do not see it, you can clear your browser cache and then try again by visiting web.whatsapp.com from your web browser. You will see the option to join the beta program on the Help page. You need to check the Join the beta checkbox to become eligible to receive new features before the general public.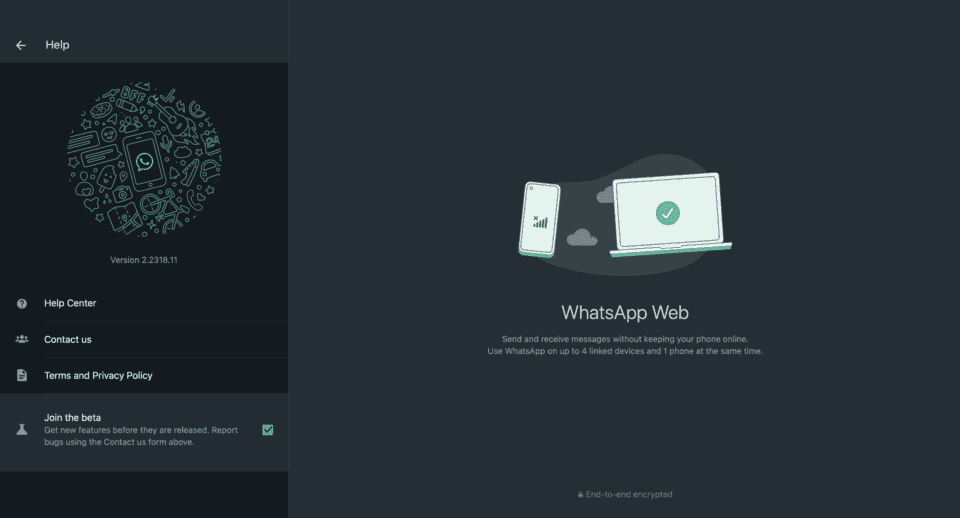 For those who do not know, you can not set up WhatsApp for the web without a smartphone. When used for the first time, you will need to connect with your device by scanning the QR code after visiting web.whatsapp.com. After connecting the device, you will be able to use WhatsApp on the web without the smartphone. However, you need to make sure that WhatsApp remains installed and that you are logged in on the phone app to be able to continue to use WhatsApp on the web.
However, it is not clear when Meta will start releasing new features for WhatsApp beta users on the web. New features will unlikely be introduced before the WhatsApp beta experience is fully available for all web users. Currently, the beta program for the web is limited to a select few people. If you are not seeing it right now, you should wait a few more days before Meta makes the option available.
via WABetainfo