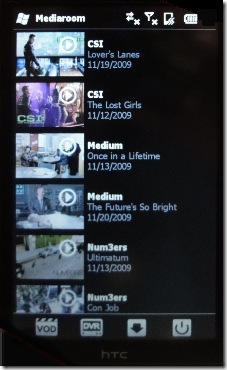 Microsoft has a Video On Demand system called Media Room which has 4 million users around the world, on AT&T with U-verse, BT with its Home Vision, On Deutsche Telecom and a few other places around the world.
Previously Microsoft has confirmed a Media Room client for Windows Mobile, which allowed users to stream video stored on their set top boxes.
In a VPAT (Voluntary Product Accessibility Template) document published on Microsoft's accessibility website Microsoft confirmed the software, "Microsoft Mediaroom Client for Windows Phone 7 v 1.0", will also be coming to their latest mobile OS.
The software will just be another example of the smartphone now being the centre of Microsoft's cloud ecosystem, with Windows Phone 7 now being integrated with Bing, Windows Live, Xbox Live, Tellme and Zune service.
With a Youtube client now being strongly rumoured, as well as a Netflix and Slingbox client, it seems Windows Phone 7 users will not have to worry too much about streaming video on their phones.