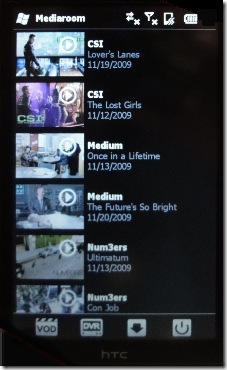 Here is a snippet of Steve Ballmer's CES keynote which does not seem to have picked up much steam in the media, but is still pretty interesting for Windows Mobile users.
Currently Microsoft is trying to push their Video On Demand system to networks, and with some success. The system called Media Room has 4 million users around the world, on AT&T with U-verse, BT with its Home Vision, On Deutsche Telecom and a few other places around the world.
Microsoft announced with Media Room 2.0 that any Xbox 360 will be a able to work as well as a set top box to access the service.  For around 40 million Xbox 360 owners this is obviously great news, and may influence their choice of cable provider.
Of interest to Windows Mobile owners however is that the Media Room client will come to Windows Mobile handsets also, allowing subscribers to watch VOD and also their recorded media from anywhere in the world.
Now I don't know about Xbox 360 owners, but as a Windows Mobile user having this feature would certainly influence which TV service I sign up with.
Are you more likely to get U-verse or similar because of this?  Let us know below.
Via Zatsnotfunny.com