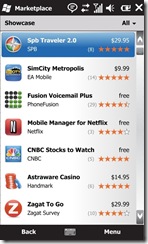 In what is certainly an own goal, Microsoft has confirmed to both Phonescoop and theUnwired.net that Marketplace will not be coming to Windows Mobile 6.1 devices.
Microsoft has however said they have relaxed the upgrade restrictions on Windows Mobile 6.1, with any 400 Mhz 128 MB RAM device being eligible, with the manufacturer being able to decide if it wants to offer the upgrade or not.  This of course puts the ball again firmly in HTC and other OEM's court.
Microsoft did say that Facebook app however will be available soon for Windows Mobile 6.1, both Standard and Professional editions.
While this decision appears quite definitive at present I do know from my sources there is still an internal debate going on in Microsoft regarding this move, and with the multiple concessions we have already seen Microsoft make recently, I do not see this decision carved in stone yet.
Via WMExperts.com