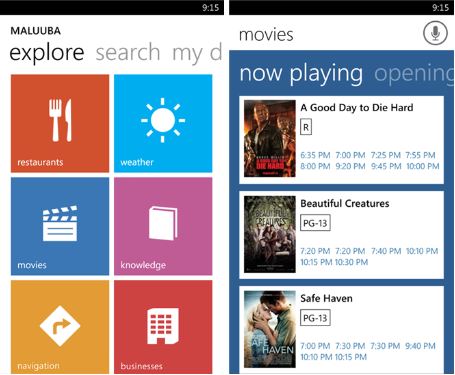 Maluuba personal assistant app is now available on your Windows Phone Store. Maluuba personal assistant app lets you use your voice for making everyday tasks. For example, you can ask "Where can I find sushi restaurants nearby?" and receive a list of sushi restaurants to explore. Maluuba can help schedule appointments, place calls, check the weather, find businesses and restaurants, discover concerts and nearby events, find online shopping results, set reminders, play songs from your music library, and more.
Features list:
– Restaurants, movies, events and businesses search
– Alarms, reminders and calendar scheduling
– Calling, texting and emailing
– Directions and Weather search
– Online shopping
– Knowledge and Web Search
– Outlook calendar integration
– Live tiles (pin 'Explore' domains or results from Shopping, Movies and Events)
Download it from Windows Phone Store for free here.