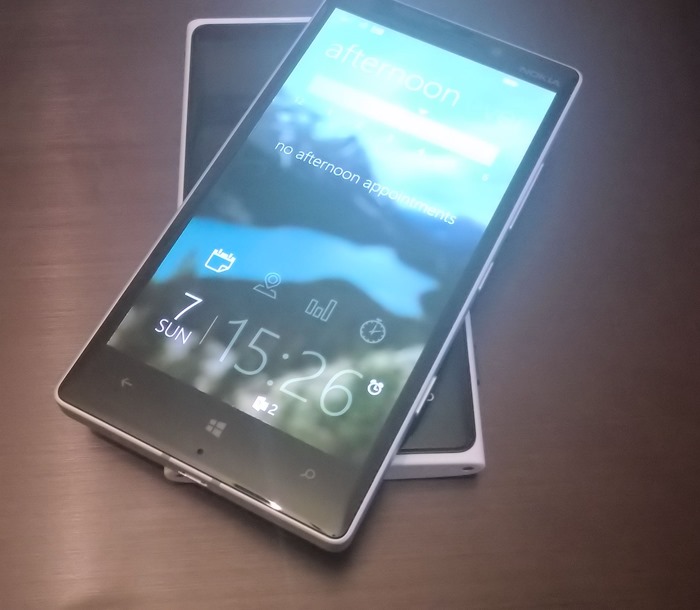 With no clear new flagship coming to Windows Phone soon, many users with the funds available will be wondering whether its worth upgrading to the Nokia Lumia 930 from their 920 or just continue waiting it out.
I myself made the upgrade exactly 4 months ago, on the 7th August 2014, when the device was first released, but when it could already also be called relatively old, due to the Nokia Icon being released well before this in February 2014. At the time I had owned the Nokia Lumia 920 for around 22 months, so an upgrade was certainly due.
So is it a worthy update to that tank-like device? Read below.
Design
Coming from a Nokia Lumia 920, the 930 is certainly a change, with the chunky plastic being replaced with sleek and cold metal.  The 930 certainly seems more modern, and is clearly more expensive, but the bright and very loud back cover can be something of a trial (mine is neon green). The 930 is lighter than the 920 by about 20g, and one can certainly feel it, but it still feels rock solid. The buttons work well and have a good click to them.  I don't use a case on my phone, and after 4 months the finish is still flawless, with no scratches on the glass, the aluminium frame or the polycarbonate back.
The screen is much bigger, going from 4.5 to 5 inches, and it is impossible (for me at least) to type one handed. The screen is of course gorgeous, with good sunlight readability.
Over all I would say the design is a clear upgrade over the 920, which I don't think could be said of the 925 or 1520 for example.
Screen Quality
Once you see the Nokia Lumia 930 screen it is difficult to go back to the 920, with the interface being pin-sharp at more than 400 PPI and much more expansive. In many ways, after you use a 5 inch screen for a while, a smaller screen feels toy-like.
The screen has good colour accuracy brightness, viewing angles and contrast.
Overall, due to the larger, sharper screen I would also call it a clear upgrade.
Camera Quality
The Nokia Lumia 930 has a 20 megapixel camera which uses oversampling to in theory produce much better pictures that the 8 megapixel Nokia Lumia 920.
In truth I have not noticed any major difference in results between the two cameras, which is probably a testament to how good the 920 is.  If this is your reason for considering an upgrade I would hang on for better next year.
Having said that, the Lumia Denim update is expected to bring 4K video recording, which will certainly not be available on the 920.
Battery Life
The Nokia Lumia 930 has a 20% bigger battery than the Nokia Lumia 920, and in day to day use battery life does feel better, but this is of course very OS dependent.  Of note is that it is slightly less affected by the massive GPS battery drain than the 920, but it still heats up a lot when GPS is used and if screen brightness is not turned down all the way can still drain faster than it charges.
Overall the 930 easily makes it through a business day, which is more than can be said of the 920.
Performance
With a Snapdragon 800 processor the Nokia Lumia 930 is obviously much faster in benchmarks than the Snapdragon S4 Nokia Lumia 920. With Windows Phone however this is a bit difficult to appreciate in real usage, with both devices being smooth in regular use, and web pages loading equally fast on both devices. If anything the frame rate is a bit higher on the 930, but again don't expect to see a major difference when upgrading.
Miscellaneous
Audio volume via the headphone socket is slightly louder, but not dramatically so on the 930.
Many complain of the 930 not having a MicroSD card slot, but I still have many gigabytes of free storage.  If it did have a slot however I would probably have had 64 or 128 GB in there now, but I think with 32 GB built-in storage this is not the issue it is made out to be.
The lack of the Glance screen is an on-going annoyance. For me its not a deal breaker, but as some-one who does not wear a watch I miss the situational awareness of the Glance screen.
Summary
If you are looking for a high end Windows Phone outside of USA the Nokia Lumia 930 is really the only choice.  When upgrading expect to love the much bigger screen, the great-looking and durable metallic design and the improved battery life.  Expect not to be amazed by the 20 megapixel camera or performance, despite those being some of the major selling points of the handset.  You will however be buying a future-proofed device that should get most of the features of Windows 10 when it arrives.
In terms of buying the 930 now or waiting for some future Windows 10 native device, I expect the wait will be somewhat long, and the added features will be few and possible gimmicky e.g. 3D touch on the cancelled McLaren.
Are our 920-using readers convinced to upgrade yet, or will you continue to wait? Let us know below.