Is Copilot the best AI companion out there? Help us find out by answering a couple of quick questions!
Sponsored
Microsoft Exchange Server is a business-oriented email server or a dedicated network resource management program for businesses, especially those regulated businesses or academic institutions. It gives the IT department of companies full control over sovereignty, data protection, infrastructure, and more. The platform, however, is not resistant to issues, including corrupted Exchange database (EDB) files. And while there's Exchange Extensible Storage Engine Utility (ESEUtil) to help the company's IT to resolve this, a more flexible solution like the "Stellar Repair for Exchange" software can deliver faster and more effective results.
What can Stellar Repair for Exchange do?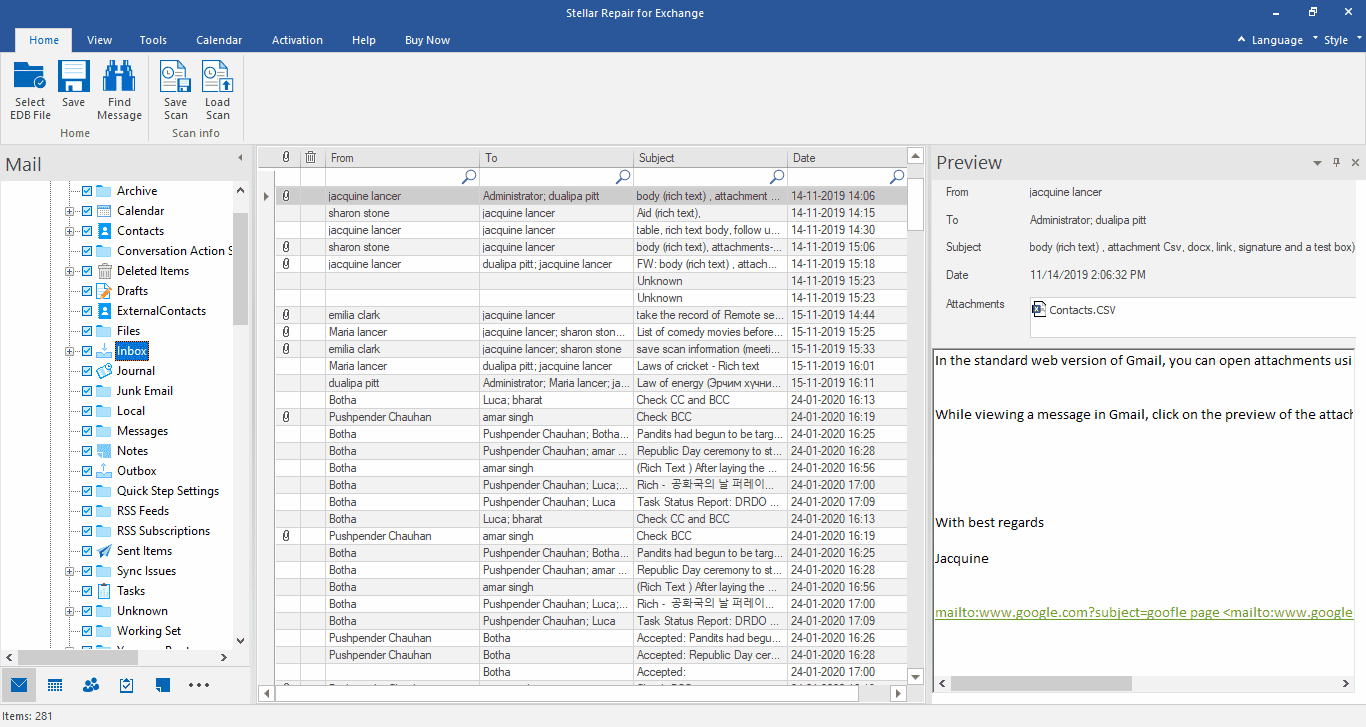 Exchange Server is an important platform for businesses and other organizations, which is why issues regarding this can lead to problematic operation interruptions. When the Exchange data store gets corrupted, it could mean organization-wide data loss or email service disruptions. This is where the Stellar Repair for Exchange becomes handy.
Stellar Repair for Exchange can address different issues businesses face regarding Microsoft Exchange Server, including but not limited to a Dirty Shutdown error, Exchange Database mount failure, and Exchange server crashes. It is a go-to solution (especially when the ESEUtil fails) as it allows you to recover mailboxes from the .edb file of crashed Exchange server and repair the EDB file. Even more, the software ensures data loss safety when repairing large corrupt EDB files and can export complete EDB files directly to live Exchange and Office 365 (now Microsoft 365).
Stellar Repair for Exchange Software Features
Stellar Repair for Exchange is one of the best user-friendly software due to its design's simplicity, making it intuitive to use. For instance, it splits large mailboxes containing several hundred thousand mail items and has an advanced filter option to automatically filter the repaired mailboxes to include or exclude certain email items. Aside from those, it allows parallel saving for up to 4 mailboxes at a time during database repair, making it a quick solution for the company's IT. Other capabilities and features of the software include:
Exchange Database recovery. Mailbox item recovery from corrupt or dismounted EDB files offers options for "Quick Scan" and "Extensive Scan." The latter, though it takes more time, promises better results.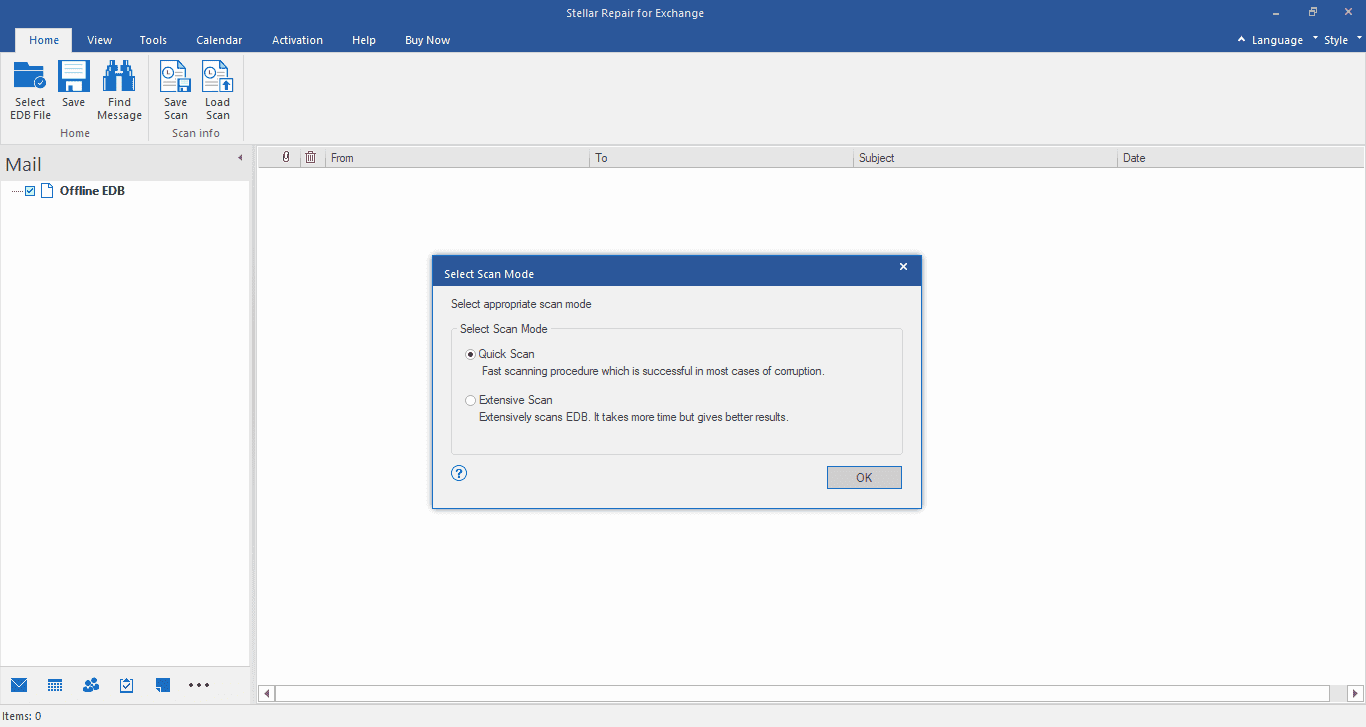 Scanned information saving. It saves the scanned result for future recovery. After the scan is completed, the results can be stored as an image (in DAT file), which can then be loaded back into the software to continue the process.
Mailbox creation on Exchange. You can access this feature by running the application on the Exchange server or on a local machine on the Exchange server domain and has administrative rights. Full access rights to export the mailbox data is a requirement.
Unicode EDB file repair support. Stellar Repair for Exchange works with Unicode EDB files and can recover mailbox data of any language.
Parallel saving for multiple mailboxes. It can process up to 4 mailboxes simultaneously during database repair, though it still depends on the available RAM of the computer.
Priority mailbox recovery. You can change the mailboxes' priority so the software can process specific important mailboxes first.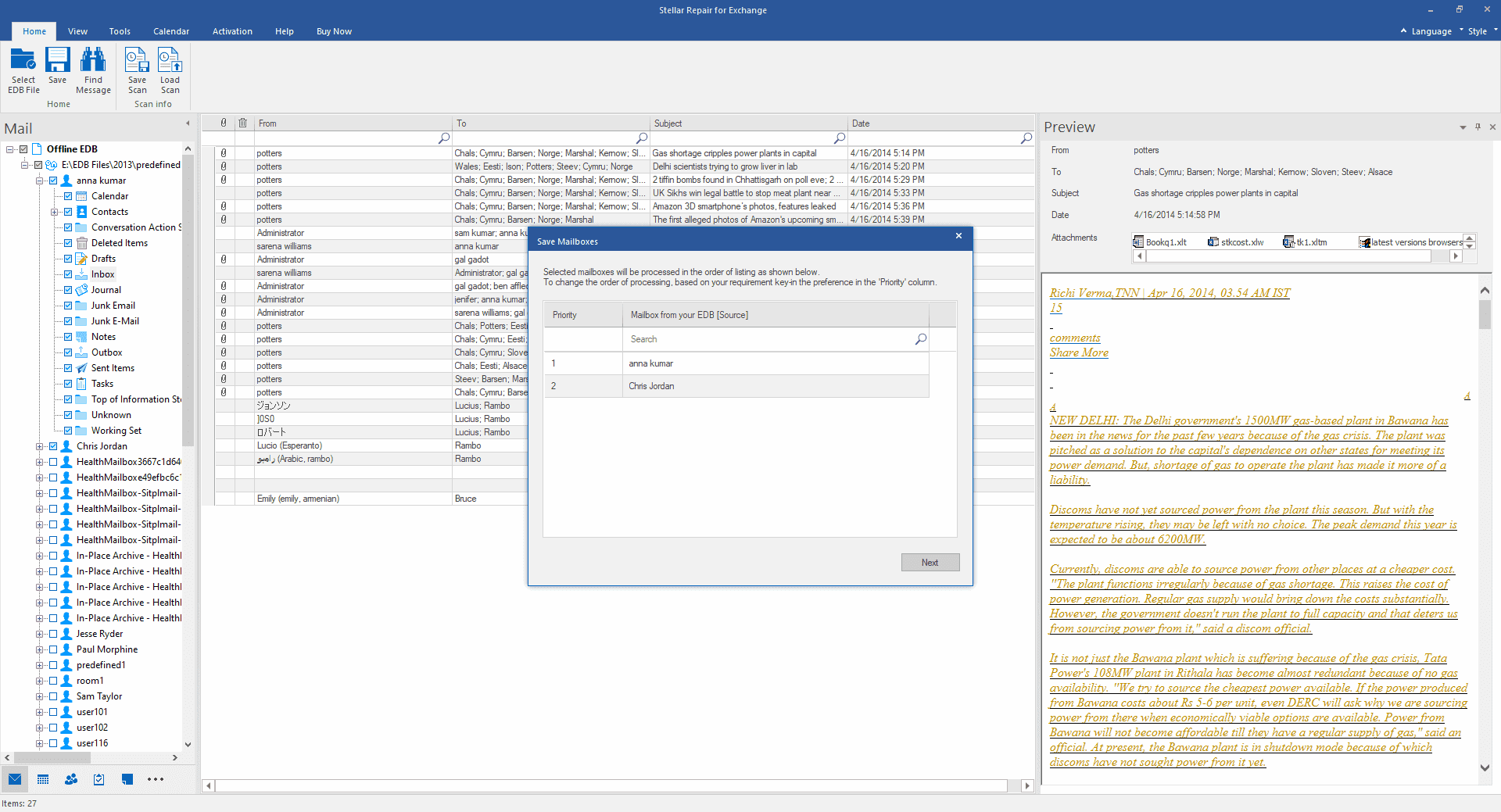 Selective mailbox recovery. You can select or unselect individual or multiple mailboxes and mail items according to your liking.
Deleted Exchange mailboxes, damaged archive mailboxes, and corrupted public folder recovery. It can recover deleted mailboxes, whether they were removed intentionally or accidentally. It comes with search capabilities to easily retrieve these items. Additionally, it also supports recovery and repair of archive mailbox and corrupt public folders stored in the EDB File.
Exports Mailboxes Directly to Live Exchange or Office 365. It can export the recovered mailboxes (using an Outlook profile of a user with administrator rights and providing the details of the Domain Controller where the 'Active Directory' is installed) directly to a live Exchange server with minimal downtime. This is also applicable to Office 365. You can also export the recovered mailboxes to the empty dial tone or recovery database on the live Exchange server.
"Map Mailboxes" feature. Exporting mailboxes can be easily performed through the software's Map Mailboxes feature, which can automatically map mailboxes to the Destination Exchange Server mailboxes. It also offers a manual option for this process.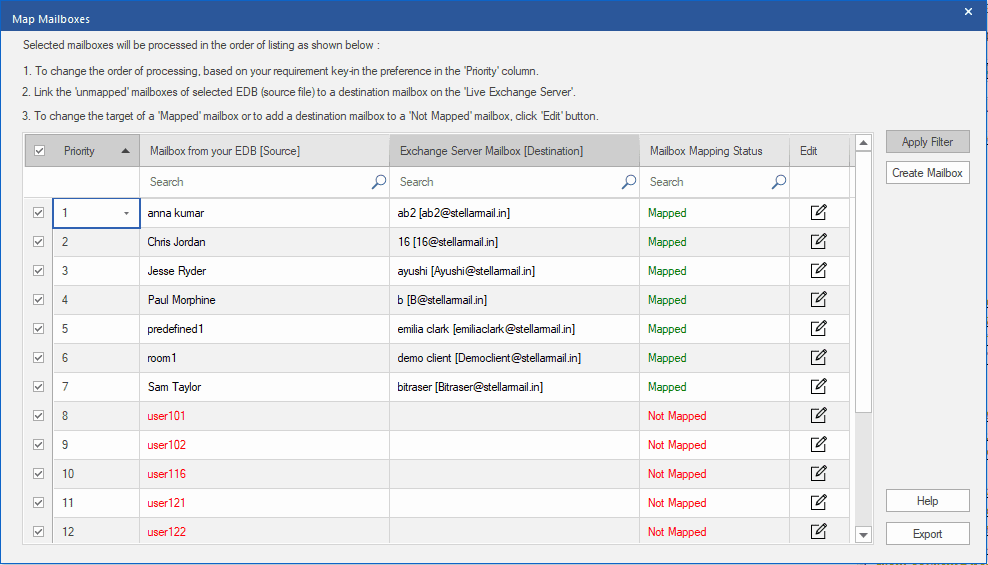 Exports Recovered Contacts to CSV. It offers the option to save the "Contacts" of repaired mailboxes in CSV format.
Microsoft eDiscovery and Granular recovery. You can do eDiscovery searches of mailboxes, folders, and items for particular emails, without restoring the complete Exchange database or the server. Stellar Repair for Exchange offers different search criteria ('To,' 'From,' 'Subject,' 'Cc,' 'Attachment Name,' 'Body,' 'Item Type,' 'Importance,' 'Date,' 'Exact Match,' 'Any Criteria,' etc.), allowing single-item recovery.
Advanced filter option. You can automatically include or exclude certain email items (such as Junk or Deleted emails or email items sent/received during a certain Date Range or sent or received through specific email addresses) using this feature.
Different format saving options. You can save all recovered or individual files in PST, MSG, EML, RTF, HTML, and PDF formats.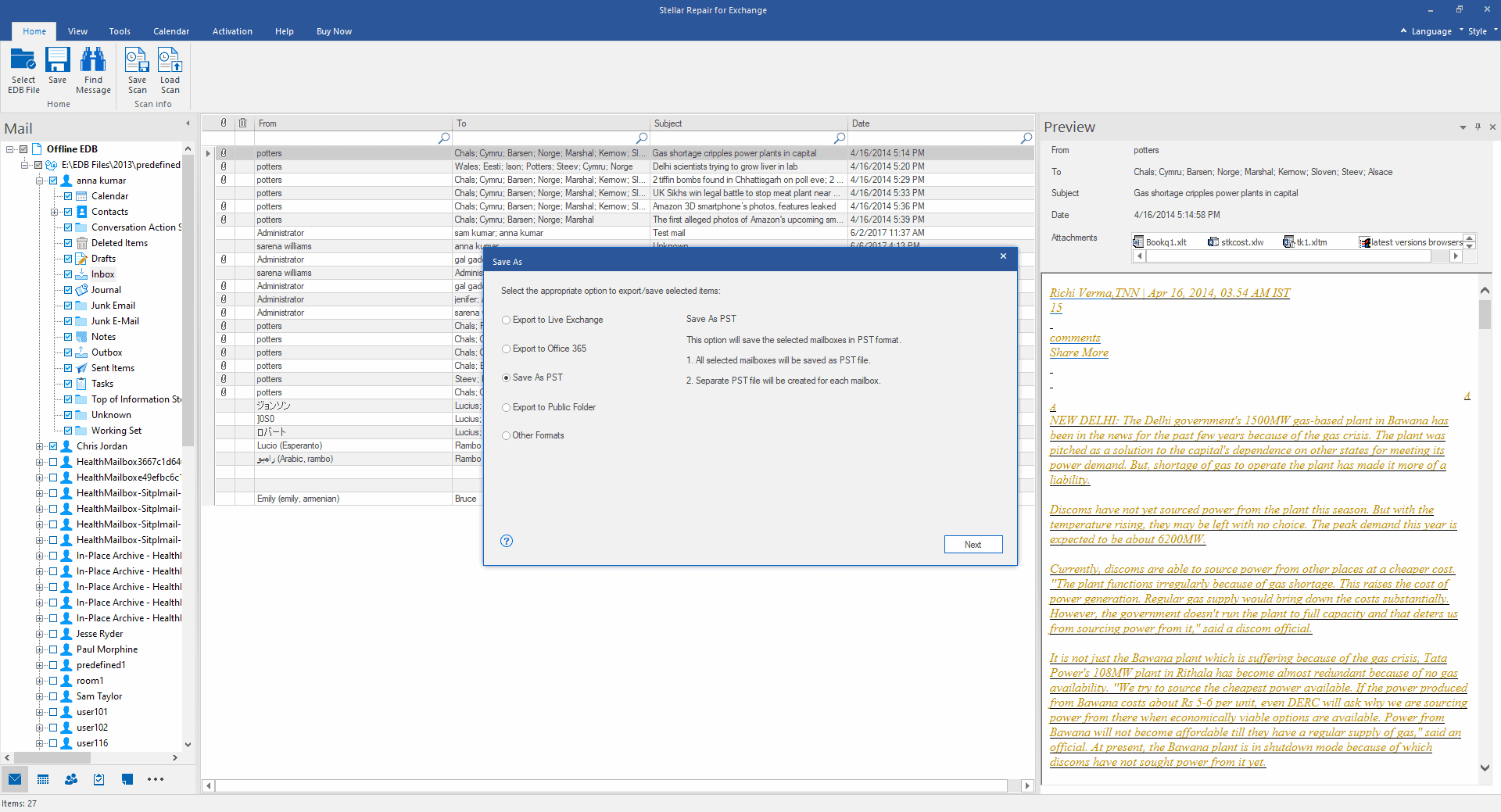 Auto folder split. For your convenience, it splits large mailboxes with a considerable number of mail items. Specifically, it splits the folder into another one and labels it (based on date and time) with the same name followed by "__earlier."
Stellar Repair for Exchange: Versatility and Value
What makes Stellar Repair for Exchange a reliable solution for repairing corrupted EDB files is its flexibility. It supports Exchange Server 2019, 2016, 2013, 2010, 2007, 2003, 2000, and 5.5 and has undemanding technical requirements. Stellar Repair for Exchange, now at its latest 10.0.0.4 version, works on systems with Intel processors (x86, x64) and 4GB (8GB recommended) memory. Moreover, it only needs 250 MB of free space and can operate on Windows 11, 10, 8.1, 8, 7, and Windows Server 2016, 2012, and 2008.
This flexibility extends to the license options for the software. Stellar Repair for Exchange has three licensing plans, giving you flexible choices based on your needs. The Corporate, a single-user license, costs $399 and comes with numerous features you will need for repairing up to 100 mailboxes. This basic license should do for small-scale organizations and businesses with a very limited number of mailboxes. Nonetheless, for bigger numbers of mailbox repairing needs, there is the Technician, a multiple-user license that can cover unlimited mailboxes at only $599.
The two license options above only differ in terms of user license and the number of mailbox repairs. Both are enough to handle corrupt EDB file repair and mailbox item recovery, but for organizations that need more tools and more complicated Exchange Server issues, the Stellar Toolkit for Exchange license offers good value. Aside from providing unlimited mailbox repair and being a multiple-user license, it offers more advanced capabilities like extracting offline mailboxes from corrupt Exchange backup files, converting EDB files to PST format, converting inaccessible OST to PST, and resetting the lost passwords of Windows Server. This might be too much for small businesses, but the advanced features can justify the $999 price tag. Specifically, the plan can be useful beyond the usual corrupted EDB file issues, making the software a comprehensive and handy Exchange Server tool for a company's IT department.