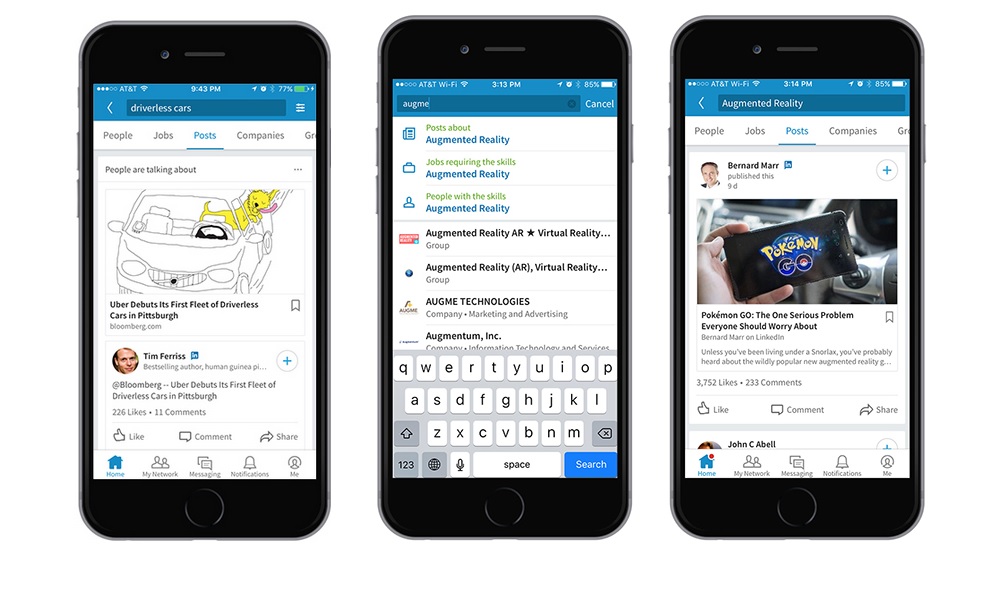 LinkedIn is introducing their new new content search feature on the LinkedIn mobile app which allows members to search for any topic and find relevant articles published on LinkedIn, either by third-parties, or shared by other members in their feed. This content search feature is now available only in LinkedIn iOS and Android apps for English speaking members.
1. Search your feed. Enter the keywords in the search box and find what you're looking for under the Posts tab of the search results page. While you're at it, join the conversation and share your own unique perspectives on the topic.
2. Explore topics you care about. Search for any topic in your industry, like augmented reality or mobile marketing, and instantly access the latest conversations, ideas, and diverse perspectives of your peers, colleagues or thought-leaders. See anything that sparks your curiosity? Refine your search to dive deeper into the topic and learn more.
3. Tap into hashtags. Hashtags included in your posts (or others) are now tappable and lead to search results so that you can discover other posts with the same hashtag. You can also search for a hashtag to see all public posts tagged with it.
The privacy settings LinkedIn members specify when they post or write an article will be honored in the search results.