The online news world was yesterday abuzz with news of Samsung dropping Windows Mobile, to such a degree that Samsung senior vice president Don Joo Lee had to actually come out and explicitly deny it.
In an interview with Digitimes he made it clear that Samsung Electronics will continue to use Windows Mobile- and Android-based platforms for new smartphones launched in 2010, but will in fact drop Symbian and use a new in-house developed operating system they called Bada in its place.
So where did the Windows Mobile hating blogosphere get the idea Samsung was dropping Windows Mobile? It of course came from uber-Microsoft hating Electronista, with its thrilling headline Samsung may deal Microsoft severe blow. I'm sure the editor from the site that hosts MacNN had a small orgasm when the clicked the publish button.
The source of the rumour was an investment note by HMC Investment Securities, which claims Samsung will increase their use of Android next year (no surprise) and projects that this trend will continue. The graph also shows Samsung dropping Symbian next year and introducing their own OS.  HMC's graph further goes on to show Samsung's proprietary OS rapidly outpacing both Windows Mobile and Android share to become the majority of handsets shipped in 2012.
Now there are a number of ways this could have been reported.  Certainly the most pertinent would have been "Samsung set to drop Symbian" but of course US awareness of Symbian is largely non-existent, and everyone knows Windows Mobile hating headlines get many more clicks.  Symbian was therefore replaced with Windows Mobile, without even a proper analysis of the original Telecom Korea article.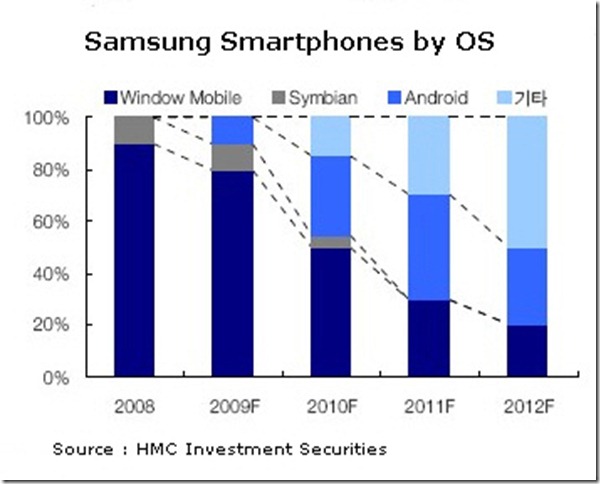 On top is one graph that caused a lot of the excitement.  The dark blue line clearly shows Windows Mobile heading into obscurity.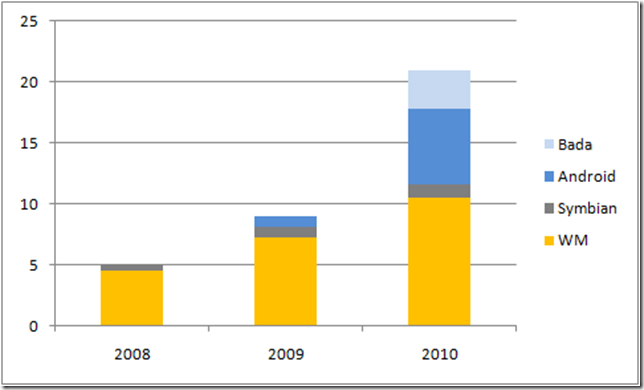 A proper reading of the article however reveals that Samsung claims to have doubled smartphone sales between 2008 and 2008, and expects to do the same in 2010, with sales of around 5 million in 2008, 9 million in 2009 and 21 million in 2010.
When the graph is adjusted for this important data we get Windows Mobile shipments doubling between 2008 and 2010.  In fact the article clearly says HMC expects to ship 20 Windows Mobile handsets in 2010, which is a handly a small number.
As mentioned earlier, even by HMC's account Windows Mobile hardly seems in trouble, and the fact is that Samsung expects its Bada OS to move more into the feature phone market than the traditional smartphone arena, thereby expanding the market for all.  The headline everyone ran with yesterday is clearly a product of Macophile bloggers intent on seeing Microsoft fail, and has rarely been so far removed from the facts or reality.  We have seen a similar response to the HTC HD2, which by all unbiased accounts is a great handset, but has been put down by sites like Gizmodo and other for simply running Windows Mobile, thereby likely scaring of many first time users who may have enjoyed the device very much and damaging HTC's sales, which creates a self-fulfilling prophesy.
I will not be wasting my and the readers time with lengthy articles like this again any time soon, but I urge our readers to examine the propaganda-filled articles from major tech sites very carefully, and counter the sensationalist lies where they find them with the facts instead.
In the mean time lets retweet this article and pass the truth along as far as we can, because those major sites will certainly not be picking this story up.