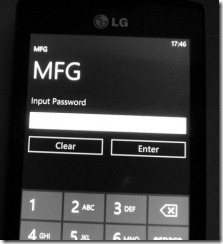 Smartphonefrance.info has found a way to allow LG Optimus 7 users to also use their smartphone as a USB modem.
The function is achieved in a similar way as previously, by accessing the diagnostic menu, but previously users were stumped by the request to supply a password.
Smartphonefrance.info has however graciously released the password,  277634 # * #.
With access the the MFG application, various diagnostic applications can be run, including a rudimentary registry editor, and of course the USB tethering feature.
To access the modem feature, the procedure is as follow:
– Optimus Unlocking your LG 7 to access the program MFG
– Download and install drivers for LG modem on your PC
– Turn off the data connection (Settings / Network Mobile)
– Start MFG and go to the menu "USB Switching" (Menu Engineer / Port Setting)
– Select the "QC COMPOSITE" and validate (The phone restarts)
– Connect it to the PC which is then automatically install the necessary drivers
– Go into the modem settings "LGE CDMA USB Modem" then add an additional parameter in the string + CGDCONT = 1, "IP", "orange"
– Manually create a new connection using that modem as phone number * 99 #
– And normally it should work:)
Thanks SmartphoneFrance for the tip.