Stephen Elop recently announced that Brazil was the second largest market for Lumia handsets. That's not really surprising when we look back and see what Nokia/Microsoft products represent for people in this country. A decade ago, we could safely say that Nokia was the first mobile phone for most of the Brazilians – or they at least owned one once.
In mobile, 64,95% of the devices sold in October 2010 in this emerging market were Nokia handsets, double the 37,81% worldwide in that same month. However by December, 2012 Nokia had less market share in Brazil when compared to the worldwide situation, mainly because of the Samsung's rapid rise. It it however still not hard to see nowadays people saying Nokia always represented quality, style, durable devices and a nostalgic feeling.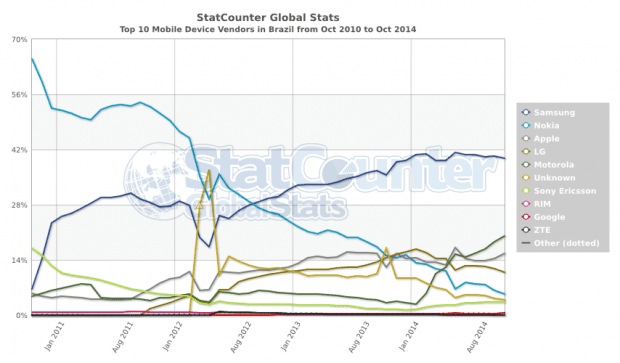 The Microsoft Lumia Brasil (previously Nokia Brasil)'s page on Facebook currently has over 6,5 million likes and is by far the most liked Brazilian version of a mobile vendor page on the social network. Most of the top comments for each posted picture are mainly praise for Lumia devices.
Windows desktop, on the other hand, runs on around 94,33% of Brazilian computers – while the worldwide number is 86,71%, according to StatCounter. This can represent a big opportunity for Microsoft to promote the new Continuum functionality for the handset with Windows 10, among all the other syncing benefits – and so can the other mobile OEMs working on Windows platform.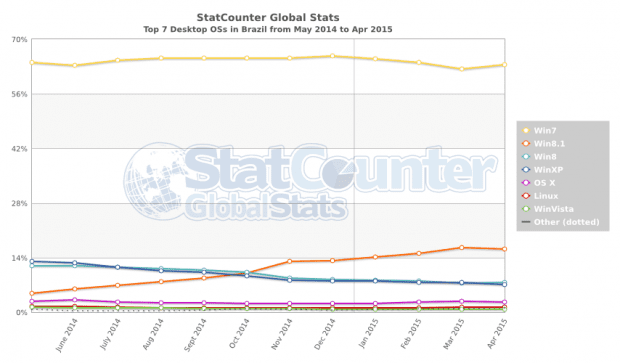 Recently, the Lumia family came to the game, and despite its struggle to gain market share since the beginning due to a series of factors, nowadays Windows Phone is neck-and-neck with Apple's iPhone in the sales numbers. Nokia has currently around 30 Nokia Stores and more than 20 kiosks distributed throughout the continent-sized country, and they are all in process of becoming the first Microsoft Stores in Latin America in the coming months. Furthermore, Microsoft's projects to reach at least 100 stores by 2016. Really huge number, isn't it?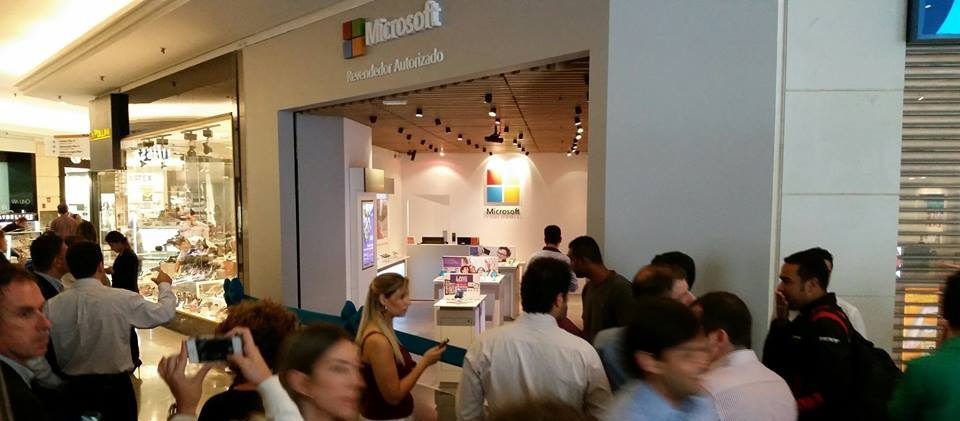 It is also very common to see ads on prime time TV and outdoors. Microsoft is really working hard to make Brazilians see Lumia as a good option. And the results are starting to arrive, as it is no longer rare to see phones with live tiles in public places.
Of course it still struggles when compared to the market dominator OS that also has cheap devices and get almost all of the important apps first – Android, but the situation is starting to change:
 Most of the most important Brazilian bank institutions already have their official apps in the Store – and Santander is promising its release later this year.
 Some important names have official apps – government services, national TV channels, educational institutions, other services, enterprises, etc.
 Several Brazilian indie developers make apps with a variety of content.
Regarding other Windows mobile vendors, it is important to note that HTC has recently abandoned Brazil's market, so the devices from this brand are practically nonexistent there. Samsung, Huawei, BLU and other vendors have a very little units sold with this OS, and we don't have official numbers about them.
Of course there are the same struggles that we see around the world. iOS and Android are still first choice for more than 90% of customers. But with the new Microsoft's development tools announced at BUILD 2015, the integration with the almost-omnipresent Windows OS on PCs, distributed stores in large cities, constant advertisement, cheap devices and the affection people have with Nokia and Microsoft, we can conclude that Brazil will remain one of the key markets for Windows 10 Mobile.