AdDuplex has just published the latest Windows Phone Statistics report for this month. The latest report shows some interesting stats, to be honest. Here's a breakdown of the full report:
Lumia 640 is still growing strongly, claiming 3.5% of the Windows Phone market share worldwide. The handset gained 2.4% market share in the United States
Windows 10 Mobile is now running on 4.7% of devices, Windows Phone 8.1 is up by 0.9% while Windows Phone 8.0 is down by 1.7%
Lumia 520 is still the top phone with a market share of 16.1%, followed by the Lumia 630 (9.5%) and the Lumia 535 (9.4%)
Microsoft and Nokia gained 0.08% market share while Samsung and HTC's market share stayed unchanged. Interestingly enough, Huawei  lost 0.07% of market share
As the Lumia 640 gained 2.4% of  market in the United States this month, Lumia 635 lost 0.5% while the Lumia 521 is down by 1.2%
Lumia 635 is surprisingly at the top in Canada with a market share of 17.7%, followed by the Lumia 830 (17.7%) and the Lumia 520 (12.4%). The Lumia 635 was up by 7.3%, the Lumia 830 was up by 8.9% while the Lumia 520 was down by 6.7%.
Over in the UK, the Lumia 435 and 640 replaced the Lumia 920 and 1020 on the top ten list. Interestingly enough, the Lumia 520's market share is down by 2.3%, while the 535 is up by 2.1%.
In India, the Lumia 520 is down by 0.5%, while the Lumia 640 XL is up by 0.6%, and the 540 is up by 0.5%.
It is worth noting that the latest AdDuplex report also reveals some unreleased devices. First up, is the RM-1127/28/29 which includes a 4.7-inch 720p display — and it could possibly be the Lumia 550. Alongside the RM-1127, AdDuplex has also spotted the RM-1150/52/54/46 which has a 5-inch 720p screen, and it could possibly the Lumia 650.
Gallery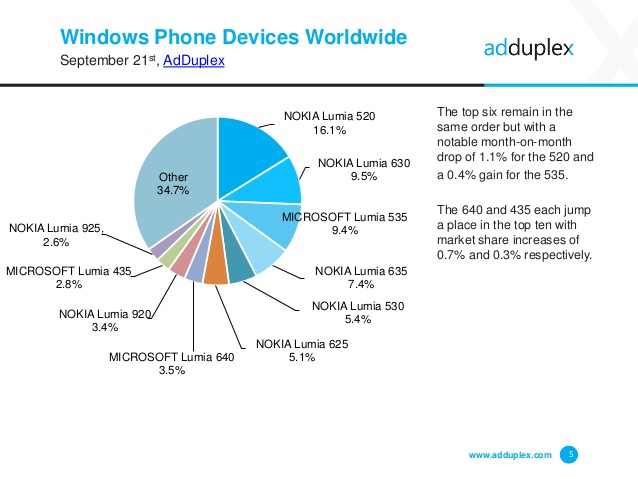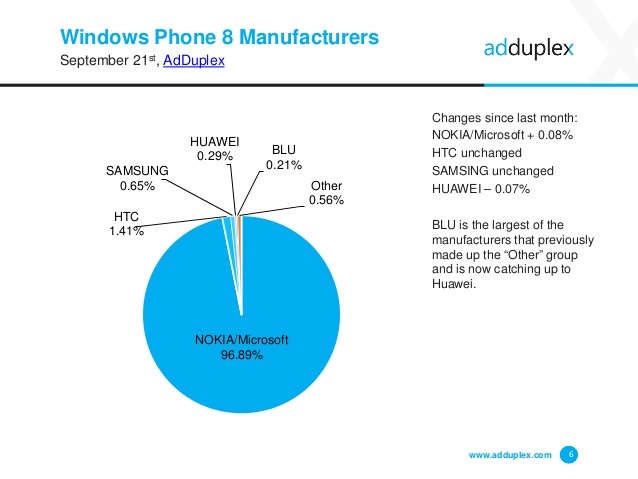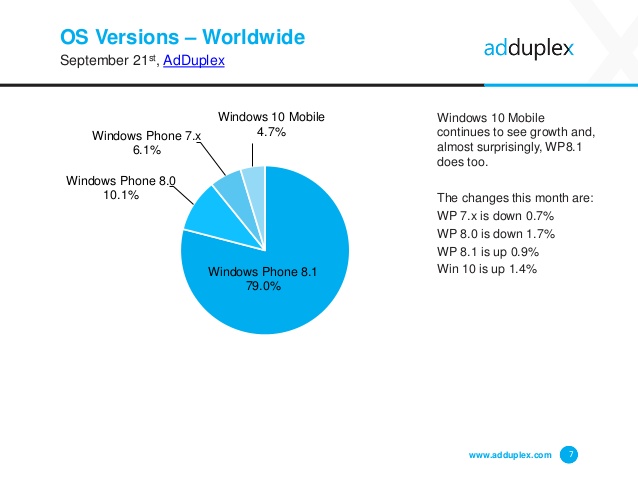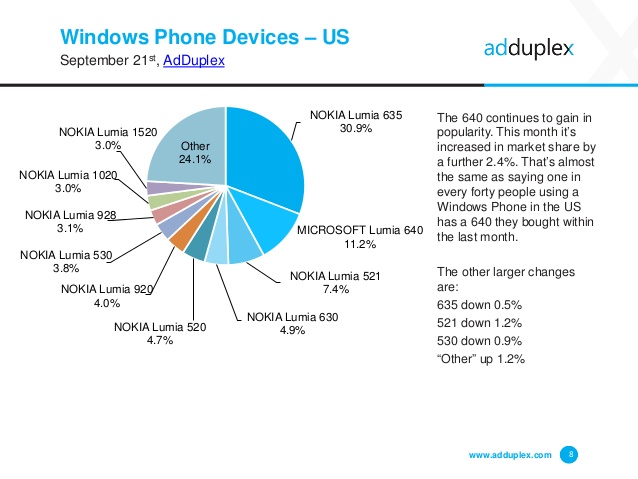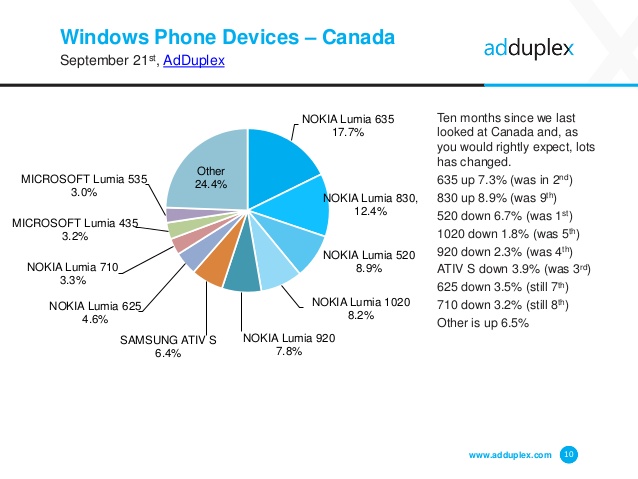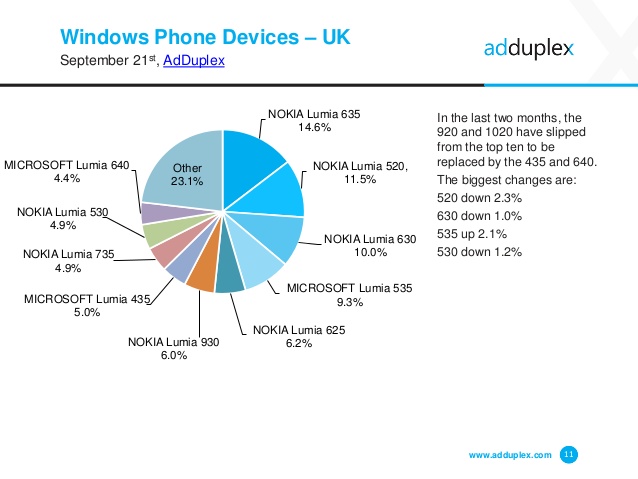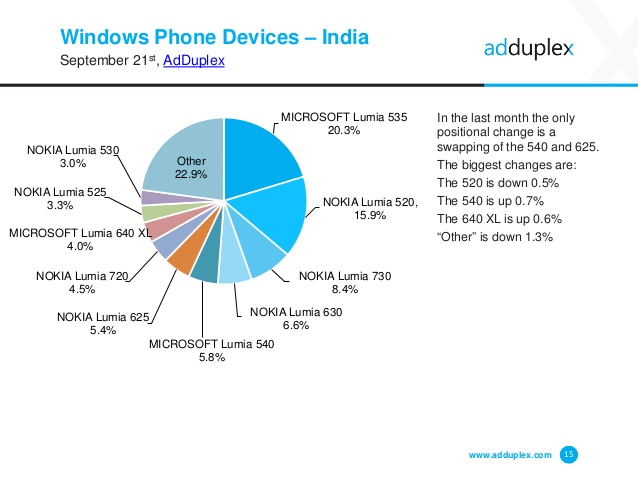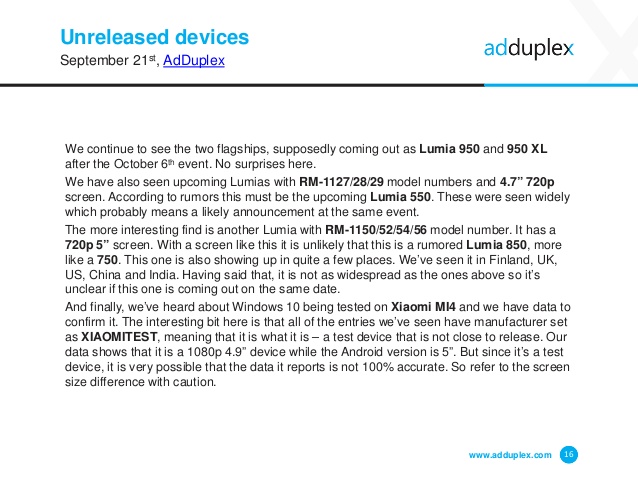 It seems like the Lumia 640 could be the next Lumia 520, the phone has claimed 3.5% of the Windows Phoner market share while the Lumia 520 has lost quite a bit of market share this month. We doubt there will be a major surprise in next month's report as most consumers are probably waiting for the next Lumia flagships. That being said, what do you think of this month's AdDuplex report? Discuss in the comment section below.