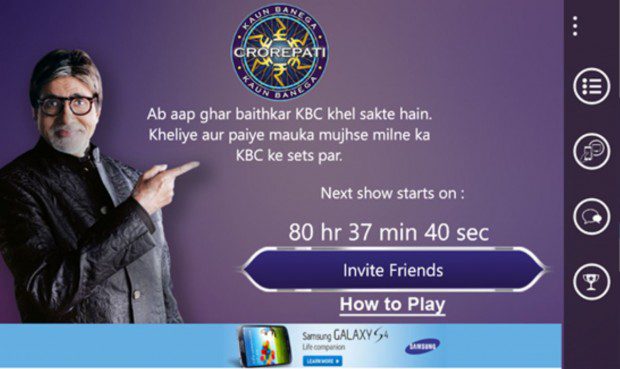 KBC is the Indian version of the popular show 'Who Wants to Be a Millionaire?' hosted by Bollywood star Amitabh Bachchan. You can now  play along with contestant on the Hot Seat LIVE using this new KBC Play Along app in Windows Phone Store.
 App Description:
Feel the tension and excitement of being in the hot seat as well as win some amazing prizes along with the chance of meeting Mr. Amitabh Bachchan.
– Compete and see how you rank against other online Players as well as your friends through the Social and Global Leaderboard.
– Top scorers at the end of the season will stand a chance to win Shopping Vouchers, Smartphones, TVs & a chance to meet Mr Amitabh Bachchan!
– Chat live with fans watching KBC live.
– Share your scores with friends while you're playing and challenge them to beat your score.
Download it here from Windows Phone Store for free.