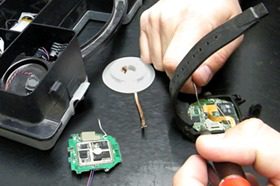 Smartwatches are all the rage at the minute, but Windows Phone support is unfortunately always lacking.
The VEA Buddy Bluetooth smart watch project on Indiegogo however promises compatibility with Windows Phone, amongst other smartphone operating systems, out of the box, allowing you to control music, make phone calls and receive notifications on your phone.
Writing on the fundraising page, which is aiming for $320,000, but which is still $300,00 short with 2 months to go, they say:
Our smartphones become bigger and bigger that's why we need a secondary screen on our wrist.
The VEA BUDDY is universal; it works with all smartphones and with tablets.
The VEA BUDDY vibrates to announce you silently all notifications, it also controls and receives information from your smartphone.
Your big smartphone stays in your pocket or bag.
With VEA BUDDY you will never miss important notifications.       

What is does and how it does it

Show notifications displayed on your smartphone.
Allow you to control your smartphone (initiate calls, control music…)
Receive and display data from your smartphone (turn by turn navigation…)
Display smartphone content (pictures…)Your smartphone and the VEA BUDDY connect with Bluetooth…
Easy…     

Design & Technical Specifications:

Iconic design for all!
The High-tech fashionable yet classic design suits any circumstance!
Here is a little description of the watch.
Thickness:8 mm
Screen:tactile, capacitive, 2" ultra high contrast panel
Button: just one, on the left bottom corner
Bluetooth: 4.0
SoC:MTK
Memory:internal 8 GB
Frame:Metal
Band: Elastomer
USB port: at the end of the band USB port
Battery life: 10 days or 2 weeks standby.
Water-resistant: 3ATM
Shock resistant
OS Compliant : iOS / Android / Windows Phone
Now I suspect it is easier to claim Windows Phone compatibility than to implement it, and it is important to note that Indiegogo allows fund raisers to withdraw pledges even if they do not reach their target, but it is still nice to see Windows Phone support being considered from the get go, vs something which we hope will get added to other existing projects like the Pebble Watch.