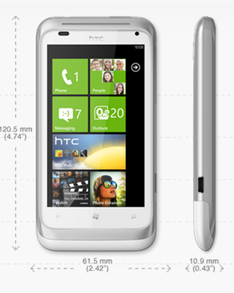 If we can believe HTC's claims, the HTC Radar will have amazing battery life, offering 485 min of talk time (8 hours) and 435 hours (22 days!) of standby time, all on 3G.
Looking at HTC's product page, the HTC Radar currently holds the top spot in terms of battery life, despite its 1520 mAh battery not in fact being the largest.
Interestingly if one plots devices standby time divided by battery size, to remove that factor, there is a definite cluster of Windows Phones to the top end of the scale and Android devices to the lower end, suggesting the generalization that Windows Phones have better battery life than Android devices holds a lot of water. That is of course in ideal circumstances, ignoring the android curse of rogue background apps, which likely make it a lot worse.
For those looking for a bit more stylish handset, the HTC Titan is no slouch in the battery life stakes either, delivering 460 hours (3G) of standby time (19 days) and nearly 12 hours talk time on GSM, again the longest of all HTC's current handsets.