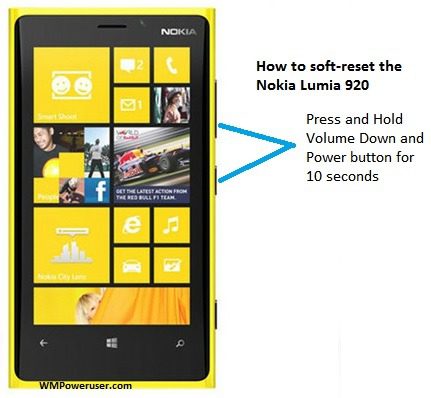 Unfortunately Windows Phone 8 is turning out not to be half as stable as Windows Phone 7.5. Spontaneous soft resets (which seems to affect about 20% of our readers) are one thing, but when my new Nokia Lumia 920 ended up frozen and unresponsive on the boot-up screen I got a bit scared, especially due to all the stories of bricked phones. The issue seems pretty common also, with all three WMPU editors who have Nokia Lumia 920s having their phones freeze. Of course without a removable battery a quick battery pull will not save you.
If this should happen to you (which anecdotally seems likely) to soft reset the Nokia Lumia 920 press and hold the power button and volume down button for about 10 seconds will do the trick; the phone should vibrate and reboot your phone.
If this fails a hard reset is the next step, but be warned that this is where the reports of bricking have come from. To hard reset hold the volume down, power button and camera button until the phone vibrates, then release the power button and keep the volume down and camera button down for another 5 seconds.  Your phone should then reset to factory state.
If your phone does get bricked here is a procedure that may salvage it, but it may be much more reliable and better to simply return the handset.
Have our readers been disappointed by the early stability of Windows Phone 8, especially after the hard-won reputation of stability Windows Phone 7 built up? Let us know below.