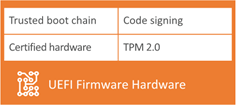 We posted a few hours ago that Windows Phone 8 has just received FIPS-140-2 security certification.
HowtoWindowsPhone.com, which is usually a font of knowledge on Windows Phone tips and tricks, have published an article on what's needed to circumvent this security.
They write:
In today's how to we will be discussing on how to hack a Windows Phone 8. Every hacker should know about the internals of a device and operating system before he could attempt to compromise it. So lets try to understand the underlying hardware and OS security before we try to break it.

To begin, we will try to compromise the hardware so that we can gain access to the hardware and then exploit the OS and ultimately take control of it or at least to steal data from it.
Read more at their site here.