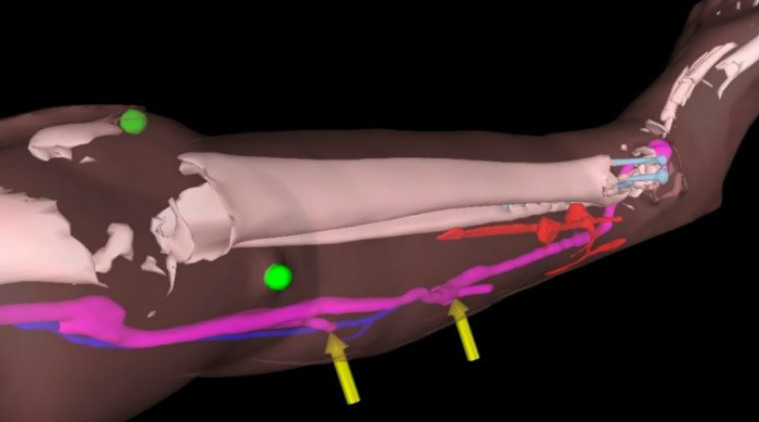 Science fiction is rapidly becoming science fact as the medical market increasingly embrace the Microsoft HoloLens for both training and actual clinical practice.
The latest news is of the headset being used in a 5 patient study at Imperial College London in UK to see if it could improve the practice of reconstructive surgery.
Researchers used Microsoft HoloLens to overlay images of CT scans – including the position of bones and key blood vessels – onto each patient's leg, helping surgeons locate and reconnect key blood vessels during reconstructive surgery, such as following a car accident, when flaps of tissue, which are taken from elsewhere on the body and include the skin and blood vessels, are used to cover the wound and enable it to close and heal properly.
A vital step in the process is connecting the blood vessels of the 'new' tissue with those at the site of the wound, so oxygenated blood can reach the new tissue and keep it alive.  Previously surgeons used handheld ultrasound scanners to locate and trace blood vessels.
"Augmented reality offers a new way to find these blood vessels under the skin accurately and quickly by overlaying scan images onto the patient during the operation," said Philip Pratt, a research fellow at Imperial College London.
"With the HoloLens, you look at the leg and essentially see inside of it. You see the bones, the course of the blood vessels, and can identify exactly where the targets are located," said Pratt, lead author of the study.
"We are one of the first groups in the world to use the HoloLens successfully in the operating theatre," said Pratt. "Through this initial series of patient cases we have shown that the technology is practical and that it can provide a benefit to the surgical team," said Pratt.
The results were published in the journal European Radiology Experimental.