Microsoft recently released the new update to Microsoft Launcher bumping the app to v5.0. The latest update was pushed to beta users and brings changes to the UI of the app as well as brings Timeline support. Just to recap below is the changelog of the new update.
Feed- Updated Feed navigation for your Glance, News and TimeLine tabs. You can now access your Feed settings from the top of your Feed.
TimeLine on Mobile – Activities from your PC and phone can now be seen on your Android phone.
News – Updated News experience powered by Microsoft News
Cortana – You can use Cortana to send emails with multi-turn emailing.  Cortana is now supported in the De-De market.
Family – Parents can now view their kids' real-time location
The USP of this update is definitely the timeline integration which allows users to sync activities across devices and pick from where they left off. The feature was announced during Build for both Android and iOS but the new update is just for Android users right now. We decided to give the new update a shot and see how well it works.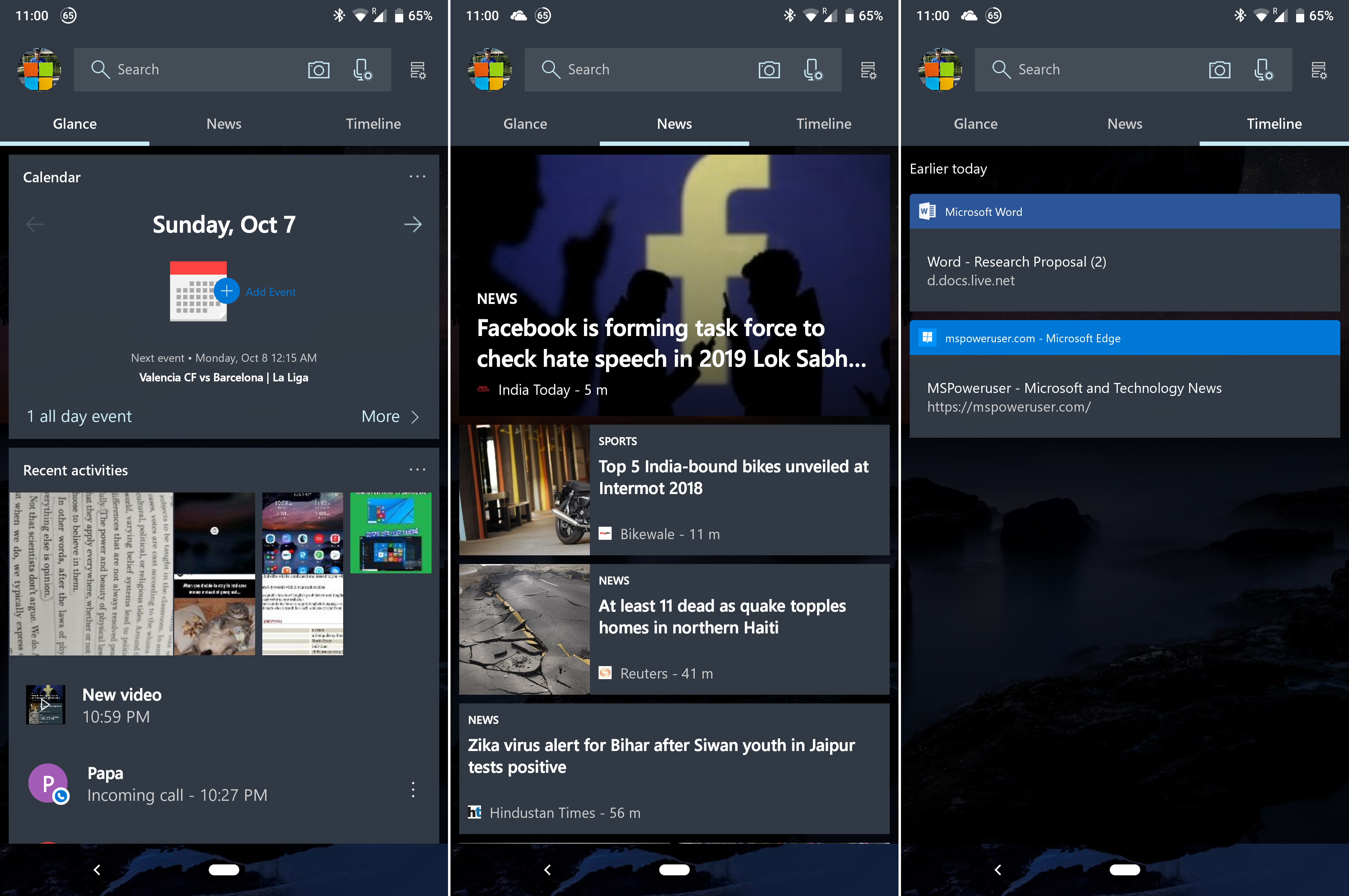 The new update brings UI changes which include a three column feed- Glance, New and Timeline. The Glance tab is similar to the old feed and consists of recent photos, reminders, calendars, Cortana, etc. Moving to the second column, this will have all the latest news from a variety of topics like Sports, Fashion, Technology, etc. Microsoft has also given users option to turn off news from a particular topic if you're not interested.
Moving to the most anticipated feature of this update- Timeline. The third column on the feed section contains Timeline which will show your recent activity from across devices. You can simply tap on an activity to continue it on your Phone or Windows 10 PC. For instance, if you opened a Microsoft Word file on your PC and you want to continue working on the go, you can just head to the Timeline tab and click on the file from the list and open it on your phone. Do note that for Timeline to work, you need to have logged in with the same MSA on both your Phone and PC. Also, Timeline can only sync activities related to Microsoft apps and software so don't expect cat videos you opened on Google Chrome to show up on your Android device.
Moreover, Microsoft has also allowed users to re-arrange the columns so you can keep everything organized like the way you want them to be. To re-arrange the columns, just hold down on the column and swipe it left or right to change its position.
Apart from these visible changes, there are under the hood changes as well since the Launcher feels smoother and snappier. Microsoft has also added a feature with this update where parents can track their kids in real time using their MSA. To use this, you need to go to the Glance section of the Feeds and scroll down to the bottom and click on customize feed. Once in, enable the Family widget and setup Family sharing to track your child's location.
Unfortunately, Microsoft Launcher is still missing the To-Do app integration in the widgets but Microsoft has promised it will be added soon. For now, Microsoft Launcher can be downloaded from the Google Play Store below. If you want to try these new features right now then you can join the beta program, at your own risk, here. Do let us know your thoughts on the latest version of Microsoft Launcher in the comments section below.