Earlier this evening, Microsoft finally launched Teams, its new chat-based workspace for Office 365. In New York City, the company today unveiled Microsoft Teams officially, showing off all of its features and much more. As promised, the preview of Microsoft Teams went live today, and some Office 365 users can try it out right now. To be more specific, the service is available to those who are subscribed to Office 365's Business Essentials, Business Premium, and Enterprise E1, E3 or E5 plan. The service is only available to Office 365 First Release users at the moment, but it'll roll out to all users early next year.
I tried out Microsoft Teams on Windows, Android, Windows Phone and macOStoday. And here's my first impressions of the Microsoft Teams preview.
Microsoft Teams is a fantastic tool for communication — it has everything a team might need. Firstly, Microsoft Teams gets the basics right. When you open up the app for the first time, you will be welcomed with a simple user interface which lets you set up a team, and there's also a neat little introduction video which allows users to get familiar with things:
Once you are done with the setup, you will be taken to the homepage where you can start chatting in the group that you just created or private message someone from the team. The first-run experience of Microsoft Teams is definitelyvery smooth, but we had some issues while trying to create groups in the app which is expected since it's only a preview for now.
The overall messaging experience on Microsoft Teams is also smooth as expected. The chat UI is quite simple, and you can also change the style of your text, add lists, and much more. The app also supports threaded conversations, which isa very neat feature but it is also a bit annoying if you are looking from the design point of view. That's because the "Reply" button is always displayed, for every single (parent) message in the conversation which honestly looks really weird. Additionally, switching between conversations also feels a bit sluggish but that'll hopefully get addressed when the service is generally available.
Microsoft has also included a Fun Picker, which is essentially a central hub for all the memes, emojis, and much more. There are memes for Office Drama, designers, developers, etc. Users can also change the caption on these memes, which is pretty handy. And of course, the usual Skype emojis are also present but surprisingly enough, Skype Mojisaren't present just yet.
The best thing about Microsoft Teams is the fact that it integrates with OneDrive, Word, Excel and PowerPoint. If you invest highly in the Microsoft ecosystem and your company relies a lot on Office 365, Microsoft Teams is undoubtedly the best communication tool out there thanks to the strong integrations. You can share files from OneDrive for Business right on Microsoft Teams, see the latest Word document from your OneDrive, and be able to share files from OneDrive without having to manually upload the documents.There's also a group video calling feature built right into Teams, which can be useful for scheduled meetings. Users can schedule meetings with other members of the team, and it is pretty neat.
Another thing I really like about Microsoft Teams is the dark theme and the keyboard shortcuts — there are loads of them, and power users are definitely going to appreciate those handy shortcuts. Microsoft Teams does, however, feel like an incomplete product on a mobile device. I tried out the Android and Windows Phone apps for Microsoft Teams, and both of them lack a lot of features and stability. Features such as video calling, ability to upload files from OneDrive, scheduling meetings are not yet available on the mobile app for Microsoft Teams — making the app feel very minimal.
For a preview, Microsoft Teams looks great. There are a lot of things to love about Teams, and there are something which will make you hate it. But it's a decent start for Microsoft, and the company has a couple of months until the General Availablity — so things could look much better in the next couple of months.
Here are some more screenshots of the app:
Gallery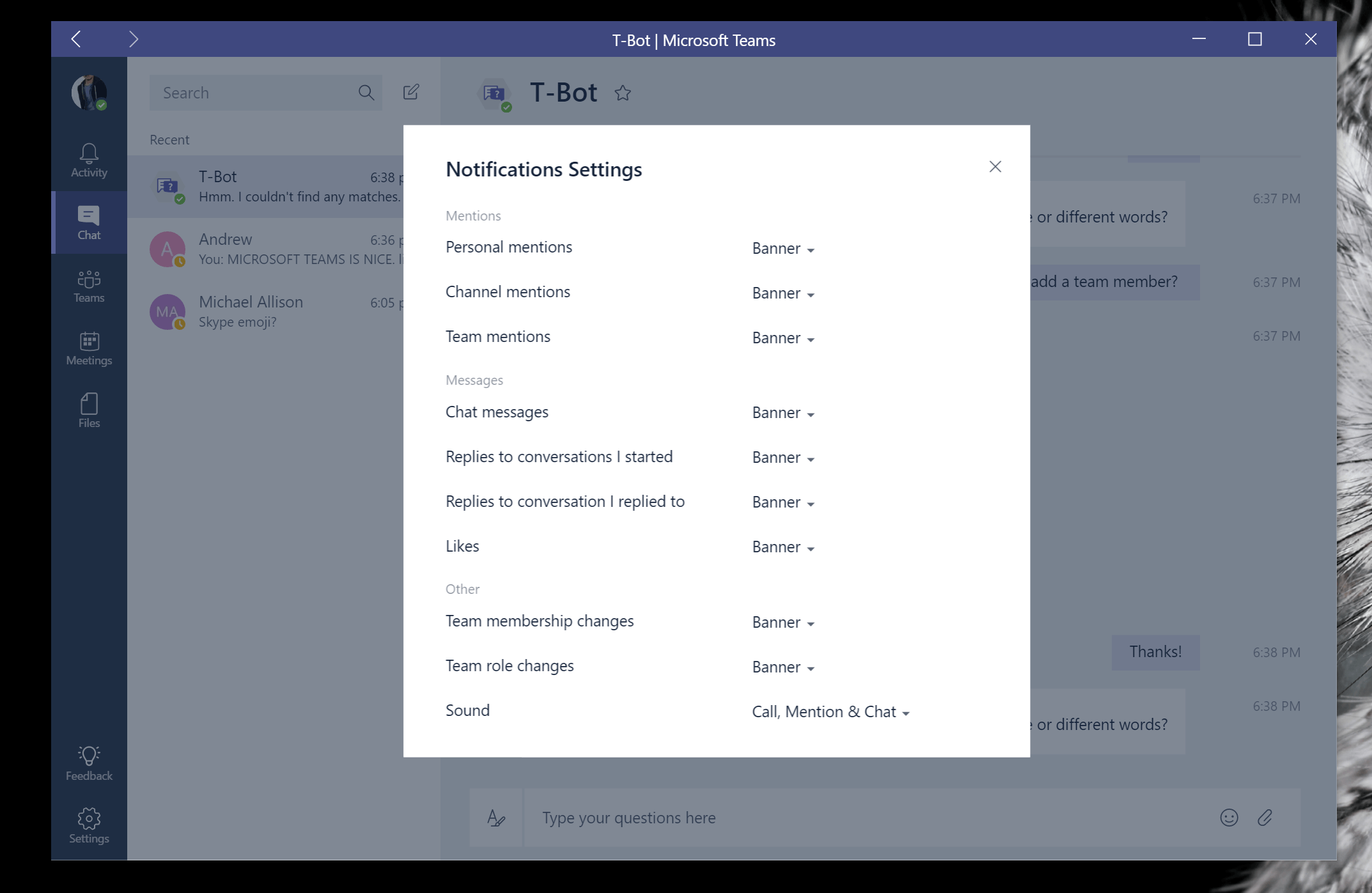 If you are interested in trying out Microsoft Teams, head over to this link.