Is Copilot the best AI companion out there? Help us find out by answering a couple of quick questions!
Halo Infinite is an extremely mysterious title from 343 Industries, especially compared to its predecessor Halo 5. For fans who love to dive into details before release, the Halo Infinite Mega Bloks sets have a lot of details that could contain spoilers. 
Continue with spoilery caution!
First off, there is one hell of a spoiler for players of Halo 5: Guardians.  One of the most detail-filled Halo Infinite Mega Bloks sets is a collection called Defense Point Showdown, a collection that gives players figures of Master Chief, a Marine, a Grunt and a Brute called Hyperious.
Apart from the Brute being a specifically named character, there are a few details that could lead us to believe that Hyperious is the main antagonist of Infinite's storyline. Well, one detail: the character is holding the broken helmet of Halo 5's Spartan James Locke.
From the audio teaser that we handily broke down last week, Hyperious could be the successor of Halo Wars 2's Atriox, should that character perish before, or at the start, of the upcoming Halo game.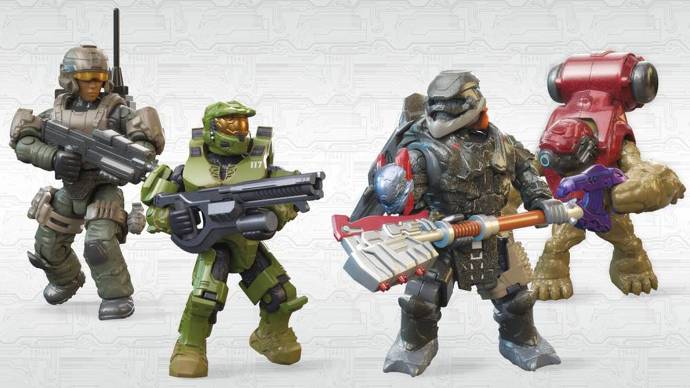 The Halo Infinite Mega Bloks sets also reveal a few other key details about the upcoming first-person shooter including enemy redesigns, a new, never before seen Banished vehicle, the hub of the game's Pelican Dropship and a look at what could possibly be Zeta Halo.
Firstly, the new Banished vehicle is called The Skiff, a large vehicle that sits multiple enemies – the set shows two Brutes (both gunners) and a Grunt firing at Master Chief.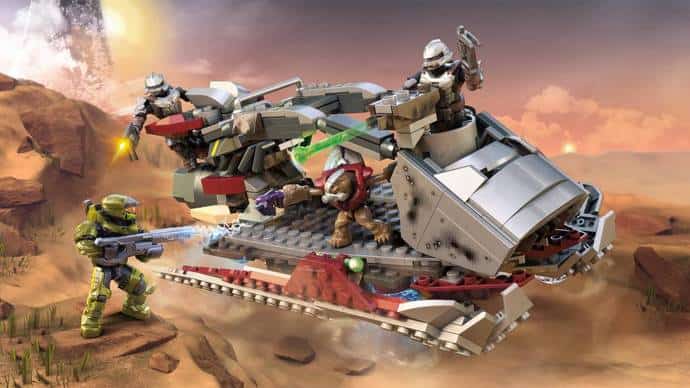 The Pelican that was featured heavily in the E3 2019 Discover Hope trailer for Halo Infinite has its own set that looks to be a hub area for Master Chief and The Pilot (nicknamed Brohammer by fans after the beloved female pilot Foehammer in the original game).
While the Mega Bloks website went down "for maintenance" during our write up, website Eurogamer managed to snatch the set's detailed description which reveals a lot about the ship's importance to the campaign.
"The Pelican is on its way. Modeled after its appearance in Halo Infinite, this massive dropship features poseable wings and other parts, a cockpit hatch, and working landing gear. Open it up to reveal a hidden interior featuring where Master Chief was brought back online. Or choose to build a huge UNSC compound with fortification barrier, forklift vehicle, space rocket, and more. This construction set also includes 3 micro action figures that can be placed inside your vehicle of choice. Prepare your heroes for battle."
The set also features the new redesign of staple Halo enemy, The Hunter. It's a slightly altered look to what fans may be used to, just tweaked slightly from their appearance in Halo Wars 2.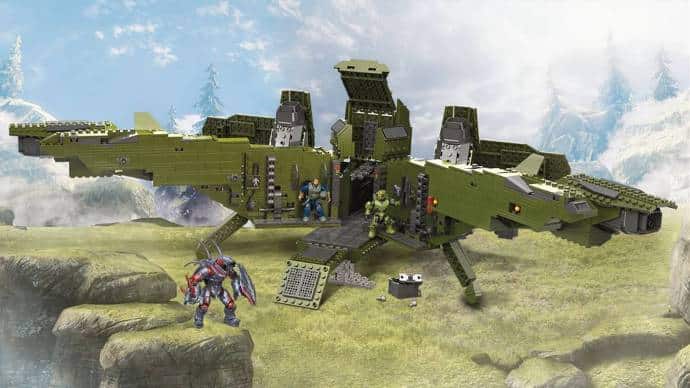 Lastly, Mega Bloks has a small diorama of the broken off segment of the Halo ring seen during the E3 2019 trailer, a diorama that leads many to firmly believe the ring seen in the trailer is the lore-drenched Zeta Halo, aka Installation 07.
Zeta Halo is known for being a location where Forerunners experimented on the horrific Halo enemy, The Flood, and monitored how they took over human bodies. This place would become known as the Palace of Pain, a location that could be the tiny Mega Blok tower seen on the ring segment's right side.