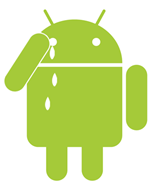 Microsoft debunked Google's claim of being excluded from a cartel purchasing Novell patents this morning, leaving the company with pretty bad egg on its face.
Now David Drummond, Google's Chief Legal Officer has responded once again, calling Microsoft's approach to Google a "false gotcha!"
Claiming the patents are useless to defend Android if he did not own them exclusively, he pated himself on the back for not falling for Microsoft's "ingenious" evil machinations.
Google of course again made light of the fact that they are giving OEMs an OS based on the patents which they are not bothering to spend money licensing or purchasing. To Google patents are clearly just weapons and do not represent the fruits of the intellectual effort of many individuals and companies, representative of their attitude to all IP in general.
Google is showing itself more and more to be a free rider on the efforts of content and IP creators.  One wonders how long such parasitism will be tolerated.