Gartner doesnt report too well on Windows Mobile, but their results is still an occasion for some discussion, be it positive or negative.
On this occasion the results could be interpreted rather positively.
According to Gartner 4.7 million Windows Mobile phones were sold to consumers in the last 3 months of 2008, which of course included the festive period.  This is a 16% increase over sales in the previous Quarter (3.95 million) and a 7.8% increase Year on Year from 4.35 million.  While Windows Mobile even saw a slight increase in market share from 11.9 to 12.4%,  which should (but will not) silence critics who claim the operating system ins increasingly unpopular. In fact, more and more people chose it each year.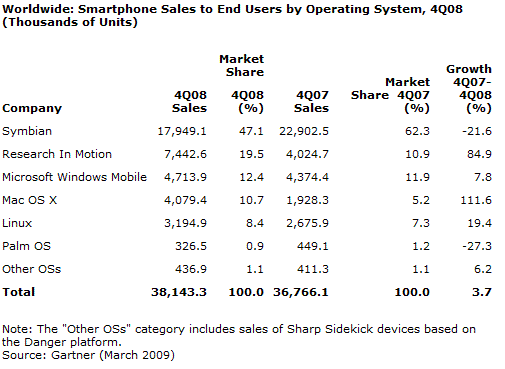 Windows Mobile is of course beset by competitors, the noisiest one being Apple of course with its mobile OSX. While the iPhone saw a much increased market share after dropping its price 50% from $399 to $199 (leading to a doubling of sales) the operating system in fact saw a 16% drop in sales (oddly, as much as Windows Mobile increased) between Q3 and Q4. Quite contrary to the notion that the iPhone is on a meteoric path to take over the smartphone world, it seems more likely Apple would have give the iPhone away fro free to see the same increase in market share as previously.
Windows Mobile's net greatest competitor is RM, an they are doing very well indeed, increasing sales by 85% YoY and taking a commanding lead in the Not-Nokia segment, with 7.4 million devices sold. Of course Q4 2008 was also a launch quarter for RIM, with the release of the Blackberry Storm, but one can not really take away from their success, and it does suggest to me that manufacturers may be remiss in not addressing the front-facing QWERTY market where RIM truly rules.
On the Windows Mobile side, HTC and Samsung are both doing very well, with HTC increasing its own-branded device sales by 26% to 1.6 million.  This figure excludes operator-branded devices like the T-Mobile G1 for example. The Samsung Omnia was a hit for Samsung, with sales tripling in Europe due to the device, and being largely responsible for the 9.6% increase in smartphone sales in Europe.
Samsung has of course moved its Omnia brand to Symbian, but that OS saw a huge drop in sales of more that 20% YoY, with nearly 5 million less handsets sold than in 2007. It is therefore unknown whether the Omnia HD would replicate the success of the Windows Mobile powered predecessor.
Garnet does not provide an outlook for Q1 2009, but if we could risk our own prediction, it is likely there will be a decline in the market in 2009. With a lack of any significant product launches in Q1 2009 Windows Mobile may lose some market share, and its not certain it will maintain its lead over the iPhone (which of course itself is a stale product), but Q2 2009 will likely see a significant bounce back, with many attractive devices by many OEM's being released, and the rest of 2009 should remain exciting for Windows Mobile followers.
Read the full Gartner report here.