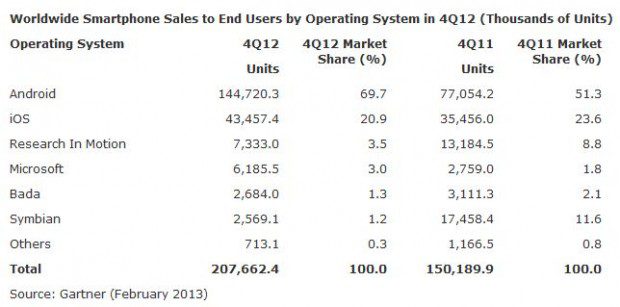 Gartner today released their mobile phone market share report for Q4 2012. It was quite surprising as the worldwide mobile phone sales were 1.75 billion units in 2012, a 1.7 percent decline from 2011 sales. Microsoft had a positive news in Q4 2012 as its Windows Phone market share was up 1.2%, which is 124.2% increase over year-on-year.
Gartner also commented that 2013 will be the year of the rise of the third ecosystem as the battle between the new BlackBerry10 and Widows Phone intensifies.
Regarding Nokia's position they commented the following,
In the fourth quarter of 2012, Nokia's handset sales improved from a good response to its Asha mobile phones and the launch of the latest Lumia Windows Phone 8 models. It was not sufficient to stop Nokia to lose further market share, totaling 18 percent, the lowest it has ever been. In 2012, Nokia reached 39.3 million smartphone sales worldwide, down 53.6 percent from 2011. Analysts said that aside from the continued focus on Lumia, Nokia needs to build on momentum around Asha in 2013 by adding devices and apps to further enhance its overall value proposition and, in doing so, moving up the price point slightly to achieve better margins breaching the gap left by Symbian.
Read more in the link below.
While the numbers are encouraging, they are somewhat below expectations, which ranged from 7 to 10 million handsets, largely due to Microsoft's statements that sales were 4 times, rather than twice, as much as Q4 2012, and other good indicators of growth such as MAU of the Facebook app.
The good news for Windows Phone is of course that it has clearly separated itself from throw away operating systems like Bada, and is within striking distance of Blackberry OS, which while benefiting from a new operating system in Q1 2013 will have difficulty hitting the low-end, an area where Windows Phone is now finally finding its footing with great handsets like the Nokia Lumia 620.
Of note is that iPhone growth is stalling, and that Windows Phone grew faster than Android, and was in fact the fastest growing mobile OS, rising from the 1 percenters of early 2012 to a more solid 3% now.
Q1 2013 should be very interesting, with the big question being if Windows Phone can take the 3rd place from Blackberry or not. Â What do our readers think? Let us know below.
Source: Gartner