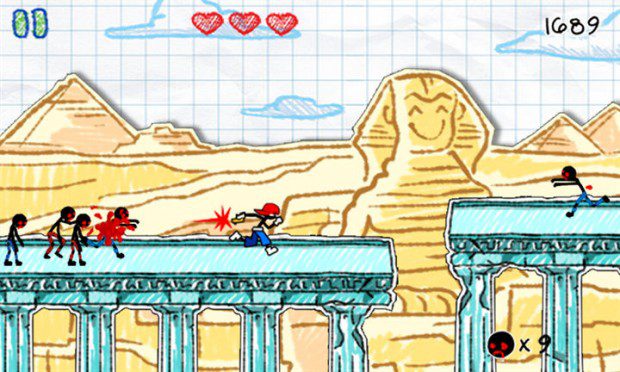 The very popular iPhone, Android and Symbian game Dalton – the awesome has finally found a way to Windows Phone also! It is a simple 2D jump and run game. But it is great fun, because it is somehow different!
The difference is, that you do not jump over object, but over zombies and gaps, and you have to kill those zombies to collect their souls to buy new things by jumping on them or killing them with add ons!
Overall Score: 4/5
This game is just fun, but somehow different from other jump and run games, what makes it a very nice game.
Gameplay: 5/5
It is very easy: Just jump! The only thing you need to do is jumping. But that does not make the game boring in any way. The only thing that does so is…
Presentation: 3/5
… The look of that game. It is always the same and nothing new. Anyway, it is not to bad, it is still fun. Anyhow the game looks nice: I like that mix of draw style and graffiti style. The music matches well with the game.
Lasting Value: No score
It depends on you how long you will need to get bored of this game, because it has no real ending. You have to kill zombies to get points, with which you can buy things. But the game has no real story and no real ending. I personally will have fun with this game a long time.
Dalton the Awesome can be found in Marketplace here.