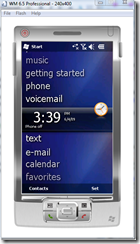 A mere 3 months after the release of the OS, a SDK for Windows Mobile 6.5 has finally been made available by Microsoft.
The SDK provide documentation, sample code, header and library files, emulator images, and tools to Visual Studio that allow developers to build applications for Windows Mobile 6.5. Unfortunately the emulator images show no sign of Windows Mobile 6.5.3, which is rather a shame, meaning the devices expected to be released soon will again initially be unsupported.
The SDK is available in English, German, Chinese, French, Spanish, Italian and Chinese and runs to a download of between 450 and 3700 MB.
Read more at Microsoft here.
Apologies to our readers.  After much faffing around I managed to get the images to run on the emulator, and in fact it is Windows Mobile 6.5.3 that has been released.