Face blurring software is a simple yet effective tool that helps you maintain the privacy of a picture or video. In today's digital age, safeguarding your privacy is essential. Whether you're sharing photos online or creating video content, it's crucial to protect your identity.
In this article, I'll share a list of handpicked face blurring apps after testing 50+ online and desktop tools. From user-friendly interfaces to powerful features, I'll guide you through the top choices. Ready?
Best Face Blurring Software
TechSmith Snagit is a leading screenshot and screen recording software. One of its notable features is its capability to serve as a face blurring tool. This function allows you to obscure or pixelate faces within images or videos.
Face blurring in Snagit is a straightforward process so users from all skill levels can use it. It involves selecting the area of the face that needs to be obscured with the Blur tool. The software then automatically applies the blur effect.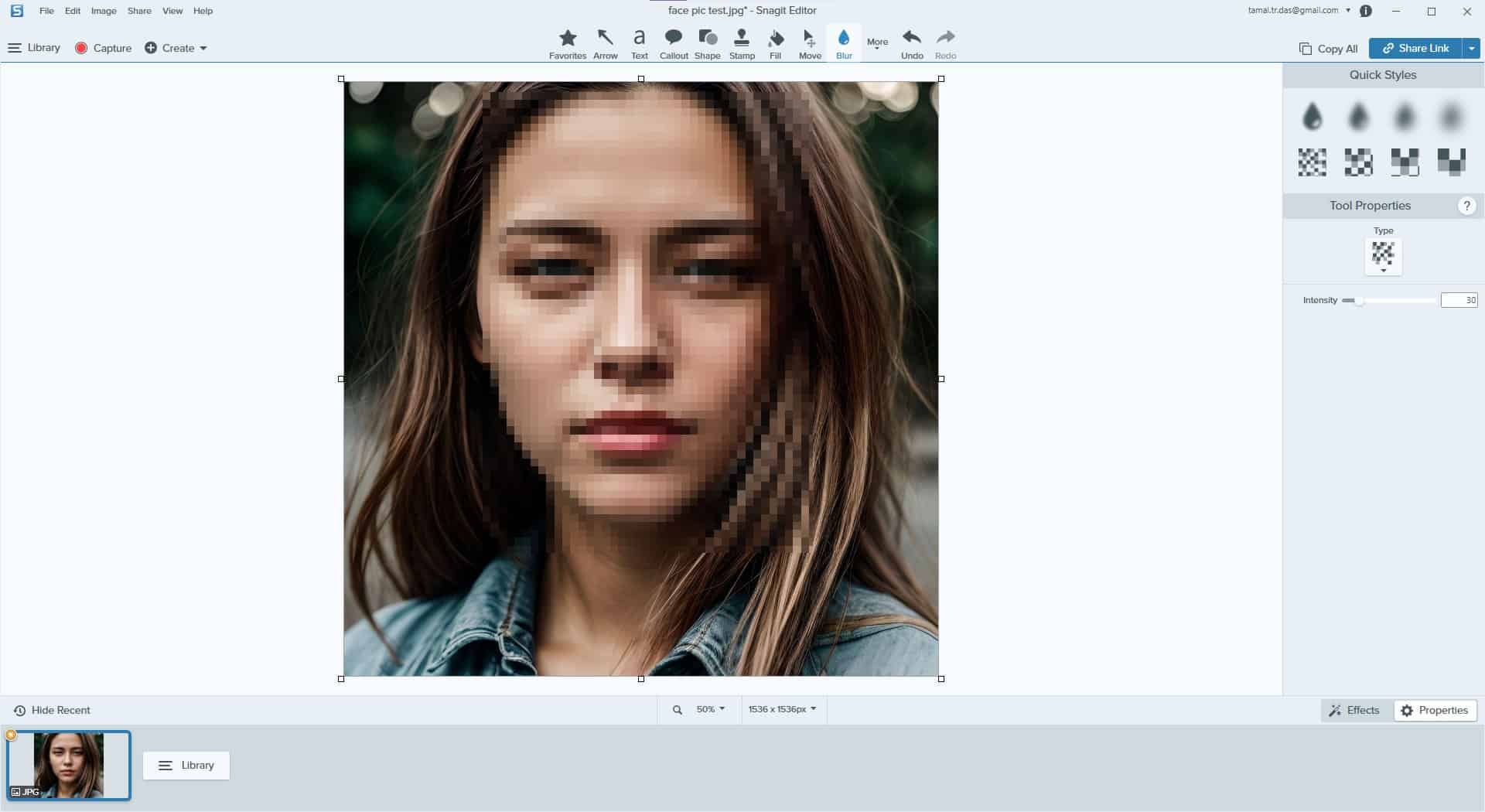 In addition to face smudging, TechSmith Snagit offers a range of other features that enhance its functionality. You can capture selective screenshots, record selective videos, and even add annotations to those captures. This makes it a valuable tool for creating tutorials or sharing information.
Canva is a web-based design platform widely recognized for its user-friendly image and video editing features. The blur effect in Canva supports obscuring faces and other things.
To do this, click on Edit photo and choose the Blur effect from the Effects section. You can also adjust the intensity of face or object blurring.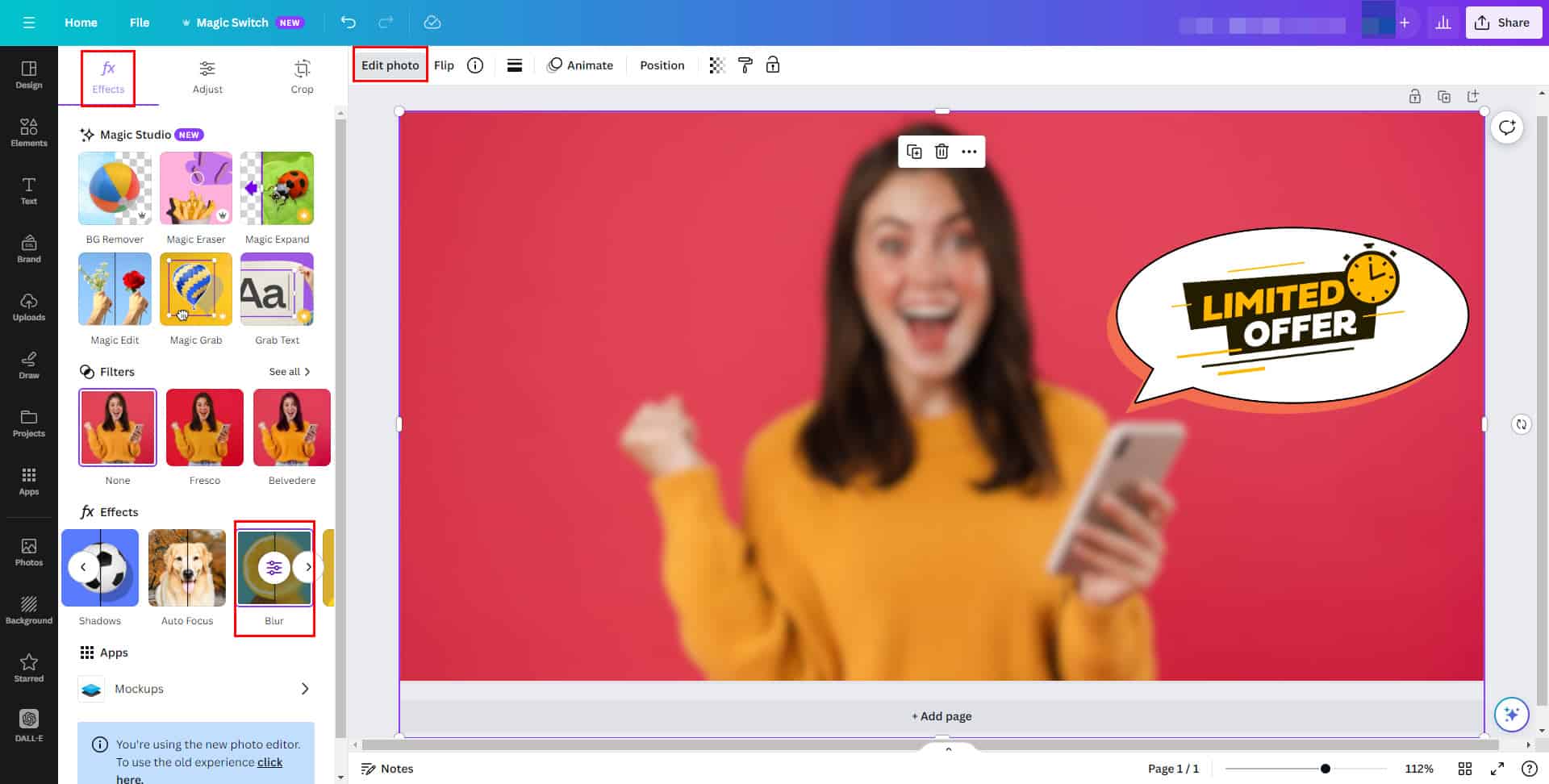 Apart from face blurring, Canva provides several design tools and templates for creating graphics, presentations, social media posts, and more. Its drag-and-drop interface and pre-designed elements make it easy to customize personal or professional images. Canva also offers a collaborative platform. Your content teams can work together on design projects, face obscuring, blurring video content, etc.
Another effortless face-blurring tool you can use is VistaCreate. It's also a web app, so you don't need to install any software on your PC. The tool is accessible via any standard web browser to use on Mac, Linux, tablets, and other devices. It allows face or object obscuring through its Edit Image feature.
Edit Image and blurring are available for almost any image that you upload. You can also obscure faces and other confidential objects on a video on VistaCreate. After uploading your content, go to the Edit Image or Video tool on the top left corner of the interface. In the Advanced Settings section, you should find the Blur intensity sliding bar. If it's zero, there are no blur effects. So, slide to the right to increase the obscuring level.
Adobe Photoshop is a powerful graphic designing and image editing software widely used by professionals and experts. When it comes to face obscuring, Photoshop provides several options in the Filter menu. Under Filter > Blur, you can access blur effects like Gaussian Blur, which uniformly smudges the entire image, including faces. Additionally, Surface Blur and Smart Blur options allow for more controlled obscuring while retaining some facial details.
Furthermore, Photoshop offers an advanced face-blurring capability through the Filter > Blur Gallery menu. Within this gallery, you can choose the Iris Blur or Field Blur options. These tools provide precise control over obscuring specific regions. These include faces, hair, and other exposed areas.
Adobe Photoshop has comprehensive obscuring options that are found in both the standard Blur menu and the specialized Blur Gallery. These make it a top choice for professional image editing.
Blur Video and Photo Editor is an Android app that lets you easily apply obscuring effects to photos and videos. It supports editing files from your smartphone or tablet gallery or those captured with your device's camera. It offers a range of powerful features, especially relevant for face and object blurring.
You can precisely track and obscure specific objects within your media, making it simple to obscure sensitive information or individuals. Additionally, it's possible to apply blur effects to moving objects, ensuring the privacy of dynamic scenes. This app provides the option to blur the background of both photos and videos.
For more precise control, the app lets you use rectangles or custom shapes to blur areas in photos or videos. Its simple and intuitive user interface makes it accessible to all users.
FaceBlur Photo Editor is an iOS photo editing app. You can easily apply face-blurring effects to any images from your device storage. It offers a user-friendly interface so that users of all skill levels can navigate it.
Moreover, it can automatically detect faces in photos and apply obscuring effects using advanced algorithms. This simplifies the process of protecting your privacy.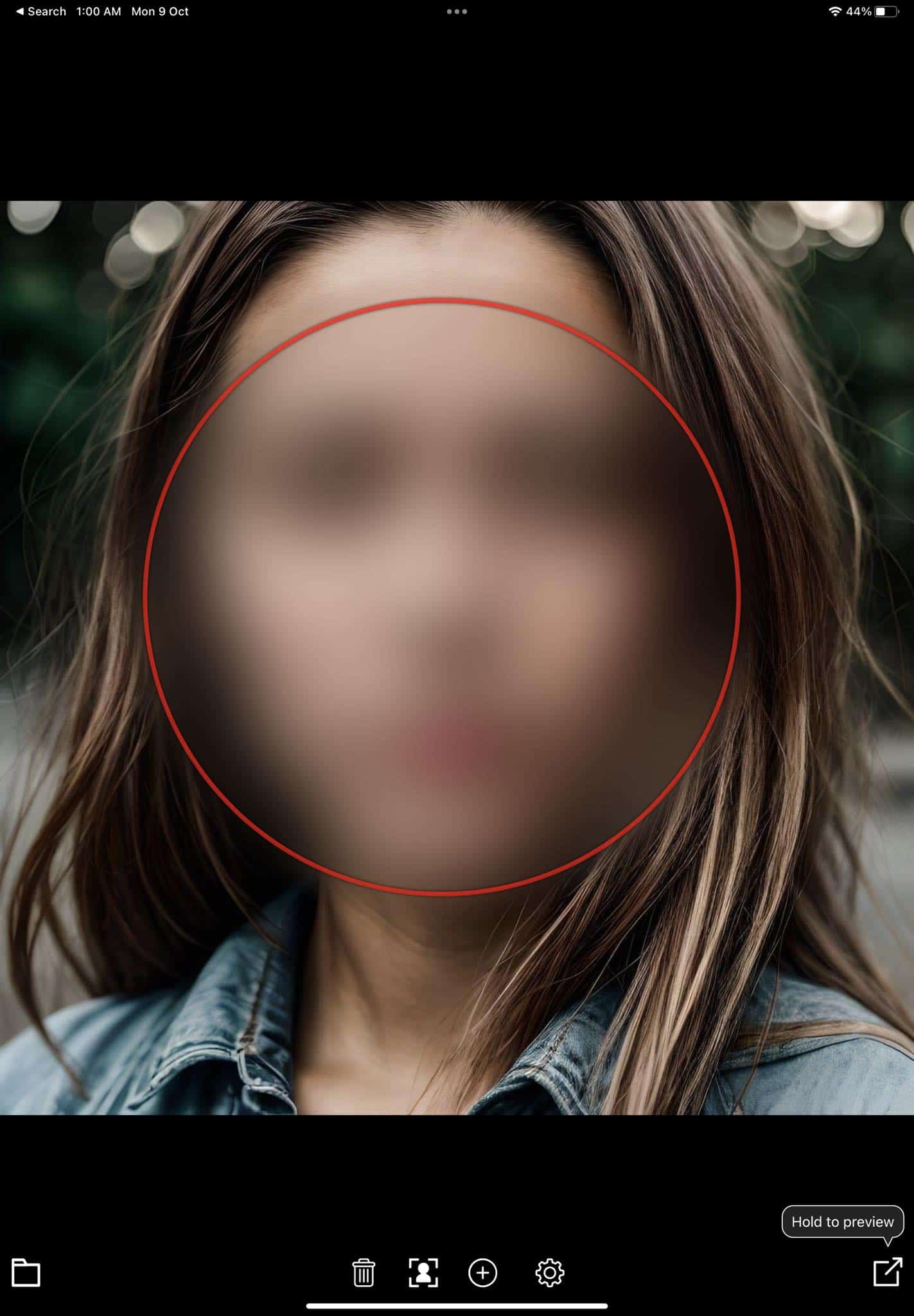 You can also manually smudge specific areas of a photo. This gives you more control over the blurring process.
FaceBlur also lets you adjust the smudging intensity. Furthermore, the app provides the option to save both the original and edited versions of the image.
Best Free Face Blurring Software
Flixier is a completely free face blurring and pixelating web app. The tool is particularly useful if you need to obscure faces and other confidential objects in a video recording. You can import videos from various cloud storage, like Google Drive, Dropbox, OneDrive, Google Photos, and others. Also, you can import content from your local storage.
The face blurring feature is available under the Effects section. You can choose from the different effects, such as Pixelate, Noise, and Blur.
Also Read: How to Edit Videos on Windows 11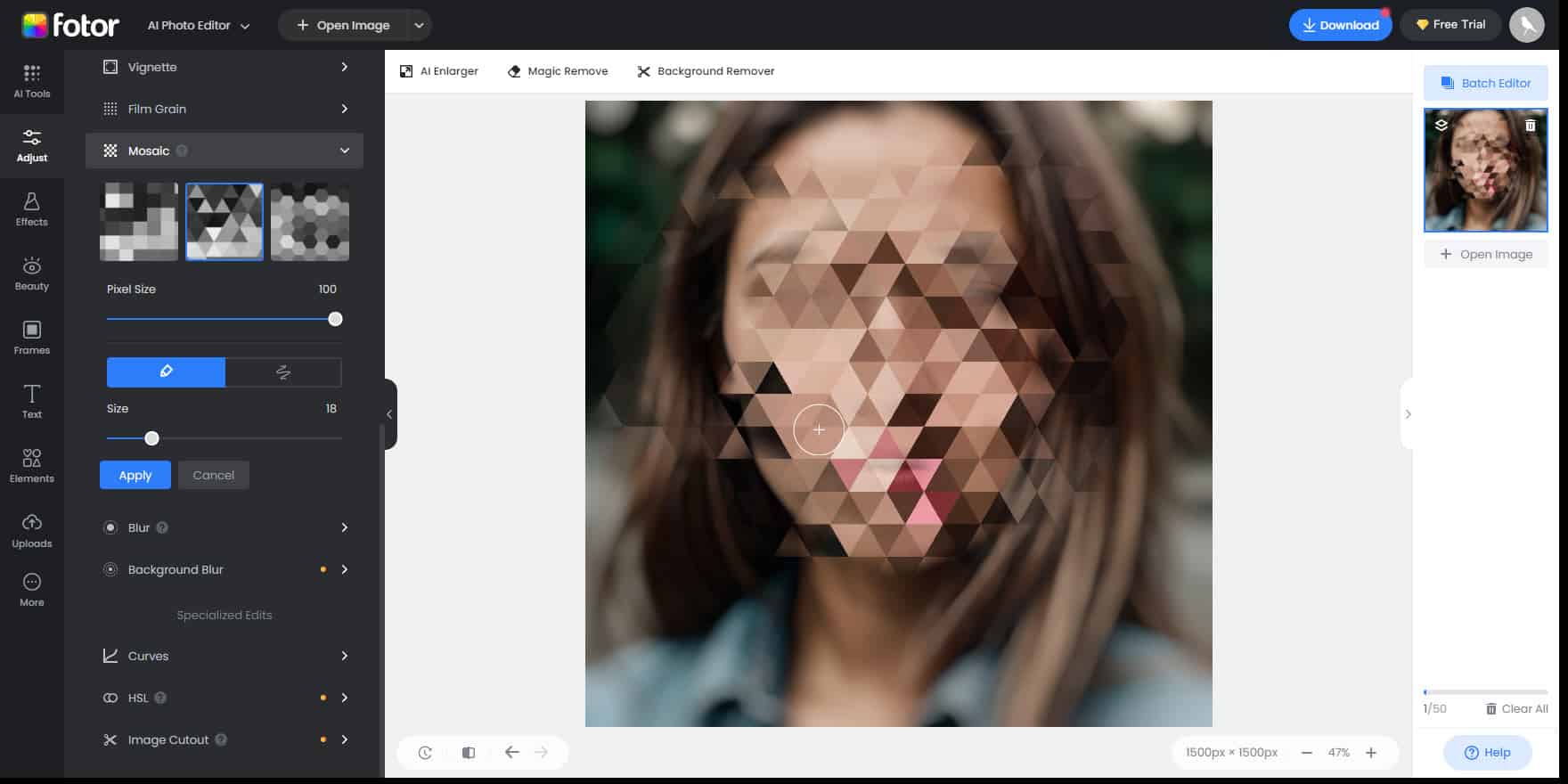 There are many online image and video editing software that have face-obscuring features. However, most tools either complicate this process or do it in exchange for a fee. Fortunately, Fotor is a state-of-the-art AI-powered photo editor app that's completely free.
Also, it includes multiple features that you can use to obscure faces and other private content from an image. You can use the Mosaic tool to pixelate the face or use the Background blur to obscure the location. Moreover, you can use the Blur tool to apply face blur in a circle or box.
Shotcut is an advanced and open-source video editing tool with additional expertise in audio editing. Whenever you need to obscure a face, you can do that for free and quickly with the Shotcut app. It's available on desktop computers like Windows, macOS, and Linux.
The object blurring feature is accessible from the Filters > Video Filters menu. There, you'll discover five different blur filters. These are Blur Box, Blur Exponential, Blur Gaussian, Blur Low Pass, and Blur Pad. All have their own intensity sliders to increase or decrease the obscuring effect.
FAQs
How Can I Blur My Face in a Picture?
You can use any of the above apps to blur your face in a picture. Suppose, you want to do it with the Adobe Photoshop app. Here's how:
Run the Adobe Photoshop software and import the image you want to edit.
In the Layers panel, right-click on your image layer and choose Duplicate Layer. This safeguards your original image.
Use the Ellipse Marquee Tool to draw a selection around the face. The position and size are adjustable.
Go to Filter > Blur > Gaussian Blur. A dialog box will appear.
In the Gaussian Blur dialog increase the radius until your face is adequately blurred.
You can further fine-tune the obscureness by adjusting the Gaussian Blur filter or mask as needed.
Once satisfied, save your edited image in your desired format.
How Do You Blur a Face in a Picture on Android?
You have to use third-party or Google-developed apps to blur a face in a picture on Android. If you want to use a fully free app, you can try Snapseed, a photo editor by Google LLC.
Alternatively, you can use Android apps like Lightroom Photo & Video Editor, Blur Video and Photo Editor, and others. If the content is a video, you can obscure faces with Flixier.
Can I Blur My Face in a Video?
Yes, you can obscure your face in a video via video editing software or specialized face blurring apps. These tools enable you to track and apply obscuring effects to the face, preserving anonymity in videos.
Software like Adobe Premiere Pro provides options to achieve this. It also allows you to control the intensity of the blur effect before exporting the edited video.
Conclusion
Whether you're a content creator or someone who values online privacy, this face blurring software will get the job done quickly. I hope this article has been helpful in guiding you toward the right choice for your needs. Have you tried any of these face-blurring tools? You can comment below about your experiences with these apps or share any tips.