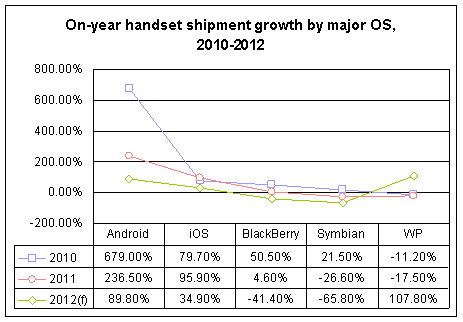 Digitimes Research have posted some predictions for the rest of 2012.
They noted that Android will continue and in fact increase their dominance of the market, growing to 70% of the handset market in H2 2012 and shipping a total of 423 million handsets this year.
iOS will on the other hand see dramatically less growth, growing only 34.9% YoY, for a total of 125 million handsets. It now appears clear the Cupertino OS will never reach market dominance. 
Digitimes notes that with Nokia's cooperation Windows Phone will reach 21 million units shipped, up 107.8% YoY.  It is worth noting that IDC has pegged Windows Phone shipments in Q1 at 3.3 million and Q2 at 5.4 million, for a total of 8.7 million handsets shipped, leaving 12.3 million handsets to still be distributed in the rest of the year, likely weighted to Q4 2012.
BlackBerry and Symbian handsets are expected to see further shipment declines in 2012, dropping about 40% and 65% on year, respectively.
If their data bears out in reality it would see Windows Phone being the fastest-growing operating system in 2012, while the other major mobile operating systems will see a significant flattening of their growth curves as they mature.
Read more at Digitimes here.