AdDeals Network is known as a major premium mobile ad network specialized on the Windows Platform (Phone, PC, Tablets). They offer unique tools for developers to better promote or monetize their apps and games via interstitials, wall or banners. They work with more than 1,000 developers worldwide.
Today AdDeals is announcing the release of its brand new universal SDK compatible with Windows 8.1/10 devices! AdDeals' service brings in 5 major key features:
Top CPMs and minimal revenues guaranteed with interstitial ads and premium advertising campaigns for top Windows games. It even has some campaigns reaching more than $10 CPMs in games on the Windows Tablet/PC Platform right now.
Optional and free 1:1 cross-promotion: Promote your apps within other AdDeals registered apps and earn 1 free display each time another app is displayed for free in your app.
Flexibility (cross-promo vs monetization – why choose?): Set yourself the split between cross-promotion and monetization displays and optimize it any time you want.
Real-time and transparent stats: Track your performance, displays, clicks, app installs and top campaigns in real time with full disclosure. See what are the best performing campaigns running in your apps.
Most competitive pricing and exclusive offers to drive quality installs: Launch CPC or CPI (Pay per Install) campaigns. AdDeals is the most cost-effective way to promote your apps on the Windows market.
AdDeals platform is a game changing solution for ambitious developers on the Windows Platform, you now have great tools to effectively promote & monetize your games that also perfectly complement existing advertising solutions on the market and can drive significant additional revenues.
See what Zoltan Gubics, developer of developer of Sky Cue Club: 8 & 9 Ball Pool + Billiards + Snooker, one of the top Windows Store games has to say:
"AdDeals is a great service that provides monetization and user acquisition capabilities for your apps and games. You can generate steady revenues with fullscreen interstitial ads and easily fallback to house ads. It even provides a very generous 1:1 cross-promotion service. The SDK is easy to integrate and the management dashboard has many customization options for advanced users."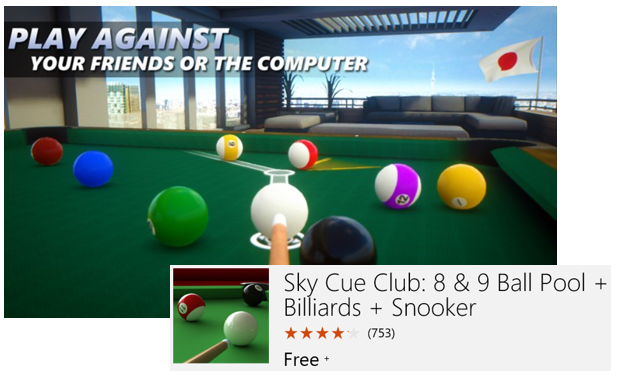 In just 10 minutes, you can integrate AdDeals SDK inside your Unity, Windows 8.1, Windows 10.0 C#/VB/XAML apps. Simply click and install our Nuget package: click here to get started. Alternatively you can use our open APIs (S2S), compatible with all major mobile platforms and all mobile app technologies.
In partnership with WMPoweruser, get 10,000 interstitial cross-promotion displays for free for each Windows top apps or games (3.5 stars+ / 50 ratings min) integrating the SDK and displaying interstitial ads in 2015! Register, add your app and contact AdDeals team to claim your reward once the ads are live.