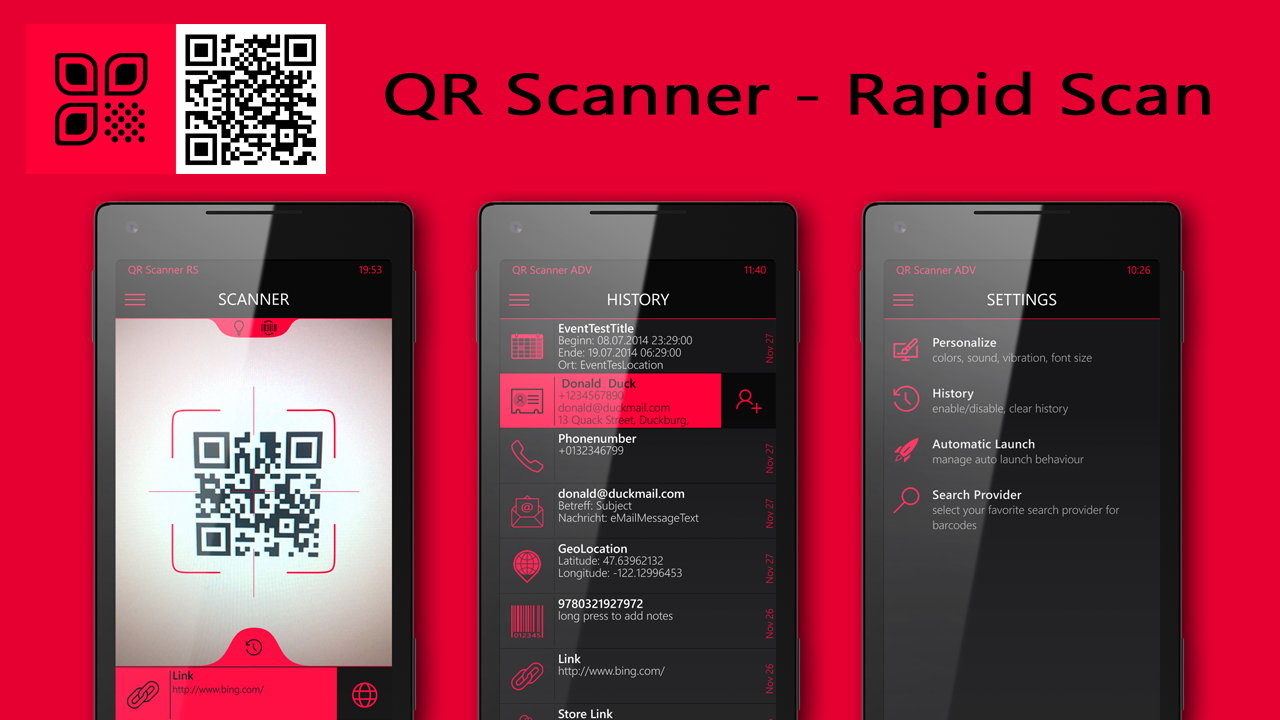 QR Scanner – Rapid Scan is a completely new developed QR code and barcode scanner app for Windows 10 Mobile. There is also an older Windows Phone 8.1 version called QR Scanner RS available which gets an update to match the features and new UI.
QR Scanner RS was initially built to be a completely free and easy to use code scanner for referencing code content only. Referencing code content in this case means URLs and barcode numbers; which are useless when not seeing the information they are referring to. And today, with a worldwide average rating of 4.5 stars, QR Scanner RS is the best rated QR code and barcode scanner for this use case you can find in the store.
The new version for Windows 10 Mobile and the updated WP 8.1 version still allow you to use all known features from previous versions for free! Nothing changed here. Additionally, there are a few new features like a history and notes which can be also used for free. Some are a bit limited, but not useless. There is now also a new possibility to upgrade QR Scanner to support more content types.
Features
ad free
still completely free for basic functionality
super-fast and convenient
fair upgrade possibility to support more content types (like business cards, appointments, …)
history, every scanned code is automatically saved (access limited to last 5 items @ free)
add notes or change description of saved items in the history (only for barcodes @ free)
on successful scan: vibration, sound and/or visual
optional bigger font for result and history entries
custom search provider for barcodes
You can find a detailed list of all features and a little description about each available version inside the app. This should help you to decide which version to choose regarding your use case.
Sale
The upgrade is on sale for a limited time. Until Sunday, the price is only $0,99 and later $1,49.
Since discounted prices are not possible in the Windows Phone 8.1 store, you can try to buy the in-app purchase on a Windows 10 PC. Direct link to the in-app purchase: https://www.microsoft.com/store/apps/9nblggh557n7
You then need to activate it on the in-app-purchase page inside the app. You will see a check mark instead of the price for QR Scanner ADV upgrade. Lastly restart the app so the UI can refresh and you're ready to go. These steps apply also, when a promotional code is used.
Download
Developer: ZYLAPPS
Price: Free+
Free Codes
One Rule: Post a comment and mention the number from the list of the used code. This way others don't have to try every code, thanks!
Want more codes? Here is the deal:
Since I don't know every Windows/Microsoft news site or blog in the world. I need your help.
Just send me the URL of your favorite Windows/Microsoft news site or blog in your country and I ask them if they are interested to give away some free codes to their readers. Use the feedback option inside the app to send me the URL. Thanks.
Enjoy QR Scanner – Rapid Scan!