At CES, Dell announced the much-awaited refresh of its Dell XPS 15 laptop. The updated Dell XPS 15 is powered by 7th Gen Intel Core processors. You can now configure this laptop with up to Core i7 Quad-Core Kaby Lake CPU. Apart from the processor updated, Dell has now updated the GPU on this laptop as well. Apart from the default Intel HD Graphics 630 GPU, you can now get it with NVIDIA GeForce GTX 1050 with 4GB GDDR5 graphics. Apart from these changes, other Dell XPS 15 specs remain the same.
The main highlight of the XPS 15 is still its virtually borderless display that maximizes screen space by accommodating a 15.6-inch display inside a laptop closer to the size of a 14-inch, thanks to a bezel measuring just 5.7mm, 59% thinner than the Macbook Pro. Measuring in at a slim 11-17mm and starting at just under 4 pounds with a solid state drive, the XPS 15 is the world's lightest 15-inch performance-class laptop.
Find the full tech specs below,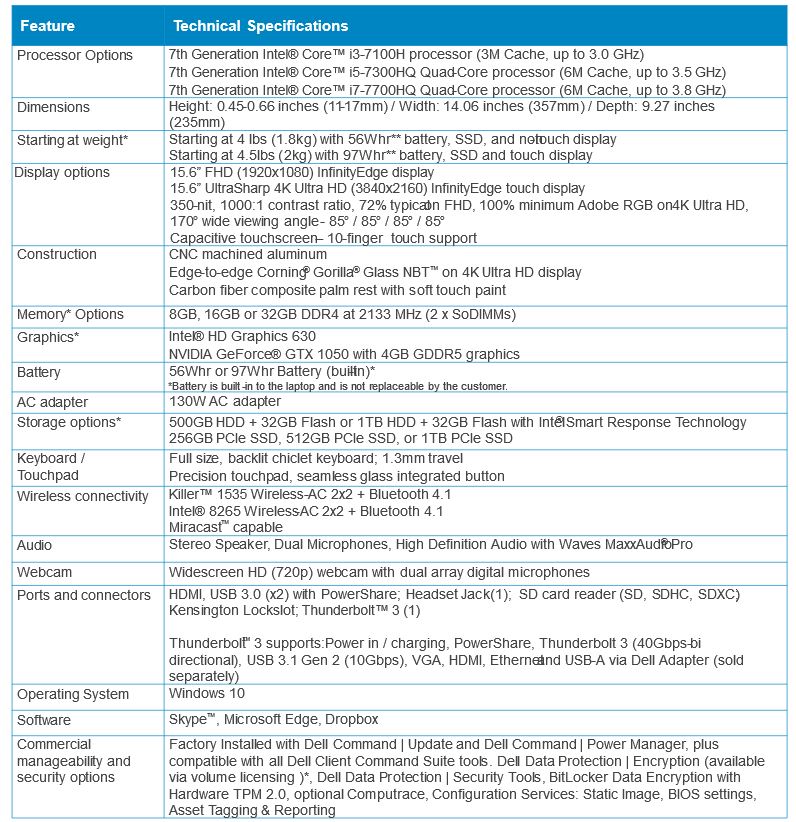 The new Dell XPS 15 will be starting at $999.99 and it will be available from January 5th in the US.