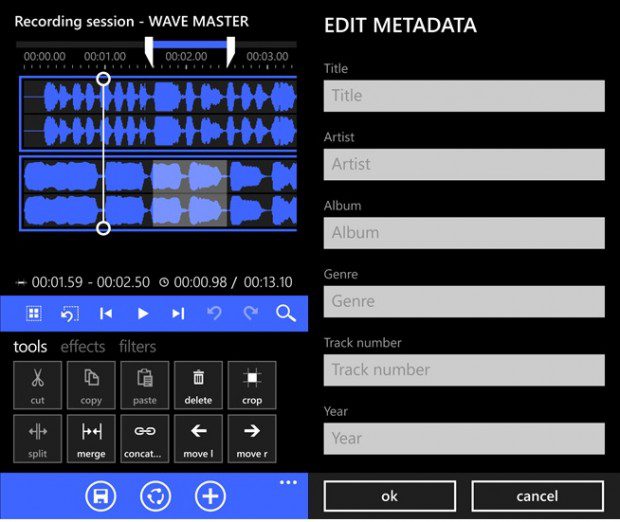 Wave Master is App of The Day on myAppFree, so you can download it today for free from Windows Phone Store. Wave Master is one of the few professional audio editors available in the Windows Phone Store. So, grab it for free today and record or modify existing tracks.
Features:
Wave Master allows you to edit audio files directly on your smartphone:

? professional zoomable waveform
? multitouch timeline
? multitrack editor with preview
? import/export/share your tracks from OneDrive or Music Library
? share your tracks on SoundCloud
? Movie Maker for Windows Phone integration
? supports multiple formats such as mp3, wav, aac, wma, flac, ogg, mpc, wv, tta, opus, aiff, ape
? create and export custom ringtones
? edit track metadata
? undo/redo actions
? mute/unmute tracks
? play existing tracks through headset while recording
? tools: cut, copy, paste, delete, crop, split, merge, concatenate, move
? effects: amplify, pitch change, tempo change, speed change, fade, echo, invert, repeat, reverse, silence, tremolo, wah wah
? filters: equalizer, band-stop, high-pass, band-pass, low-pass, vocal removal
Download it here from Windows Phone Store.