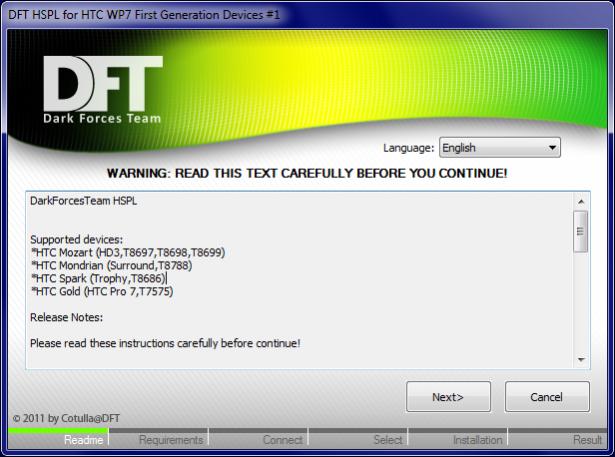 Windows Phone Hacker have just reported that the Dark Forces Team (DFT) have successfully created an RSPL / HSPL solution for a majority of HTC's Windows Phones.  This of course comes our way via XDA-Developers. If you are unfamiliar, HSPL is the bootloader that allows for custom ROM's to be loaded onto phones.  Chefs on XDA-Developers have done an amazing job releasing custom Windows Mobile 6.x ROM's for the past few years.  In fact, this was normally the only way you could get WM6.5 on your device, because software updates were very inconsistent between phone manufacturers.
With Microsoft's new update approach for all devices, will HSPL be necessary for Windows Phone 7?  There are a couple scenarios I can personally think of.  First, there has been a lot of "hackery" lately to allow for Mango beta versions to be installed onto non-developer phones.  With HSPL, you could theoretically flash a Mango build in minutes, and flash back to a NoDo build just as quickly, once your device has the official Mango version update available.  This avoids the need for making a backup before flashing.
Another scenario would be truly customized ROM's.  How about a completely jailbroken Mango build?  Chefs could cook amazing homebrew apps and custom settings directly into the ROM.  Custom tile colors, backgrounds and additional ringtones are possible.
As of now, the DTF release does not include the Verizon HTC Trophy or the Sprint HTC Arrive, but only because they don't have their hands on these phones yet.  Expect more devices to be supported soon.
Many would argue that Windows Phone 7 doesn't need tweaking like Windows Mobile did.  Let's wait and see what the creative community comes up with!  What custom features would you like built into a specially-crafted ROM?
Source: XDA-Developers
Via: Windows Phone Hacker