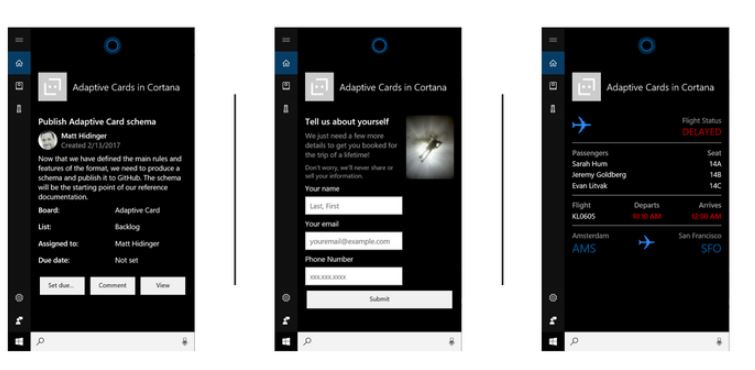 At Build 2017, Microsoft announced a new feature called Adaptive Cards for its Bot Framework. Microsoft last week announced that Cortana Skills Kit now supports Adaptive Cards. Adaptive Cards can automatically adapt to the look and feel of the Host. In this case, Cortana will render Adaptive cards in its own design style as you can see in the image above.
Cortana Skill developers can use the following to improve the overall experience,
Input controls: Existing card formats (hero, receipt, thumbnail and sign-in) do not support input fields. With Adaptive cards, you can add input controls for text, date, number, time, toggle switch and choice set.
Richer text: Text in the cards is not limited to title, subtitle and text fixed formats. You can make it richer and suitable for cards context with various font sizes, weight and color.
One card language for all your card needs: You can bring in your existing cards (FactSet instead of receipt cards or image control with buttons for replacing hero card) and extend them with richer controls using one common schema.
Learn more about Adaptive Cards here.