Earlier this week, we reported about a handful features coming to Windows 10 PCs in 2017 — this includes improvements to Microsoft Edge, the Settings app, Windows themes, Blue Light Reduction, and more. Some of these features are coming to Windows 10 Mobile in 2017 as well, but not all of the features are available just yet. It has been a while since Windows 10 Mobile saw any major updates in the Insider preview when compared to Windows 10 PCs but looks like Microsoft will have some features for Insiders soon. Screenshots sent to MSPU revealed some of the upcoming changes (they're pretty nice, but they are not very huge), so let's take a quick look.
---
Microsoft Edge
Firstly, Microsoft is introducing a couple of improvements to Microsoft Edge. The company is introducing a major new feature called Web Payments on Windows 10 PCs and Windows 10 Mobile — this feature was available for PCs with build 14986 but it is also available on one of the latest Windows 10 Mobile internal builds. Web Payments will basically make the payment process on the websites that support the Payment Request API a lot easier — you can get a deeper look at Web Payments on Windows 10 Mobile here.
Microsoft is also revamping the hub on Edge in Windows 10 Mobile to make it look similar to the PC interface. The browser now shows a bit more information about the different options available in the Hub, along with a neat little graphic similar to Windows 10 PCs.
Another feature Microsoft is working on Edge is an integrated book store which will possibly allow users to save/bookmark EPUB books — this is a feature which will build-up on some of the EPUB features Microsoft added recently, this includes support for EPUB files and a very nice UI to make the viewing experience a lot better.
---
Settings
Similar to Windows 10 PC, a range of new updates are coming to Windows 10 Mobile's Settings app as well. Firstly, Microsoft has re-organized some of the sections in the Settings app to make navigating around the app much easier. For instance, the Settings app has a whole new section for Apps where users can find more details about the installed apps, reset them, and more.
Microsoft has also revamped the Devices section similar to the recent improvements that we saw on Windows 10 PCs. The company has tweaked the UI for the connected devices, which now shows separate categories for the different type of devices that are connected to your device. In addition to this, the Add a device UI has also been improved slightly.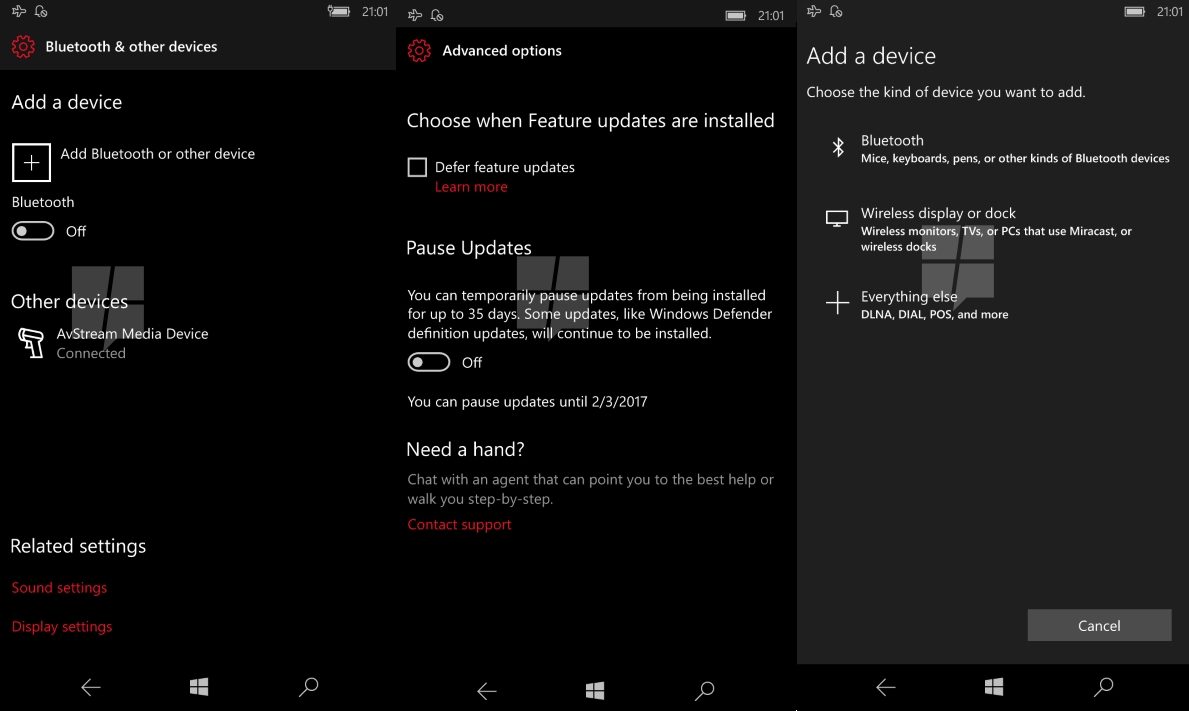 Another feature that's making its way to Windows 10 Mobile is the ability to pause updates in Windows Update for up to 35 days. It's unlikely you will be using this feature in Windows 10 Mobile, but if you need to or don't want to install a build at a certain point, you can simply use this feature to pause it and install it later.
Oh, there's a new icon for Continue App Experiences too.
---
View 3D
Microsoft recently added a new View 3D app to Windows 10 PCs which essentially allows users to view 3D content on their device. This feature is also making its way to Mobile devices as it's now pre-installed in one of the latest internal builds. At the moment, View 3D only allows you to view 3D content (3MF, PLY, OBJ, FBX, and STL files) but in the future users will likely be able to capture 3D content similar to what Microsoft announced back in October.
---
These are just some of the new stuff that'll be coming to Insiders in January. The company is yet to add any major features to Windows 10 Mobile for the Creators Update release, but it's expected to introduce a couple of big features for Continuum with Redstone 2.
---
READ MORE: Coming to Windows 10 Insiders in 2017: a Cortana-powered OOBE, a F.lux replacement, and more