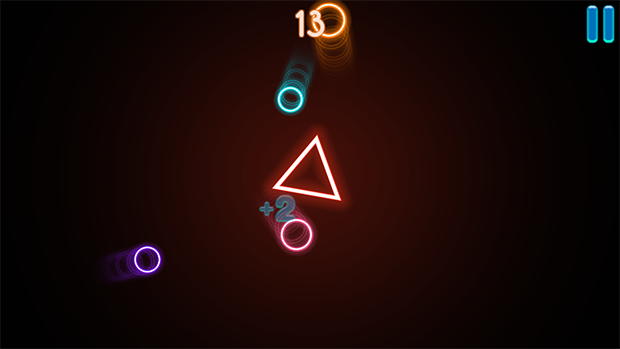 Introduction
We've got the perfect casual game for players to enjoy that features easy-to-use controls and simple rules. The Circles Dodge app for Windows Phone 8 and 8.1 that will have you dodging out of the way of the circles that are coming at you. You'll be able to earn bonus points and even compare your score with your friends. Don't let the simple controls and rules of this game fool you though because there's nothing simple about mastering it!
Ease of Use is a Top Priority
With the Circles Dodge app it seems as though ease of use was a top priority. The controls are very easy: just press right to turn right and press left to turn left. Remember you're trying to dodge the circles here and each time you dodge with a near miss you'll earn yourself some bonus points. You want to last as long as possible so you can keep tallying up the points.
The app has just recently been updated with some bug fixes, Crazy Mode has been made even more difficult, some additional menu options, and you can remove ads in the action phase. The app scores a perfect five star rating with good feedbacks from players.
A retro style arcade gameThe Game Play Experience
The Circles Dodge app provides users with a really smooth gaming experience. It's almost got a relaxing yet cool futuristic vibe going for it with its graphics. When you launch the game you've only got three simple options: view the Leaderboard, start a new game, or enter Crazy Mode. As far as customization tools go you can play with the sound on or off. I personally love the sounds as they are the retro style arcade sounds that blend so perfect with the graphics and gameplay. Posting your score for friends to see is simple at the end of the game you can share it right to Facebook. You can replay the level as often as you like as you try to perfect your game.
This app obviously isn't filled with fancy graphics and flashy features; this is truly a casual game that you'll just pick up and spend a little time here and there with. In that sense it's a really entertaining option.

The game controls are fluid and simplePros and Cons
Pros

The game controls are very easy to understand
You can share your high score on Facebook
The graphics and sound effects have a retro arcade style to them
The game is entertaining and challenging
Cons
This may not offer enough features and tools for some gamers to be satisfied with
Download it from the Windows Phone Store here.