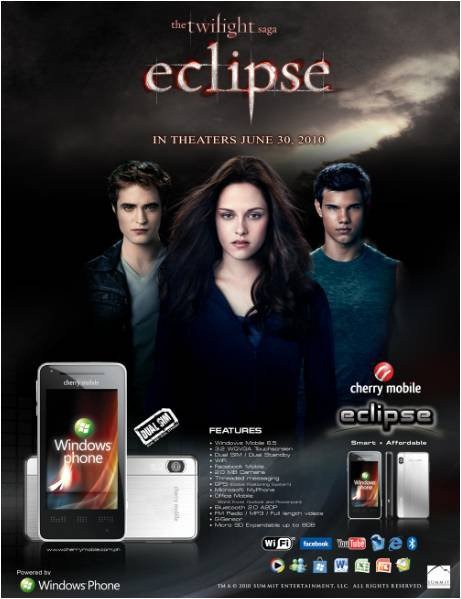 The HTC HD2 features the awesome Transformers series.  Cherry Mobile, a Philippines Company, felt something a bit darker and more broody was in order for their entry level Windows Mobile 6.5 smartphone.
The Dual SIM device with WIFI, 3.2 inch WQVGA screen and 2 megapixel camera also comes with wallpapers and the official movie trailer for the Eclipse movie, and also a free ECLIPSE the Movie Poster and Swiss Knife (if you want to start cutting even before the movie opens).
Of course all of this is for the knock down price of only 9.999 Philippines pesos (only around $215), which makes for a pretty great deal, despite running on only a 416 Mhz MTK processor, and also buys you a FM radio and GPS functionality.
See another picture of the (pretty great looking) device after the break, and read more about the device at Cherry Mobile's facebook page here.