Is Copilot the best AI companion out there? Help us find out by answering a couple of quick questions!
CCleaner vs Glary Utilities: which one is right for you? In the world of PC repair & maintenance tools, these two stand out from the crowd.
I've used both tools for a few years, so I'm familiar with their differences. I'll compare various elements, including but not limited to key features, pricing, user reviews, and more.
Let's dive right in and see what each software has to offer!
CCleaner
Glary Utilities
Key Features

Improves the speed of PCs
Scans your PC health
1-Click Updates
Keeps browsing safe
Cleans the registry

Registry Cleaner
Shortcuts Fixer
Spyware Remover
Disk Repair
Tracks Eraser
Temporary File Cleaner
Startup Manager

User Interface

Clean and intuitive interface

User-friendly interface shows clear & detailed directions

Pricing

Free version available
Professional version at $29.95 per year
Professional Plus version at $49.95 per year (up to 3 devices)
Premium Bundle at $64.95 (up to 5 devices)

Free version available
Pro version at $19.97 per year
Technician version at $169/year (Up to 3 PCs)

Customer Support

Customer support by using the website
Live Chat

Customer support through the website
Email support available

System Requirements

Windows 11 to 7 (all editions, including 64-bit)
No minimum memory or HDD space requirements

Windows 11 to 7 (all editions 32-bit and 64-bit)
30 MB free HDD
128 MB RAM

User Reviews

Trustpilot – 4.2/5
G2 – 4.5/5

Trustpilot –  3.5/5
G2 – 4.1/5
CCleaner Overview
In 2004, the developers at Piriform created CCleaner. This software keeps your PC clean by removing any corrupted or unwanted files, refreshing your registry, updating drivers, and improving your device's performance.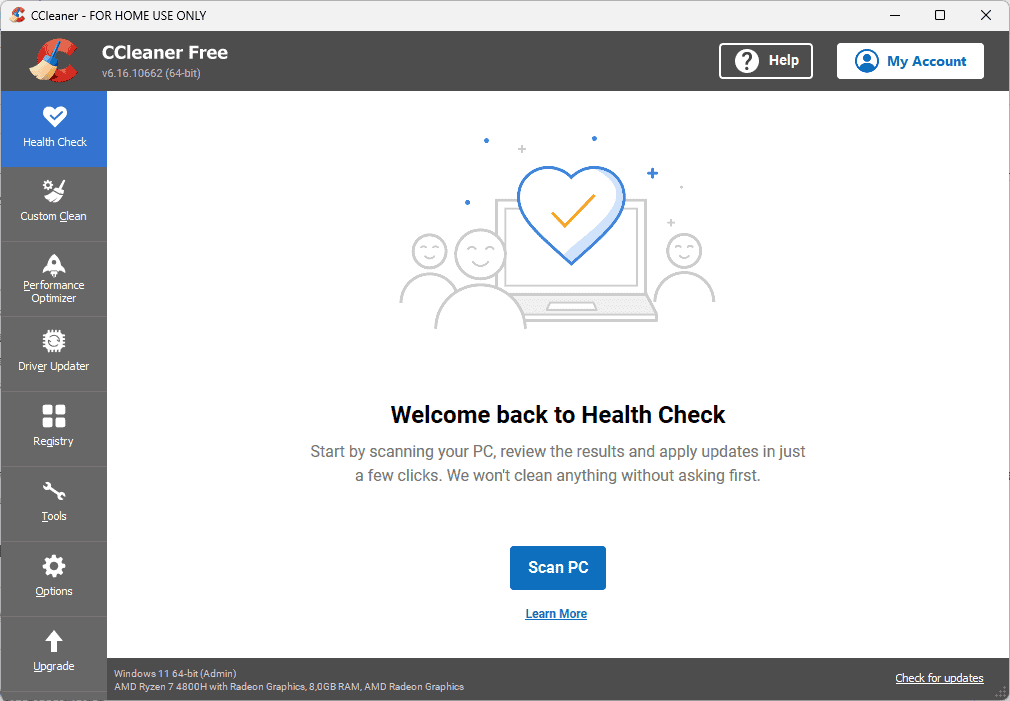 This app is well-known on the market and has been used by users for a long time.
You may also be interested in:
Key Features
PC Speedup – This feature gives you the power to improve your device's speed by removing old and unused files, settings, etc.
PC Health Check – Automatically scans your device and recommends some valuable fixes that will improve your device's stability
1-Click Updates – Performs a scan of your system and then updates the software automatically.
Safe Browsing – Deletes the search browser history, removes cookies, and refreshes caches to improve online safety.
Registry Cleaner – Scans and identifies any corrupted registry entries and then fixes them all.
Pricing and Support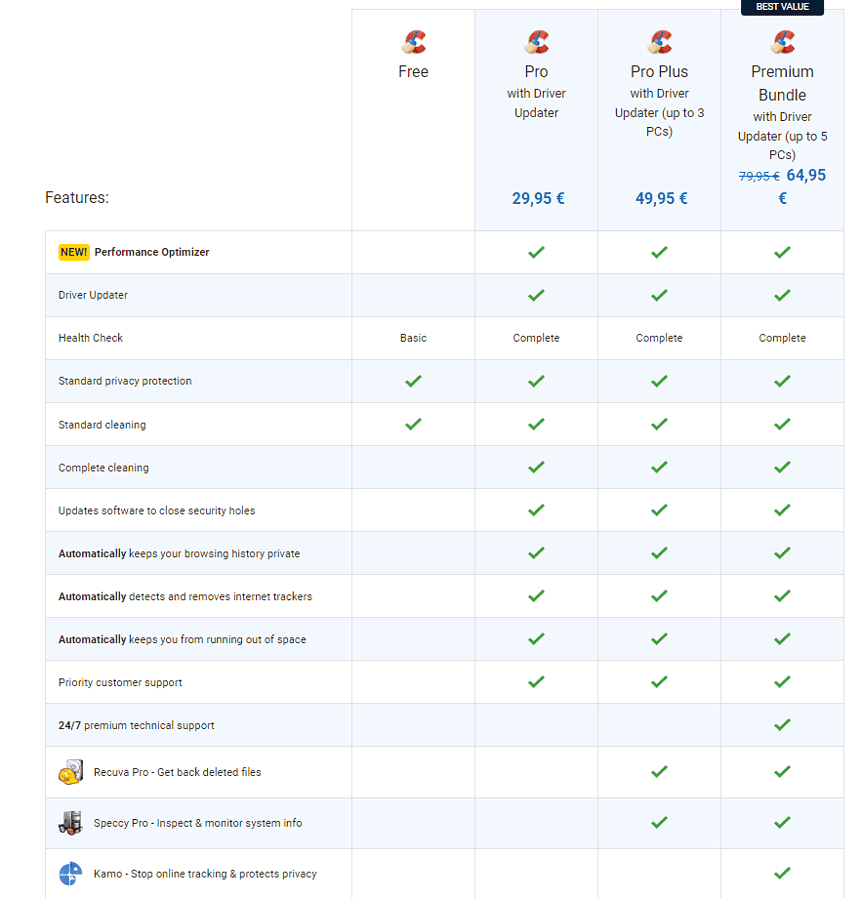 CCleaner also has a free version available, but this option only contains some basic features.
The Professional plan costs $29.95/year and adds features like complete cleaning,  software updates, and priority customer support. Another option is the Professional Plus version, which is $49.95/year and adds access to Recuva Pro (file recovery) and Speccy Pro, which inspects and monitors system information.
If you want to go all out, you can choose the Premium Bundle, which costs $64.95/year. It adds 24/7 premium technical support and offers access to Kamo (privacy protection).
Glary Utilities Overview
Glary Utilities is a powerful system cleaner that boosts your device performance with various valuable tools.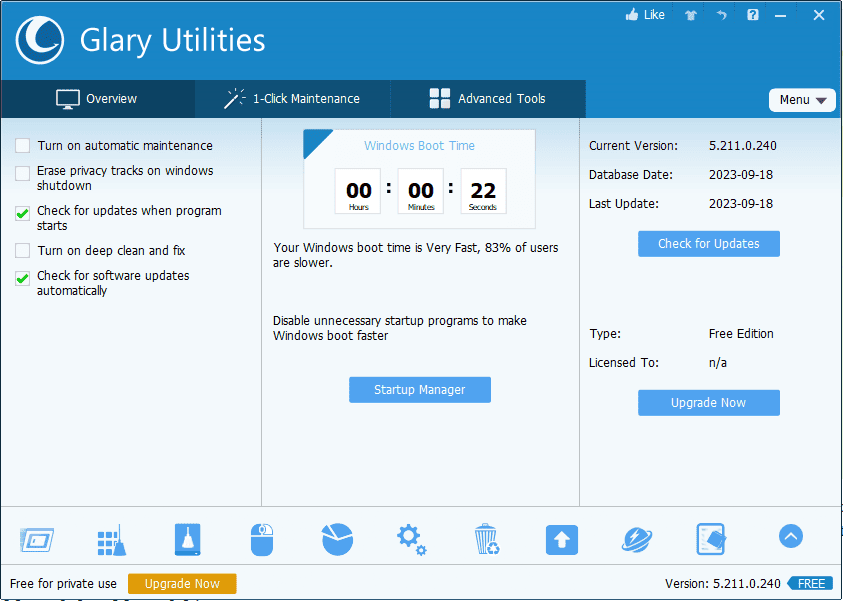 Key Features
Registry Cleaner – Scans your registry and cleans it up to improve system performance
Shortcuts Fixer – Resolves any errors from the start menu and desktop shortcuts
Spyware Remover – Automatically detects and removes spyware, adware, and other malicious software/programs
Disk Repair – Checks your device's hard drives for errors and fixes them
Tracks Eraser – Removes all activity traces from your system, like cookies, internet history, etc.
Temporary File Cleaner – Removes all the junk data from your disk and optimizes disk space
Startup Manager – Easily manages the apps that run automatically when your OS starts
Pricing and Support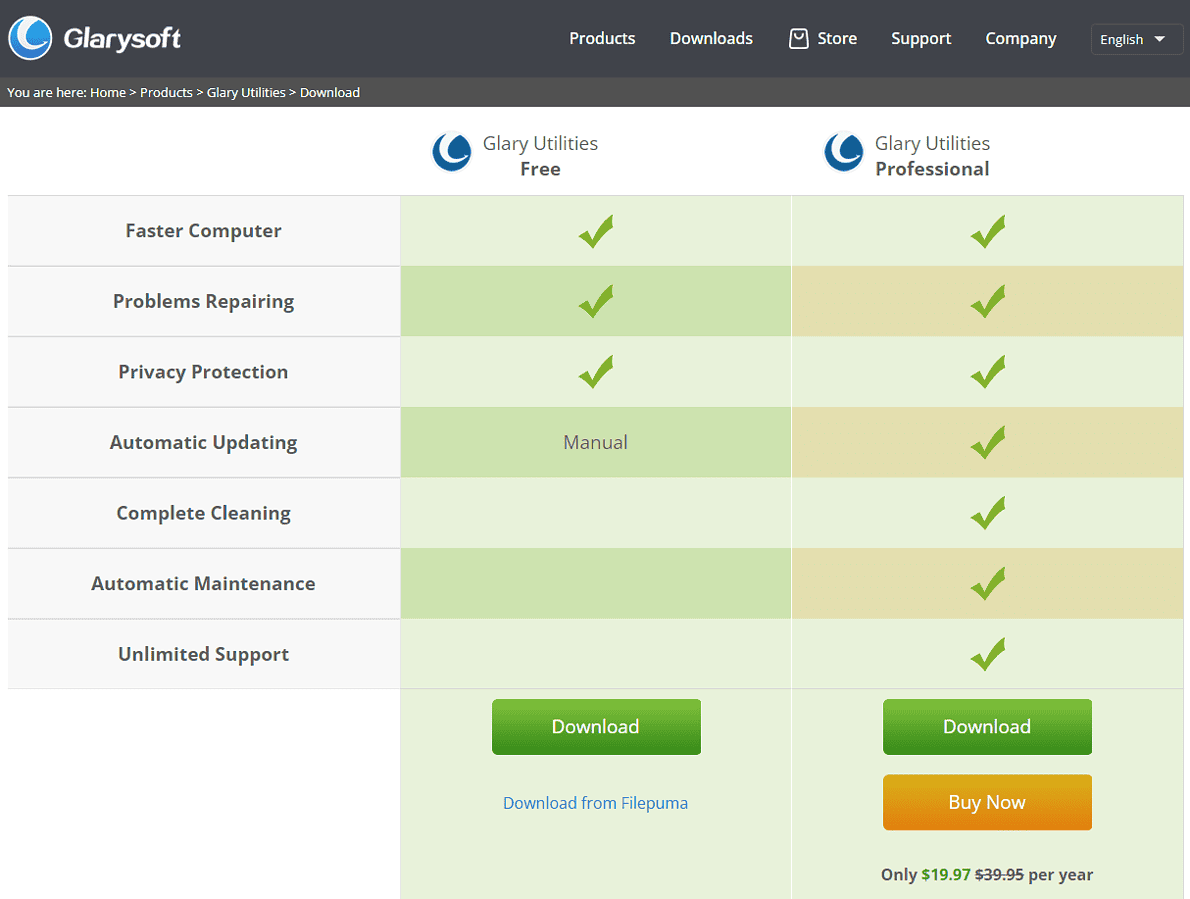 Glary Utilities offers a free version of the software that only has the most basic capabilities unlocked.
The Pro version costs $19.97/year and includes additional features, like automatic updating, complete cleaning, automatic maintenance, and unlimited support.
CCleaner VS Glary Utilities: Head-to-Head Comparison
Cleaning Capabilities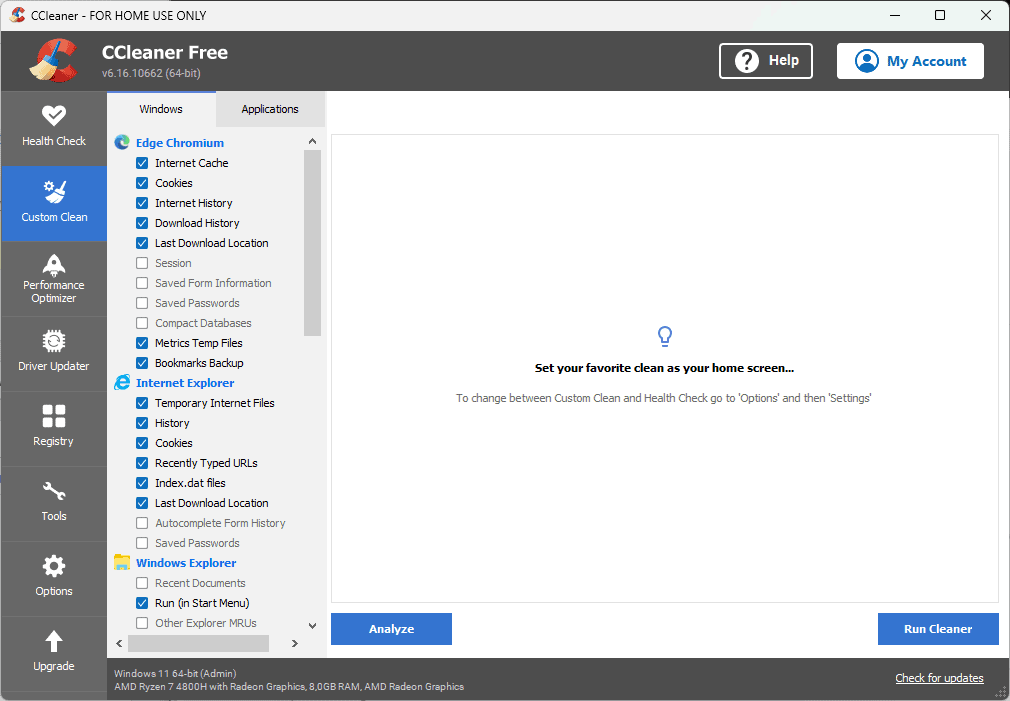 Both CCleaner and Glary Utilities can easily clean your device and improve its stability and performance. CCleaner is known worldwide for its ability to remove temporary files from built-in apps like Edge, Internet Explorer, and Windows Explorer, and also others.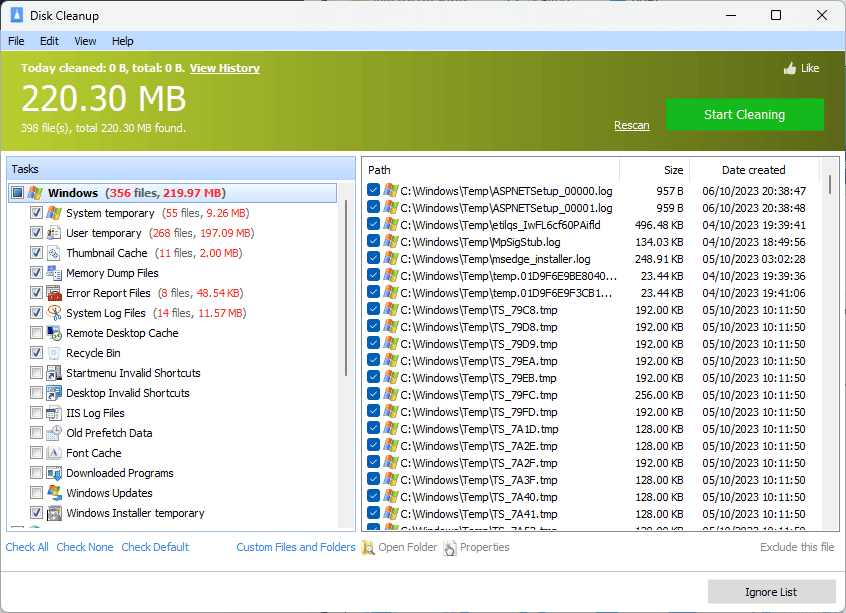 On the other hand, Glary Utilities includes a set of more than 30 different tools that ensure your PC's maintenance and optimization.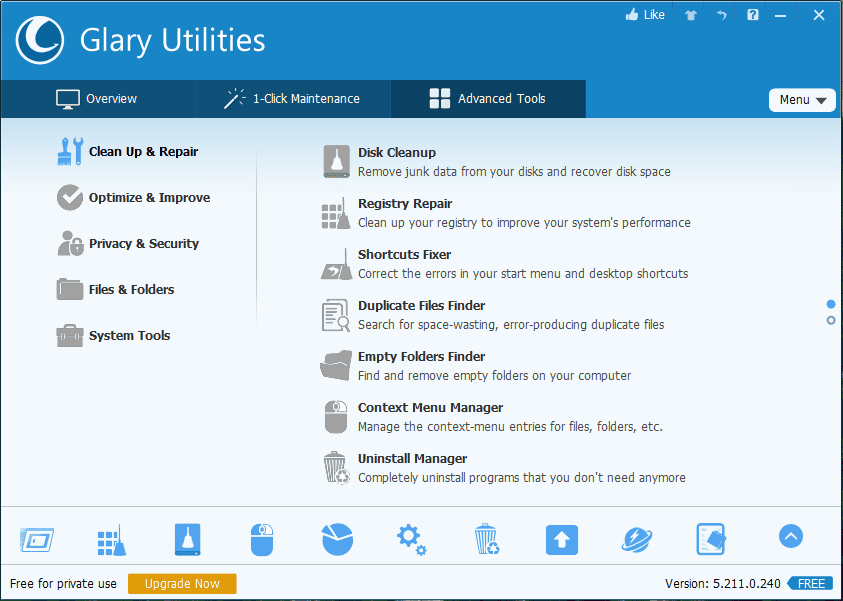 The Disk Cleanup feature scans your entire PC and identifies any files that can be removed.
Speed Optimization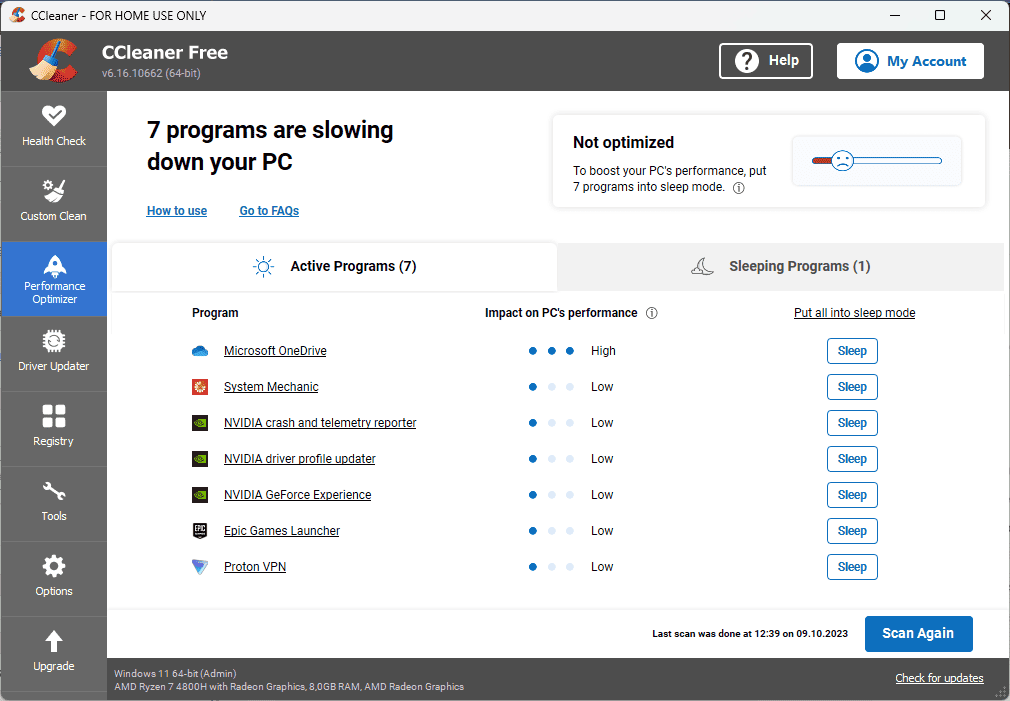 As you can see from the image above, CCleaner only allows you to customize the startup programs to optimize your system's speed.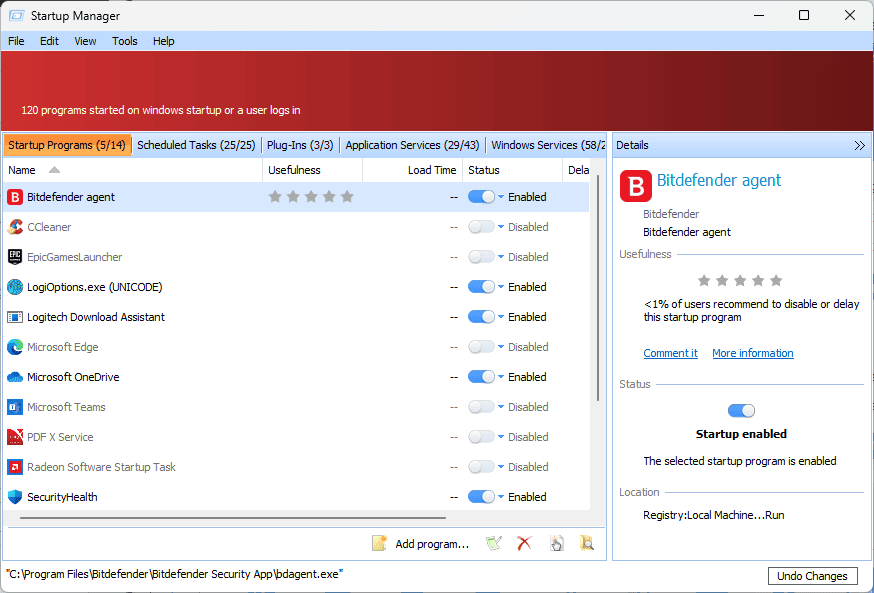 The same principle applies to Glary Utilities. What makes a difference here is the ability for the user to choose from Startup Programs, Scheduled Tasks, Plug-Ins, Application Services, and Windows Services.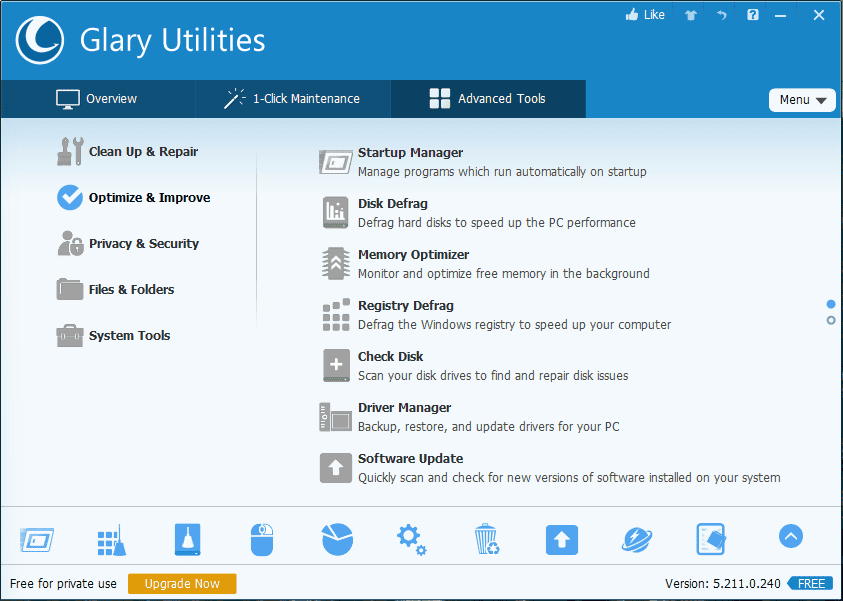 Glary Utilities ensures your software, drivers, and disk are kept in pristine condition. This gives it an edge in particular situations.
User Interface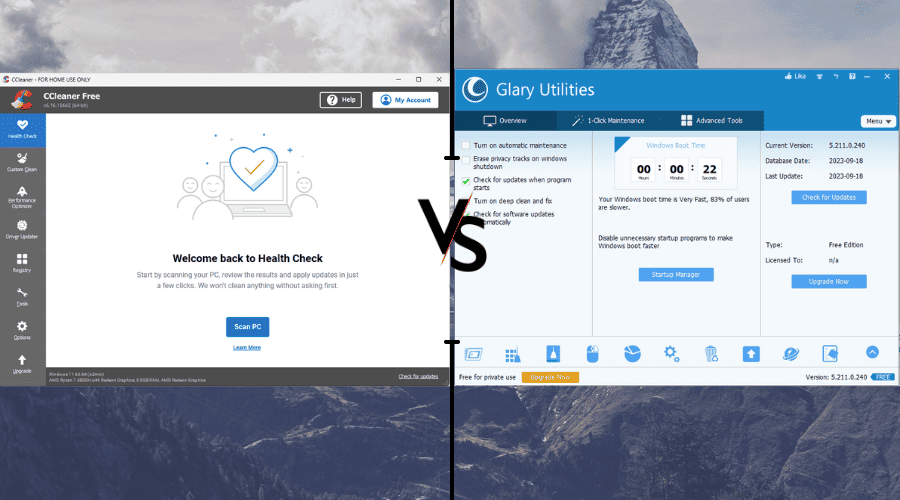 CCleaner and Glary Utilities have user-friendly interfaces; choosing the best depends on personal preference. That being said, the interface structure for Glary Utilities includes quick access to various tools straight from the main menu. This makes it easier for users to identify the options they need and then access them quickly.
Customer Support
Both tools provide users with easy access to help or guidance. The support and knowledge base covers all aspects of the software.
Below, you can see the access points for the knowledge base of each software.
Pricing
Both software options offer more features through various licensing options.
CCleaner has a free version, which can be very useful if you need basic features. The paid version adds more features to the bundle.
Glary Utilities also covers users' needs with a free software version, with even more default options than CCleaner. As expected, Glary Utilities can also be purchased with a Pro or Technician license. Each offers access to a variety of other tools.
Protection of User Privacy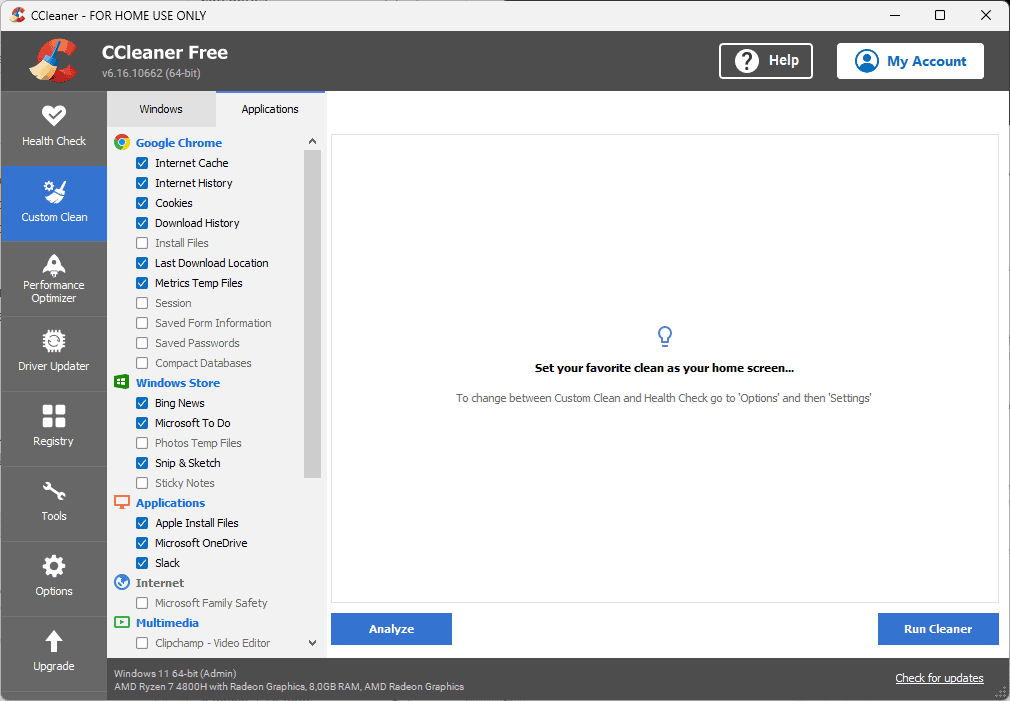 Both tools offer great features that can improve your device's privacy while browsing the web. CCleaner uses powerful algorithms to scan your system and identify any caches, temporary files, etc.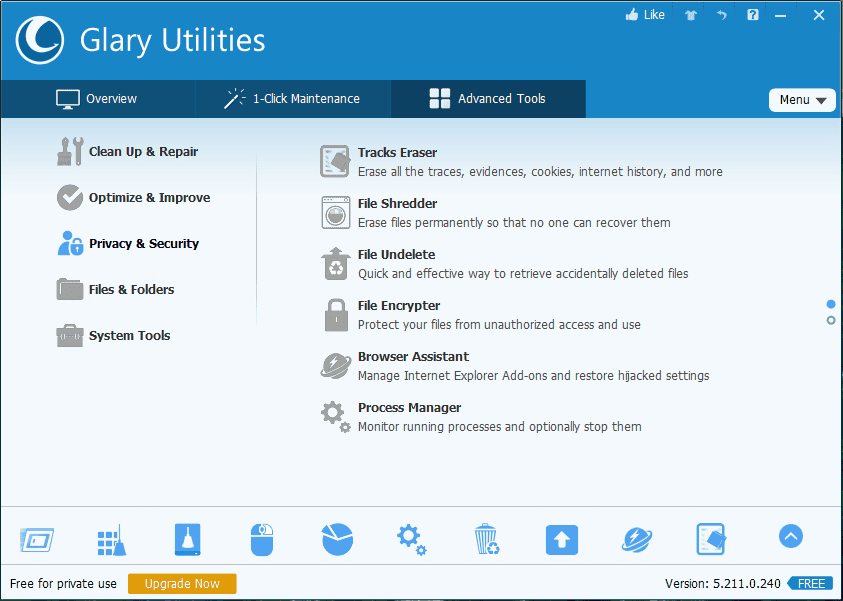 Glary Utilities also allows you access to the scan results and covers a wide range of software from your PC. In my view, Glary Utilities provides a more comprehensive set of tools.
Extra Features
This section will examine the best extra features each software option offers.
CCleaner
Driver Updater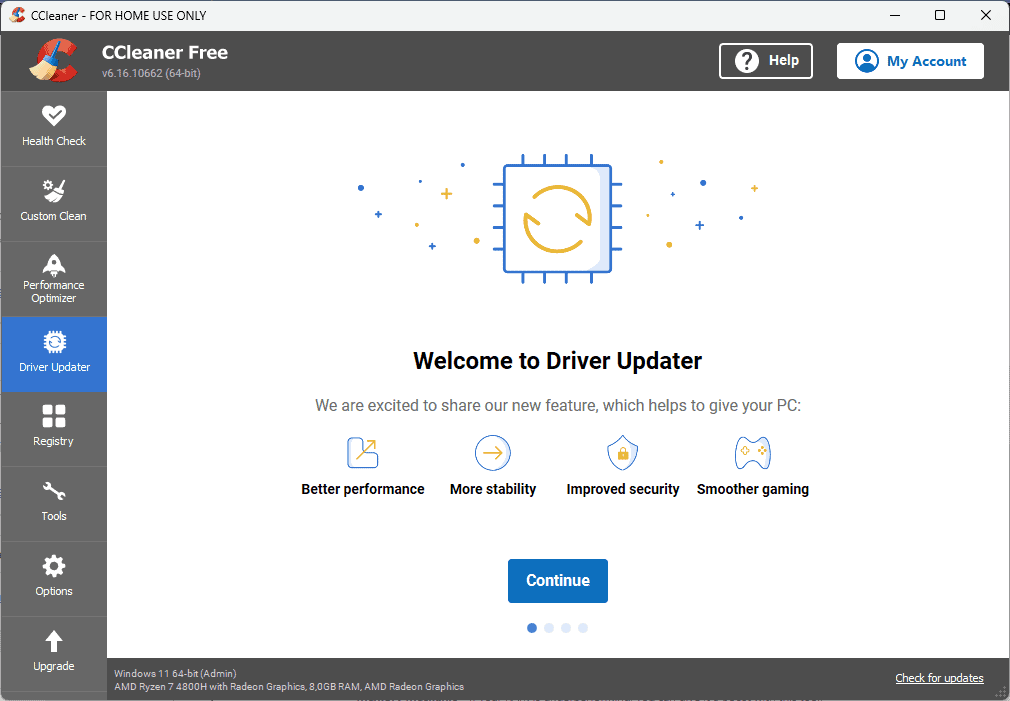 The Driver Updater is another handy tool that can help keep your device safe and secure while improving its speed and reliability.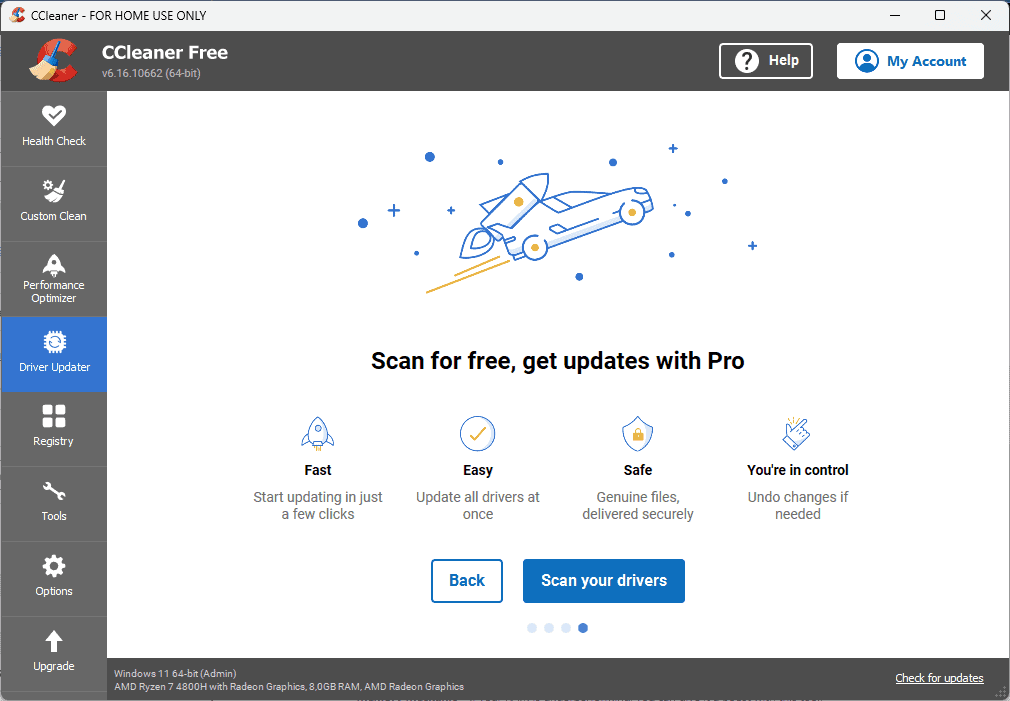 To start using this tool, click the Driver Updater feature from the sidebar and click the blue Scan your drivers button above.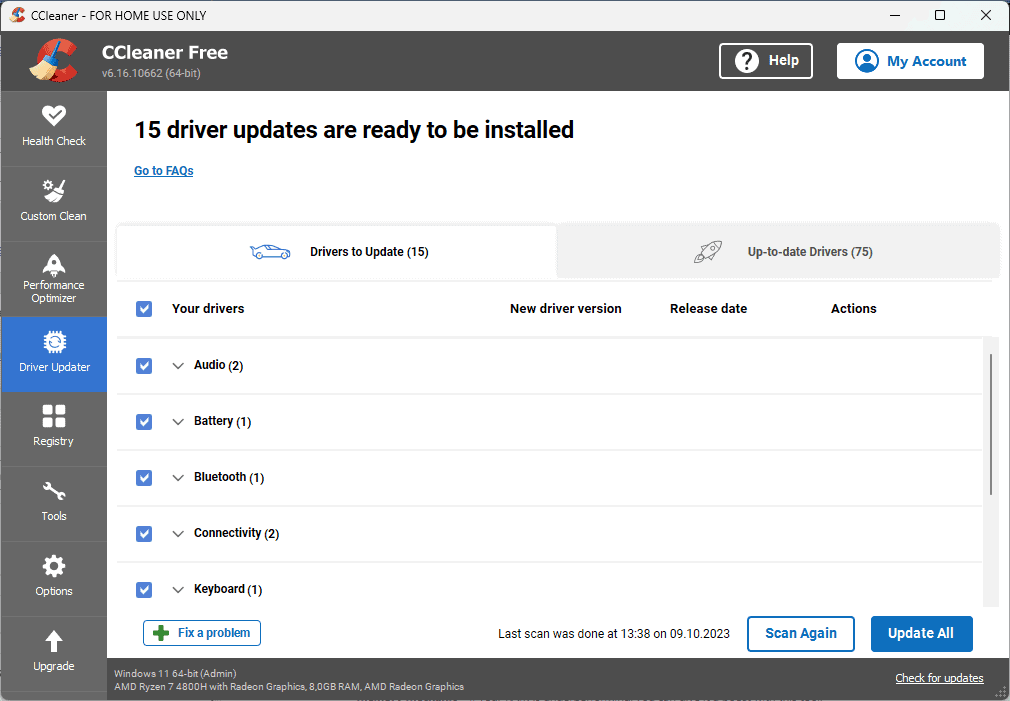 The software will now start scanning your device for the exact drivers required. The scan will also check for any drivers that might be outdated and replace them with high-quality system files from the CCleaner database.
Registry Cleaner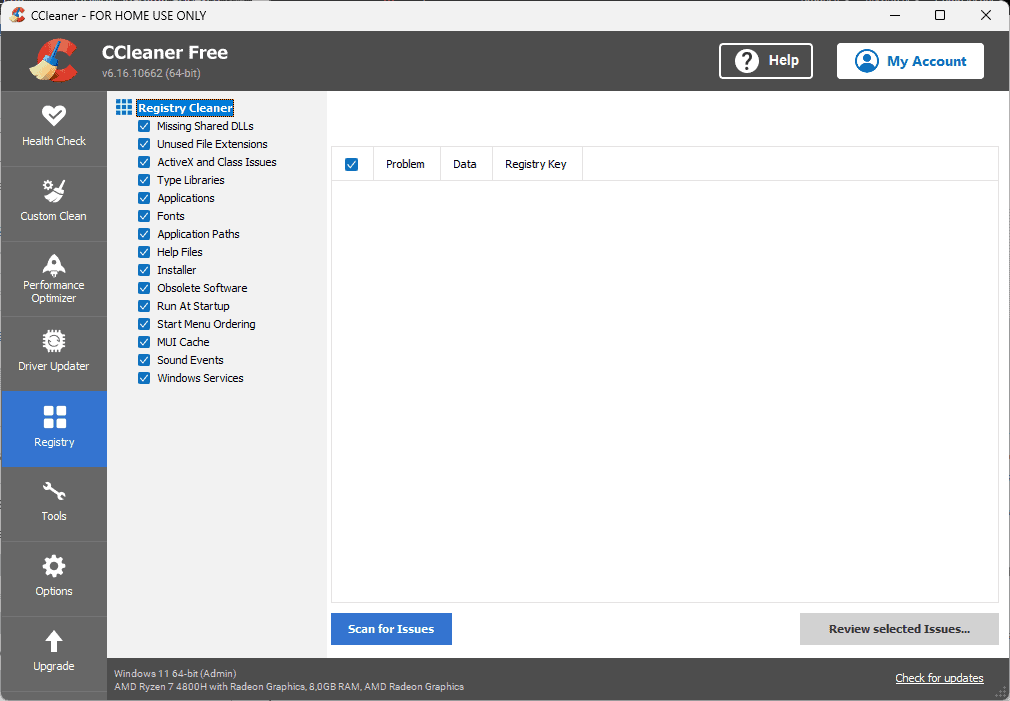 The Registry Cleaner allows you to refresh your registry entries and keep your PC running in optimal condition. To start the process, click Registry from the sidebar and select the Scan for Issues button.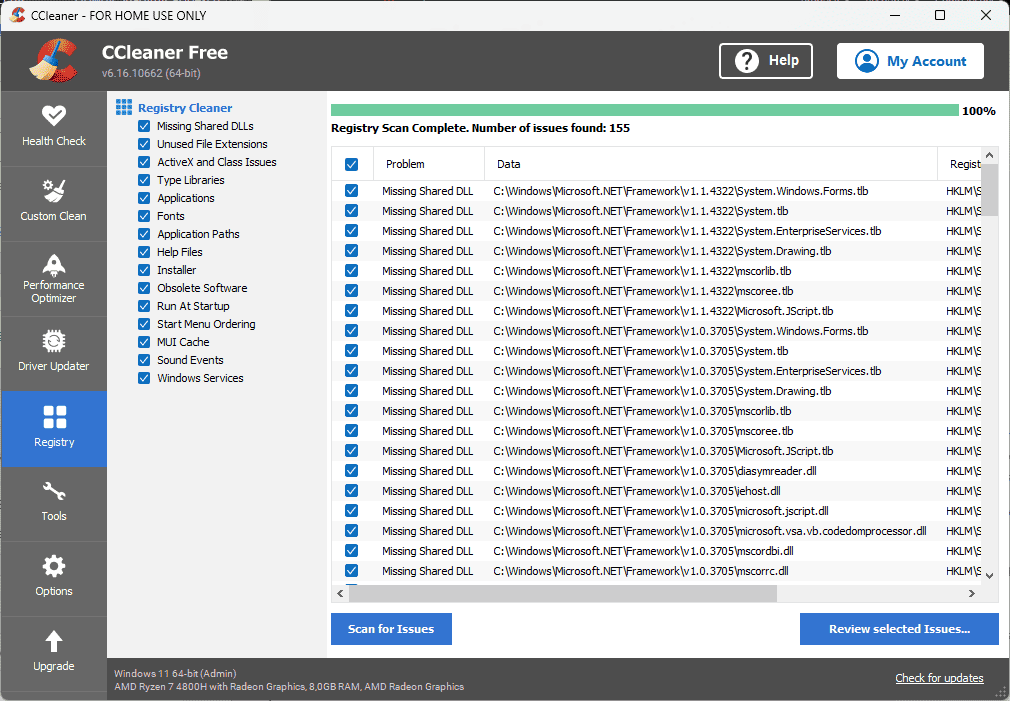 After completing the scan, you can select the registry items you want to resolve by ticking their boxes. The software selects all issues by default, making it easy for you to click the Review Selected Issues button.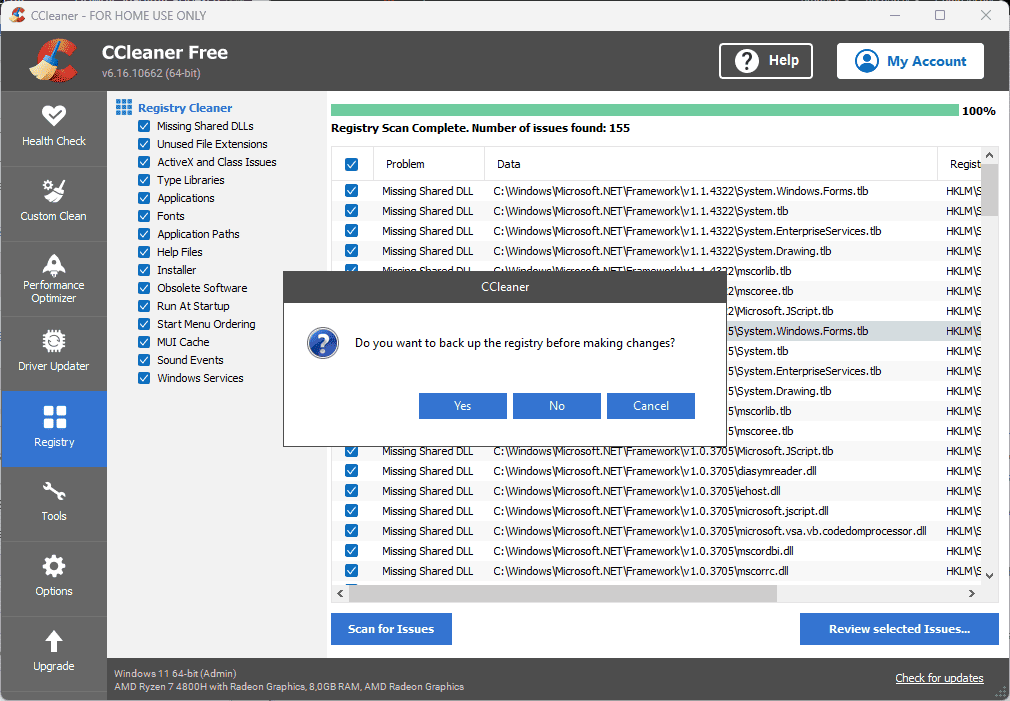 A pop-up will appear asking if you want to create a registry backup. I recommend you choose Yes, as this will ensure system stability no matter what the results of the fix are.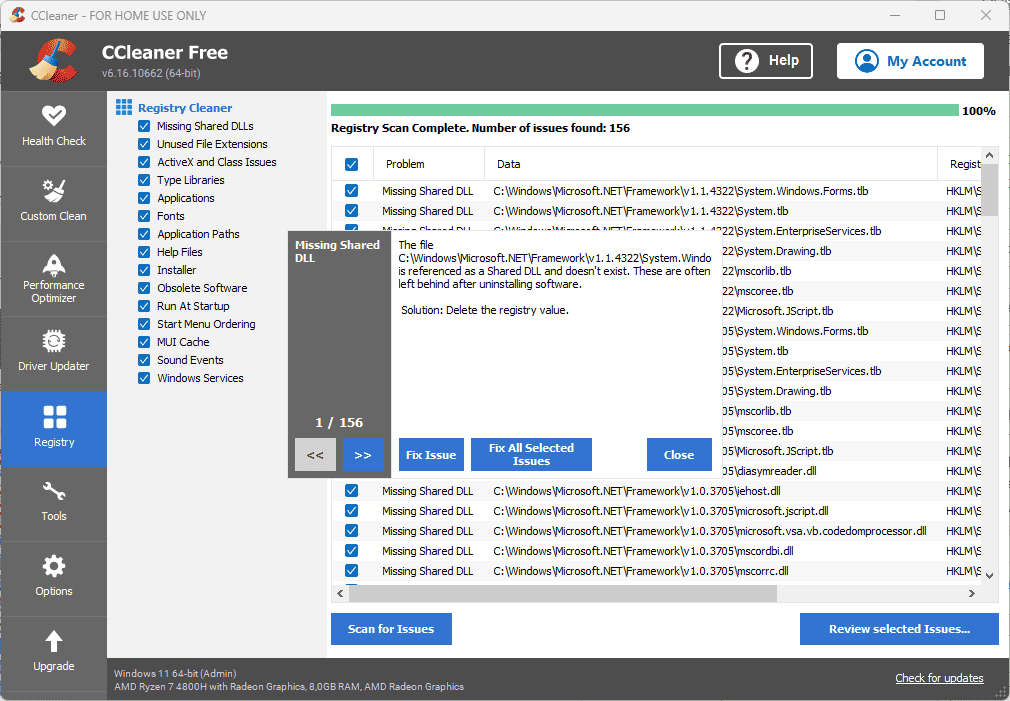 Follow the procedure to resolve your registry issues successfully.
Toolset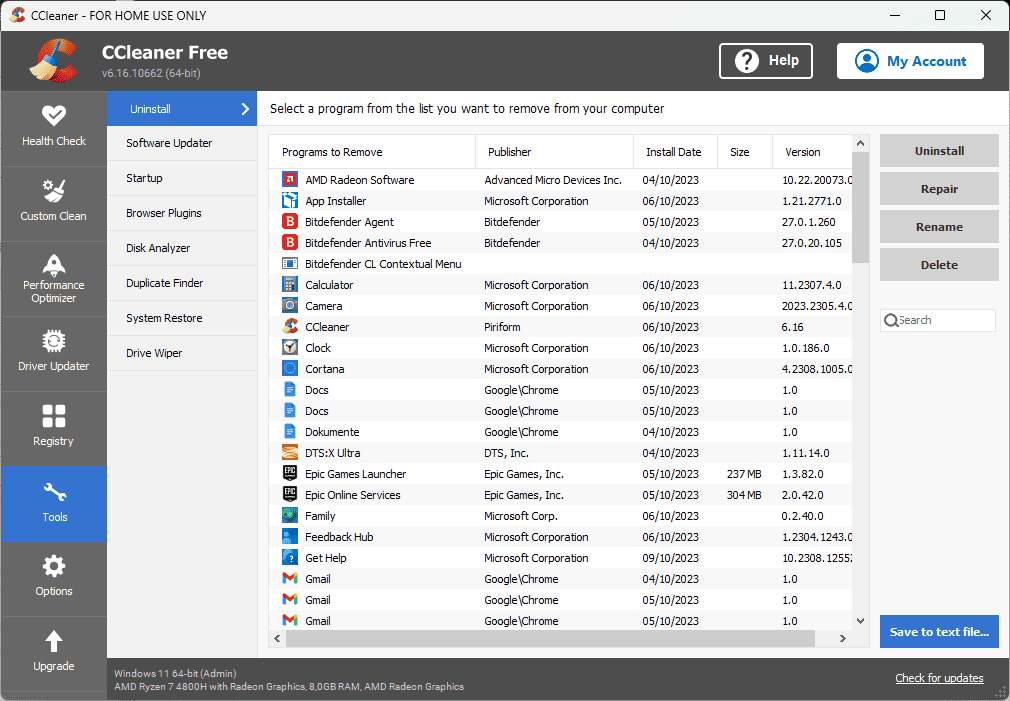 As you can see, CCleaner has other aces up its sleeves, with handy tools covering various topics. Below, you can see a short list and description for them:
Software uninstaller – Uninstalls any software from your PC with ease and without leaving any traces.
Startup editor – Customizes the software that opens at system bootup, thus improving booting times.
Browser plugin manager – Easily manage all the plugins and extensions installed in your browsers.
Disk analyzer – Scans your device's disk, identifies any errors, and fixes them to improve performance.
Duplicate finder – Searches your system for duplicated files and allows you to remove them easily.
System Restore – Uses the Windows recovery best practices and allows you to restore your system to a previous working state.
Drive Wiper – Wipes any data from your drive, making it unrecoverable even by high-end data recovery software.
Glary Utilities
Registry Repair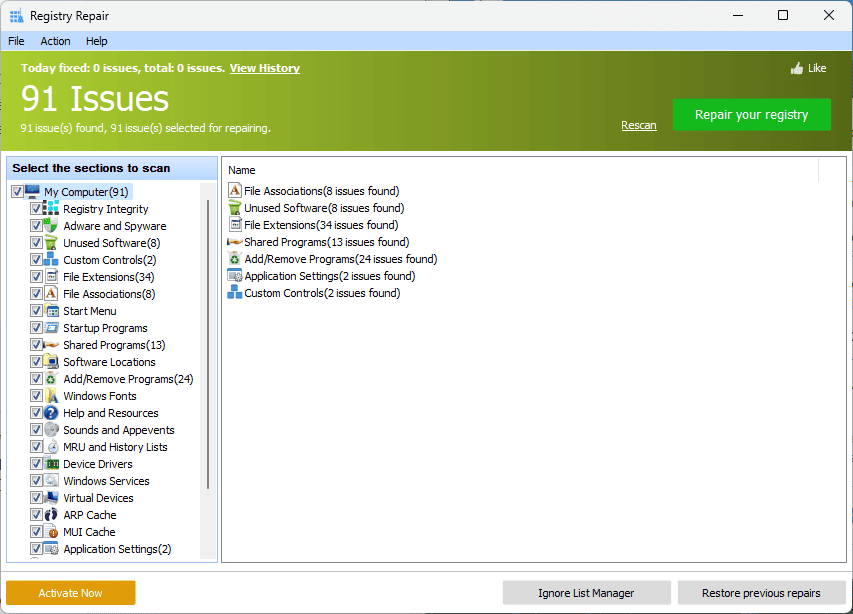 The Registry Repair feature ensures that your device's registry is always kept in perfect condition.
After the software scans your device, you can easily click the Repair Your Registry button and initiate the repair process.
Disk Space Analyzer
As the name suggests, the Disk Space Analyzer checks your entire disk for possible errors.
You can select the partitions where you want the software to scan. You can also choose to scan a specific folder.
In my case, I only have one partition, so I clicked OK to initiate the process.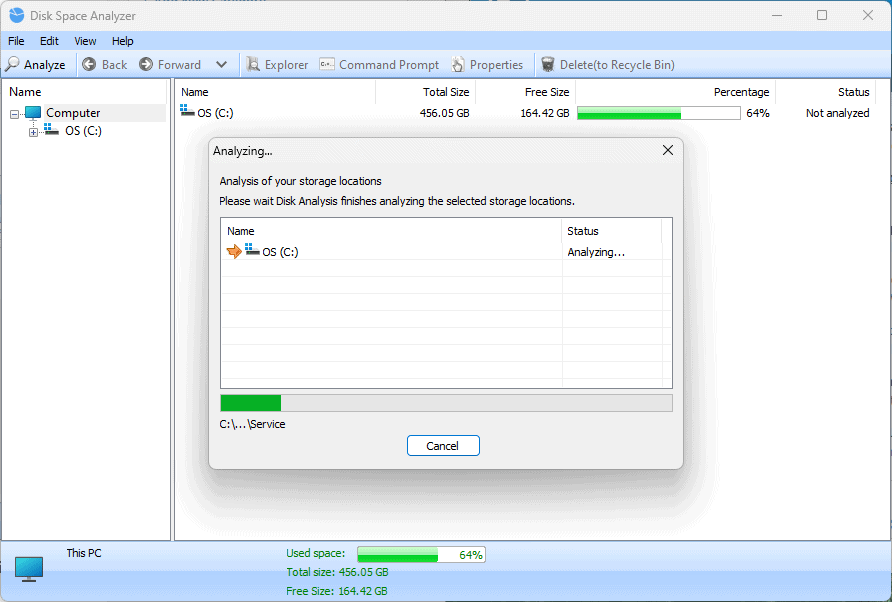 The entire process took about 2 minutes, and below you can see the results: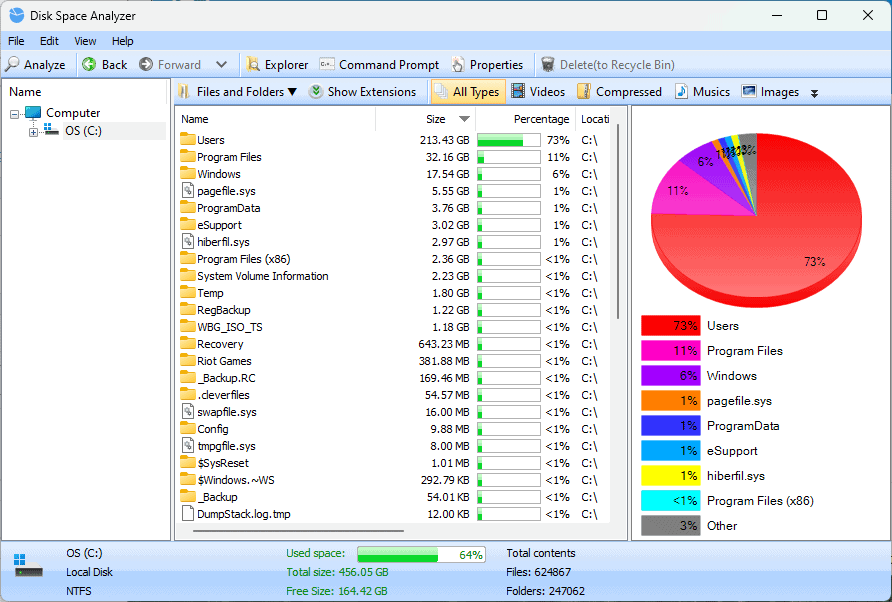 The graph is a helpful representation of the scan results.
Uninstall Manager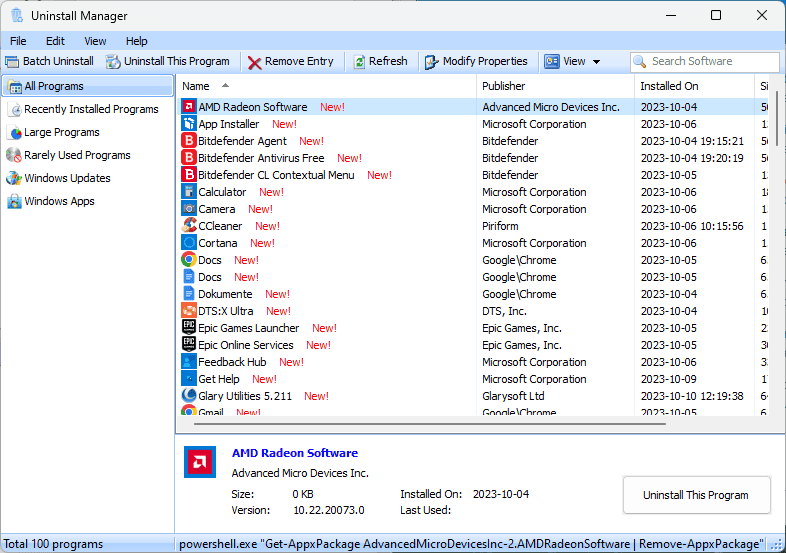 This tool helps you remove unwanted software from your device and ensures no data is left behind.
The menu is split into a few valuable sections, covering the recently installed programs, large installations, rarely used programs, and more.
Software Updater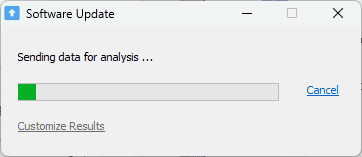 The Software Updater tool scans your system for any outdated software and presents you with the results.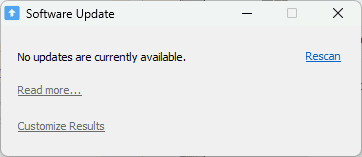 During my scan, the software didn't identify any issues, as my operating system has been recently reinstalled, but the results are promising (from reading user reviews).
Track Eraser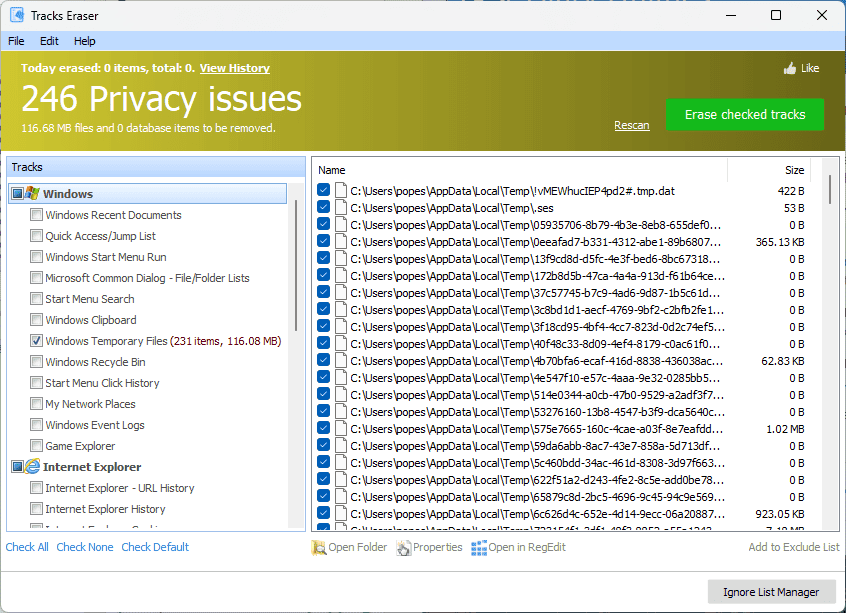 The Track Eraser feature is another powerful scanner that identifies any logs or temporary files that might pose a risk, as your information could be tracked.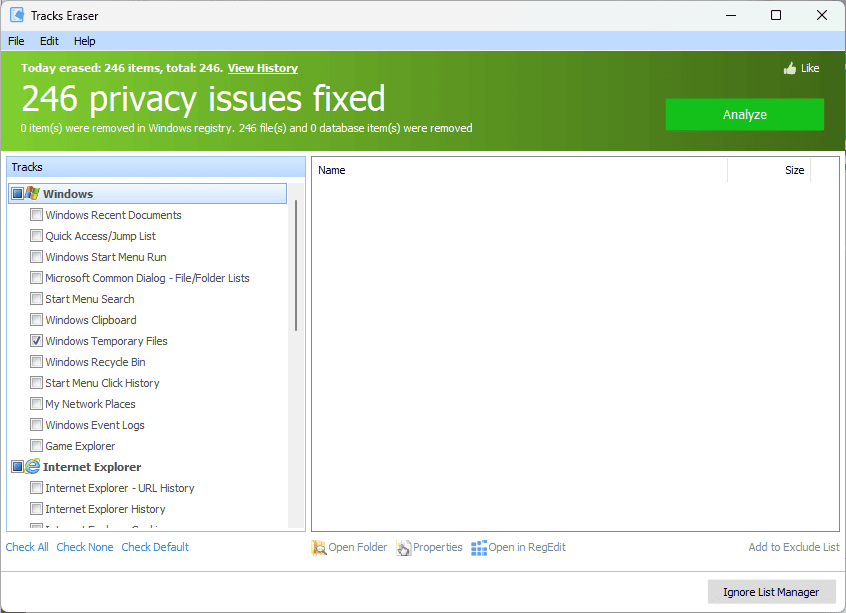 The process takes just a few seconds, and you can rest assured that no tracking data is left behind.
Other Tools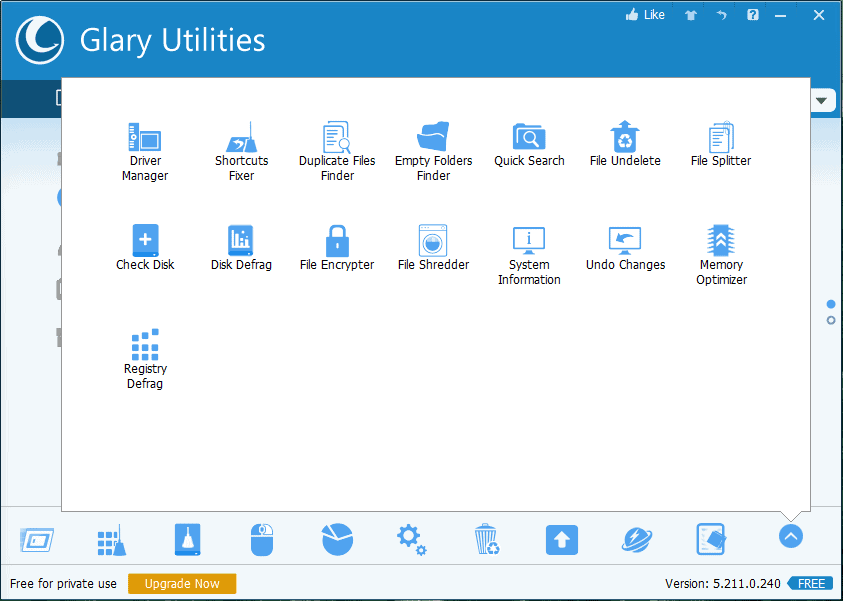 Glary includes various other tools which can be extremely helpful for your system, such as:
Shortcuts Fixer – This option scans your device for any corrupted shortcuts and repairs them.
Duplicate Files Finder – This tool scans your system and identifies duplicated files.
Empty Folder Finder – Scans your system and identifies any empty folders.
File Undelete – If you've deleted a file and want to revert that change, this feature will help you.
File Splitter – Sometimes, splitting files is the only way to send large batches of data online, so a file splitter can be handy.
Disk Defrag – Automatically defragments your disk for a streamlined experience and system stability.
File Encrypter – Encrypts a specific file and allows you to hold the only key for decrypting it.
File Shredder – Destroys any trace of the respective file/app, without leaving any traces behind.
User Reviews & Feedback
We all know how critical reviews are when checking for a restaurant; the same principle applies when trying out software. For this reason, I've looked into user reviews and feedback from other reputable sources.
CCleaner User Reviews
This software has a Trustpilot score of 4.2/5 with 20000 reviews. Users have mentioned the software's capability to improve their device's speed and appreciated the easy-to-use interface.
Furthermore, CCleaner scored 4.5/5 based on 620 reviews on G2. Users were mainly satisfied with how the software worked and the results on their devices.
Glary Utilities User Reviews
Glary Utilities also has a set of good reviews, although a bit weaker than CCleaner. Its Trustpilot score is 3.5/5, and on G2 it scored 4.1/5.
In the reviews, users have praised the large toolset, and its capability to update software. Some users have noted that the automatic maintenance feature will require you to have a subscription.
Conclusion
All things considered:
If you're more inclined to use the basic features like clearing browsing data, caches, and managing system files, I recommend CCleaner.
On the other hand, if you regularly need to use more advanced features like registry fixing, disk checking, etc., I recommend checking out Glary Utilities.
Feel free to share your thoughts on this topic by using the comment section below.