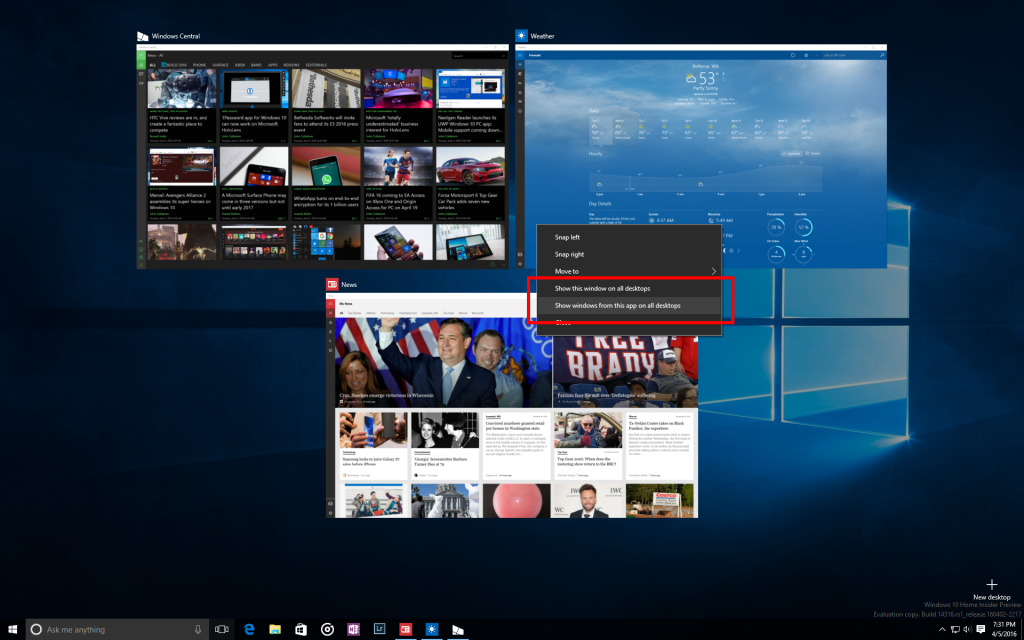 Microsoft today released Windows 10 Insider Preview Build 14316 to Windows Insiders in the Fast ring. It is a major update with lots of new features. Read about it in detail here. This build also includes some bug fixes and of course there are some known issues. Read about them below.
Bug Fixes:
We fixed the issue where on some PCs with TPM chips, such as the ASUS Zenbook UX31, you may have experienced glitchy audio and jumpy movement when using the trackpad due to the "tpm-maintenance" task running constantly in the background instead of once per boot-up like it should.
We fixed the issue where if you use Hyper-V and have a Virtual Switch configured for your network adapter, you might see an error indicator (red-colored "X") for your network adapter in the notification area of your taskbar.
We polished the Wi-Fi flyout UI and fixed an issue where text entry into a Wi-Fi password field was noticeably top-aligned rather than centered.
We fixed an issue for where when using multiple monitors and full-screen apps like PowerPoint or Remote Desktop would crash Windows Explorer.
We fixed an issue where Cortana wasn't showing Settings pages in the search results.
We have updated the Windows Update notification after updates have been installed so now clicking on the notification will take you straight to your update history.
We fixed an issue where desktop (Win32) apps pinned to the Start menu would sometimes move after updating to a new build.
We fixed an issue where "Update and Restart" and "Update and Shut Down" wouldn't start an update.
Known Issues:
The Visual Studio emulator for Windows 10 Mobile and Hololens will fail with "An authentication error has occurred. The Local Security Authority cannot be contacted". If you are a developer and require the emulator for building apps, we suggesting moving to the Slow ring and skipping this build until we can fix this issue.
We continue to investigate issues with Narrator and other screen reader apps that make them unable to read selected text in the Feedback Hub, Cortana, and other apps.
In Microsoft Edge, some large downloads may appear to get stuck at 99% completion. You can work around this issue by renaming the file in your downloads after closing Microsoft Edge. This workaround skips security checks on the file, so it should be used only with files from a trusted source.
In some cases, attempting to turn on Developer Mode on may crash the Settings app. If this happens, the workaround is to use these steps here to enable Developer Mode.
Some apps notifications may only show the icon – however the full text of the notification will be visible within Action Center.