Do you still use your old PC that you purchased decades ago or do you have a cheaper PC with low specs that cannot handle current modern browsers? We all know modern browsers are fast, easy to use, customizable, and safe, but all these perks come at a cost – extensive system resources, which old PCs are short on.
However, just a lack of hardware shouldn't keep you back from internet surfing. So here is the list of the best browsers for low end PCs.
| | | |
| --- | --- | --- |
| Browser | RAM usage | CPU usage |
| 1. Opera GX | 300 MB | 0.3-1% |
| 2. K-Meleon | 100 MB | 4% |
| 3. Pale Moon | 288 MB | 3-4% |
| 4. Falkon | 400 MB | 2-3% |
| 5. UR Browser | 600 MB | 1-2% |
1. Opera GX – Overall Best Browser for Low End PCs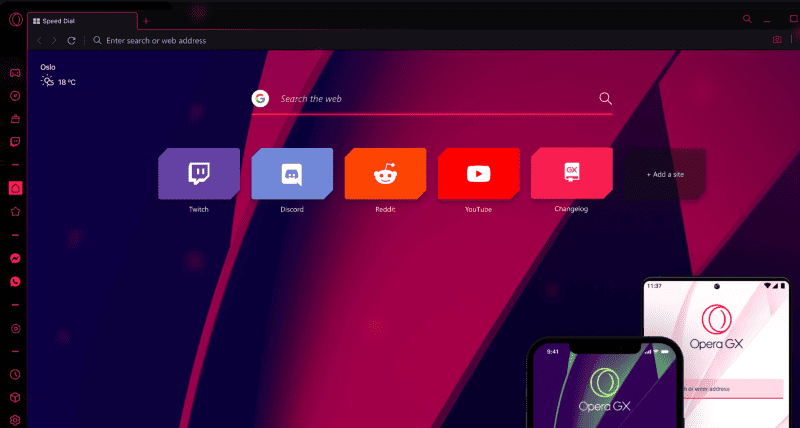 If you are looking for a fast and responsive web browser then Opera GX is the one for you. Though Opera GX is made for gaming, the browser is optimized for regular internet surfing at minimal resource consumption.
The most unique feature of this browser is it lets you limit the RAM usage, making it an ideal choice for low-end devices.
Also, disabling unnecessary features like built-in VPN, background sync, and extensions in the browser can lower your hardware usage.
Opera GX runs on both Windows and macOS machines. It also has apps for Android and iOS.
Pros
Opera GX has an exceptional user interface.
Comes with RAM and CPU usage limiter.
An obvious speedy browser as it is specially designed for gaming.
A free built-in VPN and ad blocker.
The GX cleaner feature in the browser lets you easily clear the cache.
Cons
Not available for SaaS and Linux users.
2. K – Meleon – Best Lightweight Browser for Windows OS
K-Meleon is a Mozilla-based browser that is specially designed for Windows systems. This browser has a Gecko engine, the same one that drives Firefox.
With just 256 MB of memory, K-Meleon runs excellent on Windows XP, Vista, and other earlier versions of Windows 7.
As both Firefox and K-Meleon were built by the same company, they have a comparable UI. So, if you have used Firefox before then handling this browser is no sweat for you.
Do not step back if you haven't used Firefox before, K-Meleon's basic layout is still easy to use.
Pros
Supports tabbed browsing.
Extend the browser capabilities with various plugins.
This browser can comfortably render a webpage with just 100 MB or even less.
You can copy it to a USB device and run it.
Effectively blocks cookies and popups.
You can enable/disable the Javascript execution.
Cons
Doesn't work on Linux and macOS systems.
3. Pale Moon – Best Browser for Both Old and New Systems
Pale Moon is another good browser for low-end PCs which is based on Firefox. The browser is optimized to work well on both older and newer systems.
Pale Moon lacks a lot of luxury features that standard browsers offer to run well on low-end PCs. But, when it is on modern hardware, the browser leverages multi-threading for optimal performance.
The browser blocks malware content and doesn't collect any of your browsing or personal data. With an effective ad blocker and extensive library, Pale Moon leaves you with a high-end browsing experience.
Pros
Pale Moon is available for both Windows and Linux systems.
Large community support.
Offers low-level API access for open-source contribution.
Takes up less than 256 MB of RAM to run on your PC.
Automatically blocks spyware and advertisements.
Cons
Slower than popular web browsers like Firefox, Chrome, Edge, etc.,
Google search is not available as a default engine. If you want, you should get it via a plugin.
4. Falkon – Doesn't Exceed 1 GB RAM Consumption
Another lightweight and open-source browser for a cheaper PC is Falkon. Falkon goes easy on a computer with just a GB of RAM.
This browser is tailored for a low-spec PC, but not for an outdated one. That is, Falkon lets you browse seamlessly on a PC with low RAM and processing power but demands an operating system of Windows 7 and later versions.
Despite using fewer resources, the browser offers all the standard features like browsing history, bookmarks, and tabbed browsing.
Pros
Available for both Windows and Linux.
Intuitive user interface.
Has a built-in ad blocker.
It is portable, that is, you can install Falkon on a USB and run it from there.
Uses QTwebengibe engine and Duckduckgo is its default browser.
Cons
Support for limited extensions.
5. UR Browser – Best Chromium-Based Browser for Low-End PCs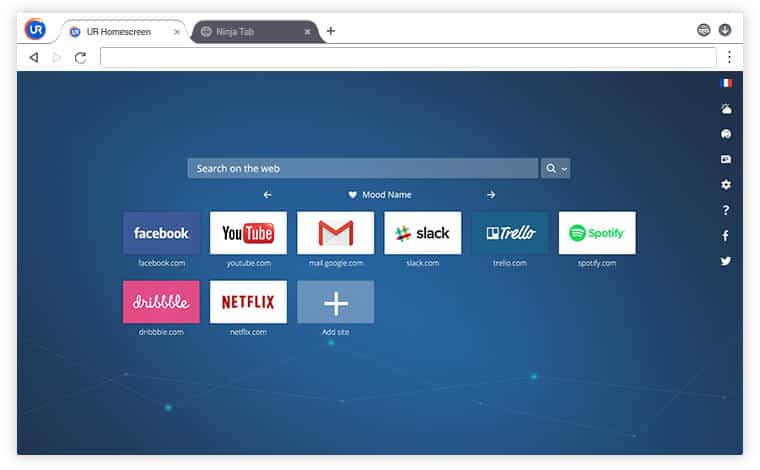 Think of UR Browser as Chrome for your low end PC. This Chromium-based browser uses limited resources of your hardware but delivers a comparable experience to Chrome.
This security-focused browser lets you choose among the 3 privacy-related options during installation. And the level of security for the browser depends on the option you go for.
Moreover, its built-in VPN lets you browse anonymously and its ad-blocker hides the advertisements, offering a premium experience.
Pros
UR browser is fast and secure.
Suits well for privacy conscious users.
No trackers, No ads.
Built-in VPN.
Similarity with Chrome.
Ninja mode adds an extreme level of privacy to your browsing.
Cons
Not a resource hog, but runs seamlessly on or above computers of 4 GB RAM.
6. Firefox – A Modern Web Browser that can Run on Low End PCs as well
If you want to leverage all the assets of a modern web browser on a budget PC, then Mozilla Firefox can be your go-to choice. Firefox is the only modern browser to work decently on low-end devices.
This popular browser takes up fewer system resources than Chrome, Edge, Safari, and all other standard browsers.
A Windows version of above 7 or a macOS 10.9 and later version is all you need to leverage the latest security standards, numerous add-ons, and a modern interface of Firefox.
Pros
Modern browsing interface.
Strong security and privacy features.
Support for thousands of add-ons.
Tabbed browsing feature.
Resource efficient than other popular browsers like Safari, Chrome, etc.,
Cons
Some websites are not compatible with this browser.
7. Slim Browser – Fastest Browser for Low-Spec Machines
Slim browser is an excellent, secure, and powerful web browser for your old Windows PC. This browser uses Mozilla's Gecko rendering engine, which is fast.
The company claims that it is 10 times faster in downloading files and videos.
The browser comes with many internal built-in features to speed up your browsing experience and reduce the strain on system resources, without relying much on external plugins.
Moreover, you can translate a web page to any of your favorite languages without even leaving the original page. Its built-in ad blocker doesn't show you ads, saving bandwidth and memory consumption from unnecessary ads.
Pros
Multi-threaded download manager multiplies your download speed by 12 times.
Seamless web page and text translation within the browser.
Built-in ad blocker.
Besides current weather conditions, the browser shows you the weather forecast for 5 upcoming days.
Directly download YouTube videos to either MP3 or MP4.
Cons
Lack of some personalization options.
Doesn't support as many plugins as modern browsers like Chrome, Edge, etc., do.
8. Lunascape – Leverage Features of 3 Popular Browsers in a Single Platform
Searching for the best browsers for your low end PCs? Look no further than Lunascape!
It's common among browsers to employ an engine to display web pages on the screen but the special aspect of Lunascape is it comes with three different popular engines.
Leverage the Gecko layout engine from Firefox, Safari's web kit, and Trident layout engine from Internet Explorer, all in one place – Lunascape. Simply switch between them and view content on your favorite layout engine.
Pros
Light on resources.
Offers multiple rendering engines.
You can view multiple layouts of the same web page using its split screen feature.
Advanced tab management.
Supports various Firefox add-ons.
Automatically backups bookmarks and settings.
Cons
Not officially available for Linux systems.
May consume more resources compared to other lighter browsers on the list.
Conclusion
Whether you need a simple fast browser or a feature-rich lightweight one, the above list has something for you.
Basically, this article on best browsers for low-end PCs lets you decide on what browser to install on your old and limited-spec PC. All of the mentioned browsers ultimately provide you with a lighter browsing experience, offering a lot of standard browsing features on your budget friendly machine.
You may also check out best browsers that support flash.